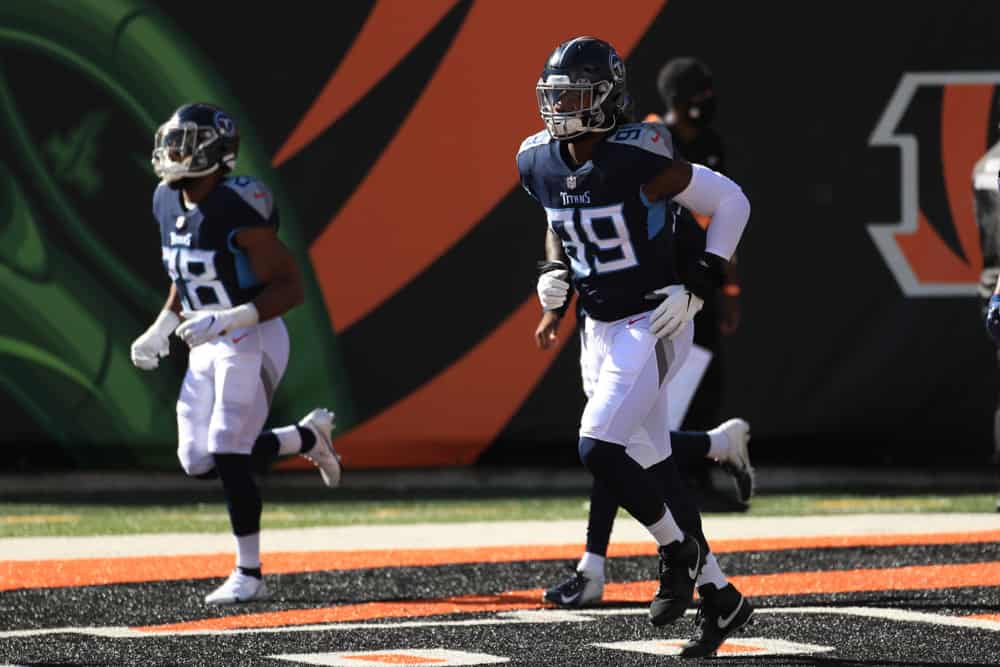 In case you haven't heard, Jadeveon Clowney signed with the Cleveland Browns.
Clowney agreed to a one-year, "prove it" deal with a team he believes can make a Super Bowl run.
With speculation about Clowney raging for weeks, it might feel like we know all about the player.
OFFICIAL: Welcome to Cleveland, @ClowneJD❗️

We've signed 3-time Pro Bowl pass rusher Jadeveon Clowney » https://t.co/5ZpFZR8QCU pic.twitter.com/rEA6gFUxUj

— Cleveland Browns (@Browns) April 14, 2021
His injury history, his sack totals, his dismal 2020 season, have all been well-covered.
And of course, Browns fans like to remind Clowney he could have signed a more lucrative contract last year.
But like many of us, there is more than meets the eye when it comes to Jadeveon Clowney.
Here are 3 things to know about the new Browns defensive end.
1. There Is A Running Back Hidden In That Edge Rusher 
Jadeveon Clowney already scored 4 touchdowns in his NFL career.
He ran his only career interception into the end zone for a 27-yard pick-six.
And he owns 3 fumble recovery touchdowns, as well.
When he has the football in his hands, he hardly resembles a defensive lineman.
Seattle math:

Jarran Reed strip +
Jadeveon Clowney scoop =@Seahawks touchdown

(🎥 @nfl) pic.twitter.com/yUXlZA5G0r

— Sunday Night Football on NBC (@SNFonNBC) November 12, 2019
That's probably because he's always been a running back at heart.
Clowney, already 6'3″ and 200 pounds as a high school freshman, began his career as a two-way player.
But it didn't take long for coaches at South Pointe High School to realize they had a special defensive player.
They made Clowney exclusively a varsity defensive end before his sophomore year.
But when he weaves downfield with his next fumble recovery, you'll realize he is a running back at heart.
2. Clowney Is More Than An Edge Rusher 
Much is made of Jadeveon Clowney's moderate sack totals over the years.
But he remains among the top-rated defensive ends every season.
That is because sacks don't tell the story of the havoc Jadeveon Clowney can wreak.
His quarterback hits, pressures, and hurries make a case for his above-average pass-rushing abilities.
At least the Clowney tackle for loss was nice pic.twitter.com/wteHn4GoFO

— hawkschronicle (@hawkschronicle) January 12, 2020
But his game goes beyond the pass rush.
Jadeveon Clowney always ranks among PFF's best run defenders, often with scores of over 90 points.
His defensive coordinator at Houston, Mike Vrabel, took advantage of his run defense by moving Clowney inside sometimes.
Lining Clowney up opposite Myles Garrett should scare a few offensive coordinators around the league.
But could we see Clowney and Garrett barreling in from the same side someday?
3. Clowney Was A Secretly Good Player In 2020
Last season is considered a disaster for Jadeveon Clowney, probably costing him millions in free agency dollars.
Even for a player known to under-impress with his sack totals, his 2020 shutout is glaring.
But Tennessee Titans players are more likely to use the adjective "disruptive" than "flop" when it comes to Clowney's performance.
Jadeveon Clowney hit the turbo buttonpic.twitter.com/5O6llqxBCV

— Pro Football Network (@PFN365) November 13, 2020
The most disappointing aspect of the year was another injury that cost Clowney 8 games.
But in the 8 games prior to his torn meniscus, Clowney had 28 quarterback pressures, including 6 knock-downs.
He was also credited with 4 passes defended, his ninth career fumble recovery, and a 74.9 overall PFF rating.
Clowney's pass rush win rate dropped a bit and he was far from a Pro-Bowl threat when he went down.
But he still finished among the top-20 rated edge rushers per PFF.