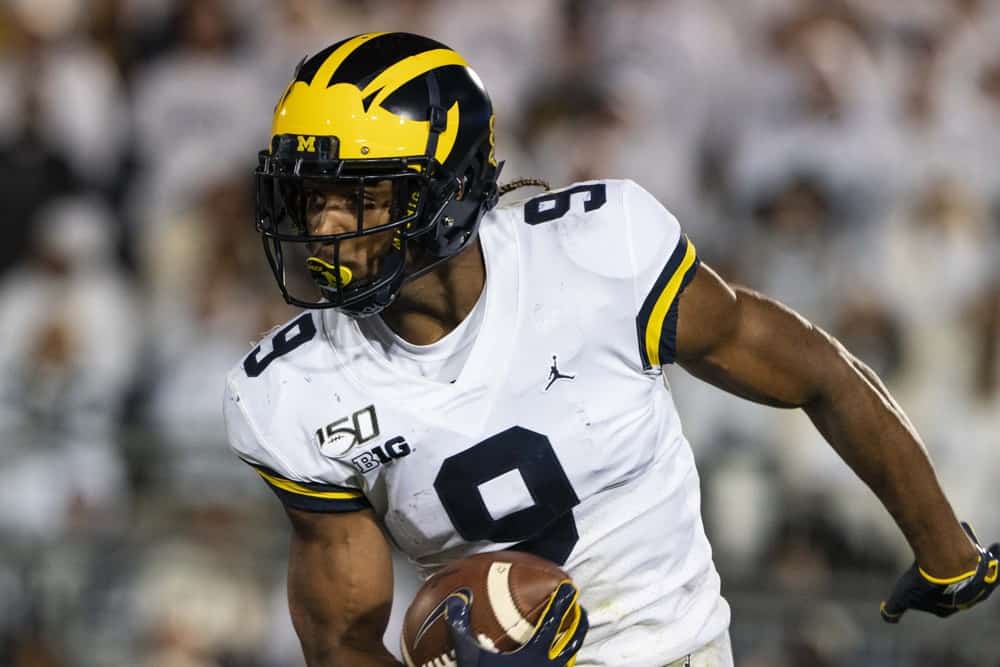 With the No. 187 overall pick of the 2020 NFL Draft, the Cleveland Browns selected Michigan wide receiver Donovan Peoples-Jones.
There were several wide receivers that Cleveland could have drafted in 2020.
Peoples-Jones, who has had success as a receiver and punt returner, was very excited to join the Browns:
🤣🤣 lets Get it https://t.co/Lxui0i1D2z

— Donovan Peoples-Jones (@dpeoplesjones) April 25, 2020

Odell Beckham Jr. may have been even more excited to get the Michigan playmaker.
The Browns Twitter account dug up an old tweet from the Detroit native receiver and retweeted it with a comment on Saturday evening:
ONE OF US! https://t.co/Zj9cBr0wW3

— Cleveland Browns (@Browns) April 25, 2020
There are many ways for Peoples-Jones to gain favor in Cleveland, but resonating with the sports fans in his new city with a four-year-old tweet is impressive.
"DPJ" had a strong three years as a Michigan Wolverine, and here are three things to know about him:
1. Peoples-Jones was Named Michigan's Rookie of the Year in 2017
During his Freshman All-American season, DPJ jumped onto the scene by playing all 13 games for the 8-5 Wolverines.
He caught 22 passes for 277 yards, along with taking four carries for 57 yards.
Peoples-Jones was an even better punt returner for Michigan, and that was the main reason for his team Rookie of Year award.
He returned an NCAA-high 40 punts for a Big Ten-leading 320 yards.
In No. 7 Michigan's third win of the season, the Wolverines' first touchdown of the game came on Peoples-Jones' 79-yard punt return touchdown.
DPJ was one of just five players in the Big Ten to average at least eight yards per punt return that season.
2. He Led the Big Ten in Punt Return Yards in Both 2017 and 2018
After a strong freshman year, Peoples-Jones came back for the 2018 season and improved greatly.
As the team's top receiver, he more than doubled his receptions (47) and receiving yards (612).
In addition, DPJ went from zero receiving touchdowns in 2017 to eight in his sophomore season.
His 10 yards per punt return led the Big Ten in 2018.
Although Peoples-Jones had just one catch for 10 yards in Michigan's September 22 victory over the Nebraska Cornhuskers, he did return another punt return for a touchdown.
He capitalized on the blowout of the visiting Cornhuskers with a 60-yard punt return touchdown to make the score 46-0 in the eventual 56-10 win.
3. He was Named to the All-Big Ten Third-Team in Both 2018 and 2019

The two-time All-Big Ten Third-Teamer had a dip in his 2019 statistics, but it was most likely due to his early-season injury.
Michigan head coach John Harbaugh described it as a "soft-tissue groin injury."
DPJ ended up starting nine contests in 2019 and played in 11 games.
In those games, he caught 34 balls for 438 yards and had almost as strong of a yards-per-catch average as he did in his career year in 2018.
Peoples-Jones also caught six receiving touchdowns, but was unable to return any of his 24 punt returns for a score.
He had a career-low 7.2 yards per punt return in 2019, but this average still ranked fourth in the conference.
The 173 punt return yards also ranked second in the Big Ten.
As the only wide receiver taken by the Browns in the 2020 draft, Peoples-Jones will be an important contributor to the receiving and punt return corps for Cleveland.