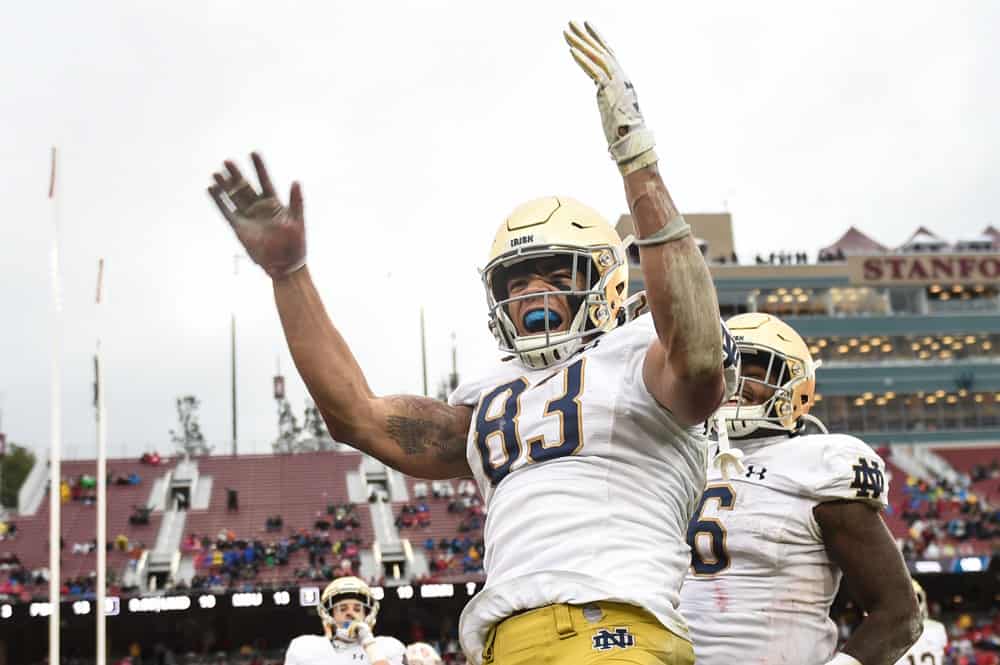 At the beginning of the 2019 season, the Cleveland Browns appeared to have a top-flight receiving core.
Jarvis Landry would now be on the same side of the field with Odell Beckham Jr.
Those two, paired with other team weapons such as Nick Chubb and David Njoku, would give Baker Mayfield more than enough weapons.
As we found out, however, what might look good in the pre-season doesn't always pan out during the season.
Both Landy and Beckham struggled with injuries during the season.
Landry did post solid numbers, but he admitted after the season that he struggled with a hip injury and eventually underwent surgery in February.
Beckham Jr. also posted a halfway decent 2019, but he also admitted being hampered by a sports hernia during the season.
In January, he underwent his own procedure for core muscle surgery.
Both are expected back in time for the 2020 season.
With Mayfield struggling in his sophomore year and Landy and Beckham Jr., not at their best, the Browns suffered.
Even worse, Njoku spent most of '19 on the sidelines and Kareem Hunt ended up being the team's third-leading receiver.
As a reminder, Hunt was serving an NFL imposed suspension for the first eight games of 2019.
He completed the season with 285 receiving yards.
Translation: the Browns are extremely thin at the receiver position.
The 2020 draft is deep with pro-ready receivers.
The team does not need to select a receiver in the first round.
However, here is a list of potential draftees that could be taken in later rounds.
Note: This list is intended for informational purposes only and is not meant for ranking.
With the 48th pick in Lockdown Coverage's LIVE 2020 NFL Mock Draft, @VincentChase97 selects Brandon Aiyuk, WR, Arizona State for the New York Jets.

FOLLOW LIVE: https://t.co/uU1b9qicet

— Lockdown Coverage (@LDCoverage) March 22, 2020
Aiyuk has quickly moved up on the prospect list for the 2020 Draft.
After spending two seasons at the Juco level, Aiyuk transferred to Arizona State before the 2018 season.
At ASU in'18, he played second fiddle to eventual first round pick N'Keal Harry and finished the season with modest numbers.
In 2019, with Harry gone to the NFL, Aiyuk played the part of the alpha receiver.
Playing with a 6'1", 206 pound frame, Aiyuk posted 65 catches, 1,192 receiving yards, 8 touchdowns, and an impressive 18.3 yard average in 2019.
His yards after catch show prominently on film.
After the ball is snapped, Aiyuk looks like he's taking his time working into his route.
Then, the ball is delivered and he switches to burn mode.
Numerous highlights from 2019 show opponents taking a good angle on him, then promptly getting left in the dust.
He can accelerate quickly and has fluid hips and good peripheral vision.
Despite his lack of heft, Aiyuk will not go down easily.
Defenders have to wrap him up completely or he will find a way to break a tackle and extend each play.
If you can, find highlights from the Kent State game in '19.
At one point, he hurdles a defender in mid-stride while getting extra yardage.
That's an instinctive move that isn't taught by coaches.
He has strong hands, though numerous scouting reports note that he doesn't always catch the ball cleanly.
Specifically, they note that he needs to get better catching the ball away from his body.
Also, he can struggle to separate from press coverage and needs to use his hands better to clear defenders at the line.
Overall, NFL personnel believe Aiyuk's skills translate to a slot or 'X' receiver in the pros.
He should be a 2nd or 3rd round pick.
https://t.co/yfRLgYYztC
Eagles trade back and take Mims top of the 2nd

— Ant (@1aeh5400) March 22, 2020
Mims brings three solid years of playing experience with the Bears.
The 2017 and 2019 years saw him gain over 1,000 receiving yards.
In '19, he also added a career high 12 touchdowns and a 15.5 yards per catch average.
His 6'3", 215 pound build is perfect for the 'X' receiver spot in the NFL.
Mims doesn't look overly fast on film, but his 4.38 40 yard dash time at February's Combine suggests otherwise.
For his long frame, Mims is surprisingly agile and tough to bring down.
There were times in 2019 when a gaggle of defenders were needed to put him on the ground.
Not only does Mims have speed, but his vertical game is also impressive.
Even from a standstill, Mims can jump out of the building.
Numerous times during his career, he went up to snag a ball that looked destined for an opponent or the sideline.
His catch radius is spectacular and he has no issues fighting for the ball.
Mims has a background in track and that is apparent on the field.
If he gets a step on his defender, Mims will run away in a heartbeat.
Somewhat surprisingly, given his lean mass, Mims is a fairly good blocker.
On more than one occasion, he looked to 'pancake' block his opponent while motoring downfield.
Scouts note that he does struggle with route running techniques and playing "too high".
Basically, that means he will struggle to sink his hips and make good breaks and cuts if he plays too upright.
He'll also need to work on his release at the line at the next level and work on separating better from press defenders.
Overall, however, NFL scouts like what they see in Mims.
His round projection in the draft is either 2nd or 3rd round.
Potential 1st rd pick. Jalen Reagor. https://t.co/gUUnmMljsB

— #DSTM (@DSTM_podcast) March 23, 2020
Wow!
After watching film of Reagor it is plainly evident that he has serious speed.
If he gets even a foot of separation from his defender he is gone.
His speed is such that there were instances where he slowed down purposefully to give the appearance that opponents could catch him.
Defenders can not give him space to work or he will make them pay.
In other words, he is defended best when a corner plays tight man-to-man.
At 5'11", 195 pounds he is not the biggest receiver in the draft.
However, he plays taller than he is and will frequently outleap his man to win thrown balls.
His first step, elusiveness, and versatility, have won over numerous scouts.
Reagor was used as an outside receiver, punt returner, and for nuanced plays, where he utilized his speed on sweeps or plays out of the backfield.
Scouts have pointed out that he can get sloppy with his hands when receiving passes.
He won't always catch the ball cleanly and has had problems with dropped balls.
He also struggles against physical corners and tends to shy away from overly physical contact in general.
Reagor did not display a variety of routes during his time at TCU and scouts believe this translates to him being a "Z" (flanker) or slot receiver in the pros.
He is expected to be a Day 2 prospect.
Michael Pittman Jr. is a name you should get familiar with as a possible #Colts selection on Day 2. He checks every box Ballard prioritizes:

– Team captain
– Senior Bowl success
– Can play big-bodied WR role at 6'4″, 223 lbs.
– 101 receptions for 1,275 yards and 11 TD in 2019-20 pic.twitter.com/ZJFdAIR2m4

— Locked On Colts Podcast (@LockedOnColts) March 21, 2020
For those viewers that stayed up late in the fall to watch west coast college football, you most likely saw a lot of Pittman.
After progressively improving during his first three years with the Trojans, Pittman exploded in 2019.
Benefitting from a fairly talented offense, Pittman snagged no less than 101 passes for over 1,200 yards receiving and 11 touchdowns.
As evidenced by his Combine 40 yard dash time of 4.52 seconds, he won't blow you over with his speed.
However, his game experience at USC taught him how to find open spaces in traffic and elude defenders.
Pittman has strong hands and has no problem being physical.
His size, 6'4", 220 pounds, also helps him out-point defenders on jump balls.
Scouts rave about Pittman's ability to track the ball and adjust for a tough catch.
His catch radius is a huge plus in his game.
When blocking downfield, Pittman uses his size as an advantage against smaller defenders.
He can be counted on to block for his teammates at the perimeter and carry momentum down the field.
In the NFL, Pittman will need to work on his release at the line of scrimmage.
His first step is not quick, so stronger, physical defenders will slow him considerably.
Pittman will also need to vary his routes more at the next level.
He plays a little stiff which means he'll have to learn to separate better (and quicker) against NFL corners.
Scouts envision Pittman as a possession receiver or Wide Receiver 2 in the pros.
He's most likely off the board between rounds 4-6.
KJ Hamler is the walking definition of a home run hitter. pic.twitter.com/RJS6fmqbwk

— Victor Williams (@ThePhillyPod) March 23, 2020
The diminutive (5'9", 176 pounds) receiver was a fan favorite the past two years at Penn State.
Despite his size, Hamler was extremely effective in the passing game for the Nittany Lions.
Hamler surprised coaches, fans, and teammates alike when he decided to forego his final two years of eligibility and enter the draft.
However, he put on a clinic during his short time in Happy Valley.
His combined stats for 2018 and '19 include 98 catches and 13 touchdowns.
Hamler also averaged 16.1 yards per catch in 2019.
Operating primarily as a slot receiver, Hamler routinely made opponents look foolish.
He is an absolute burner and will leave defenders in the dust if they give him a step.
Hamler has fluid hips and will change direction on a dime.
After the catch, he is a threat to score if opponents don't take proper angles on him.
He creates good separation when pressed at the top of his routes.
With only two years of experience, Hamler will have to shore up deficiencies in the NFL.
First, he will have to learn to catch the ball better.
He had a number of drops, especially in '19.
That may be caused by allowing the ball to come to his body instead of catching it away from his body.
Second, he is limited by his size, meaning his physicality is suspect.
Larger corners will corral him and he probably shouldn't be expected to maintain blocks downfield.
Third, his catch radius is small, which is somewhat expected given his stature.
He'll have to be coached to high point the ball better.
Despite these inconsistencies, it wouldn't be surprising to see Hamler come off the board during the 3rd round, 4th round at the latest.
Another possible Day 2 target for the #Colts is Chase Claypool. Makes a lot of sense at No. 44:

– 4.42 40 at 6'4″, 238
– Very physical
– Huge catch point radius
– High character
– 13 TDs in 13 games
– Ballard attended multiple ND games
– Could be Vincent Jackson 2.0 for Rivers pic.twitter.com/JOPH1SLKH0

— Locked On Colts Podcast (@LockedOnColts) March 22, 2020
When watching game film of Claypool, it is easy to see his appeal for NFL teams.
His size, 6'4", 229 pounds, leads to a number of mismatches against defenders.
He is tough to beat in jump ball situations as he uses his physicality to out-muscle opponents.
Because of his size, he has a solid catch radius, which came in handy at Notre Dame.
A fair number of throws to Claypool appeared underthrown, although that didn't matter.
Claypool has the ability to adjust to underthrown or overthrown passes and come down with the catch.
He has good hands, not only when catching the ball but securing it firmly from the defense.
In four years of playing time with the Irish, Claypool always improved.
In 2019, he had 66 catches for over a thousand yards and 13 touchdowns.
These stats put him in the top 10 in the nation among receivers.
He was a dependable receiver and go-to guy for Notre Dame.
However, there are a few negatives with Claypool's game.
Despite his 4.42 time in the 40 clocked at the combine, he looks slow at the snap.
Physical defenders use this to their advantage to slow him from getting into his routes.
Claypool doesn't have the appearance of fast-twitch ability to shake and bake or get good separation.
He relies primarily on his speed after the first 5+ yards and his ability to out-fight defenders for the ball.
In the pros, he will meet much better defenders that will challenge him constantly.
However, with his skill set and perhaps a full-time move to the slot in the NFL, Claypool will be worth the pick.
He most likely comes off the board around Round 4 or 5.
Michigan WR Donovan Peoples-Jones (@dpeoplesjones) Highlights

DPJ is a playmaker. Simple as that. He has the speed to beat DBs deep & can go up and get it in coverage. He's also a threat in the return game #GoBlue 〽️🔵

Full Video 🎥: https://t.co/wTf6C5sZQh pic.twitter.com/13kxtOlejK

— JustBombsProductions (@JBP_Official) November 6, 2019
Peoples-Jones attracts NFL attention for not only his receiver play but his punt return ability.
His ability and versatility were needed at Michigan because the quarterback play during his time in Ann Arbor was rough.
He could have been utilized much better if he had a consistent athlete behind center.
As such, he still put together a decent career with the Wolverines.
At 6'2", 208 pounds, "DPJ" has the size to use great body control when making adjustments to passes.
He will outwork many defenders for the ball to make sure he comes up with it.
He has good functional speed as well.
Basically, he doesn't burst off the line well, but with a head of steam, he's difficult to keep up with.
His ability after the catch has impressed scouts as well.
DPJ can be elusive to a point, but primarily he can be a chore to bring down, especially for smaller opponents.
Peoples-Jones skills as a punt returner are undeniable.
Watching film from the past few years, he is always a threat to run a punt back to the house.
Numerous times it looked like he was corralled only to escape and pick up a large chunk of yards.
DPJ had 743 return yards and two touchdowns as a returner for Michigan.
In the pros, DPJ will have to overcome some obstacles.
First, he can be careless with the ball, sometimes allowing it into his body before catching it.
Second, as mentioned, he can be elusive, to a point.
He's not overly quick in change of direction, especially in smaller areas.
Third, he can help himself off the line by using his hands better on his man.
If he can get better separation at the line, that will greatly increase his ability in the pros.
Scouts see DPJ as a mis-match at the slot position in the NFL in addition to a valuable returner in special teams.
He most likely goes in the 5th or 6th rounds.
Remember when Devin Duvernay was snubbed from the major postseason awards?

His highlight reel tonight against Utah: pic.twitter.com/B7P1r58rk1

— Jake García (@Jake_M_Garcia) January 1, 2020
After a sub-par 2018 season, Duvernay put himself on the map in 2019.
He led the country in receptions with 106 and finished fourth in yards with 1,386.
He does not have "ideal" size for a receiver at 5'11", 210 pounds.
However, his compact frame does make it difficult for defenders to bring him down.
His low center of gravity and squatty frame make for a small, compact window for defenders.
Add to that his ability to fly down the field and you can see why he looks primed for the NFL.
Duvernay was lined up primarily in the slot during his time with the Longhorns.
This spot in the field created mismatches with opponents and led to huge plays.
He has good hands and plus ability when running after the catch.
Again, his frame allowed him to work through tackles and pick up extra yards (Duverneay averaged 13.1 yards per reception last year).
When not catching passes, Duvernay is a fairly reliable blocker downfield.
He is able to seal off safeties and even linebackers when blocking from the slot.
He does struggle to separate from larger defenders and he needs to get better using his hands to disengage opponents in routes and when blocking up field.
Also, when you watch him on film, Duvernay plays upright and does not have noticeable flexibility in his hips.
He'll have to improve his route tree considerably in the NFL as well.
Based on his 2019 stats, Duvernay should be selected late in Round 5 or, most likely, in Round 6.