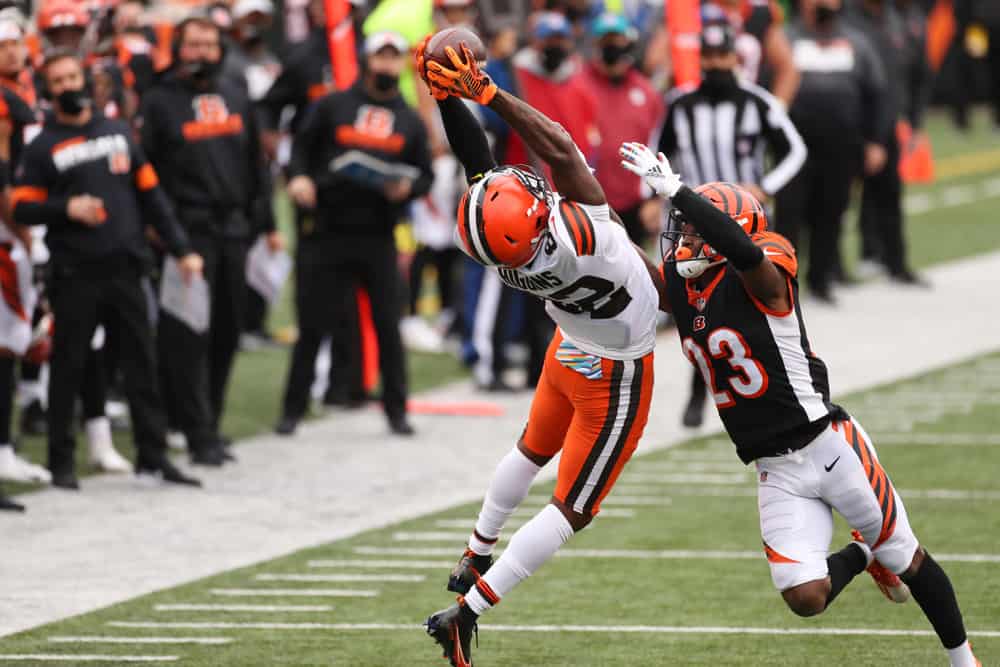 At 5-3, the Cleveland Browns are still in the thick of the AFC playoff race.
While there is still half the season left, here are 3 things we know about the Browns at the midpoint.
1. The Browns run game is dominant
This is pretty apparent, but it needs to be reiterated: this is a running team.
Even with one of the most dynamic wideouts in the game in Odell Beckham Jr., Kevin Stefanski made it a point to build this offense around the run game.
With Nick Chubb and Kareem Hunt leading the way, the Browns have racked up 1,200 total yards and 5.0 YPC this season.
Needless to say, this is a dominant run game.
It hasn't been the greatest the last few weeks without Chubb in the lineup, but he's expected back after the bye week.
We can see how much he means to the offense in this tweet alone.
Nick Chubb appreciation post pic.twitter.com/1pj15r8rrI

— Gridiron (@Gridiron) October 31, 2020
While he may not be 100% upon his return, Chubb is only going to improve the offensive output.
He's a dynamic talent that has been sorely missed, and is going to give a jolt to the offense upon his return.
2. The Defense Has A Lot Of Holes
Myles Garrett has been playing out of his mind, with 9 sacks, 25 tackles, and 4 forced fumbles.
Outside of Denzel Ward and Garrett, the defense hasn't been stout.
While the Browns are leading the league in takeaways, this hasn't been a great defensive season so far.
Against the run or pass, the Browns give up yards.
A TON of yards.
But keep in mind, this isn't the "bend but don't break" defenses of the Patriots during their current run (that looks to be ending).
With that being said, they have a young base that has a TON of talent.
It'll just take some coaching.
Greedy Williams and Grant Delpit have been injured; Mack Wilson is coming off injury, and there is a lot of youth on this team.
But there is a good base to build on.
3. But The Browns Aren't Far Off 
This is probably the most talented team Cleveland has had since their return to the league, but this isn't the team to get them over the hump yet.
While former exec John Dorsey should get some credit, Andrew Berry has to get some as well.
He's added great talents in Jedrick Wills, Jr. and has infused more talent in the roster.
On offense, the Browns aren't far off.
While there is going to be arguments about Baker Mayfield, the Browns have talent at the skill positions, and the offensive line has went from a weakness to a strength.
Defensively, there are still great pieces.
Mack Wilson has shown he can be an impact player, and Myles Garrett is a game-changer.
Anyone who loves football can see this.
If Myles Garret is out for any significant amount of time, were finished. Garret IS the heart and soul of the Browns. He is to us what Bruce Smith was for the Bills, without him we will be lucky to win another game.

— Ron Woods (@woodsro0) November 1, 2020
Denzel Ward has played well and has been the bright spot in a subpar defensive backfield thus far in the season.
That being said, the Browns have a great base to build upon.
While there are improvements to be made, I trust Andrew Berry and the front office to put this franchise in a position to succeed going forward.