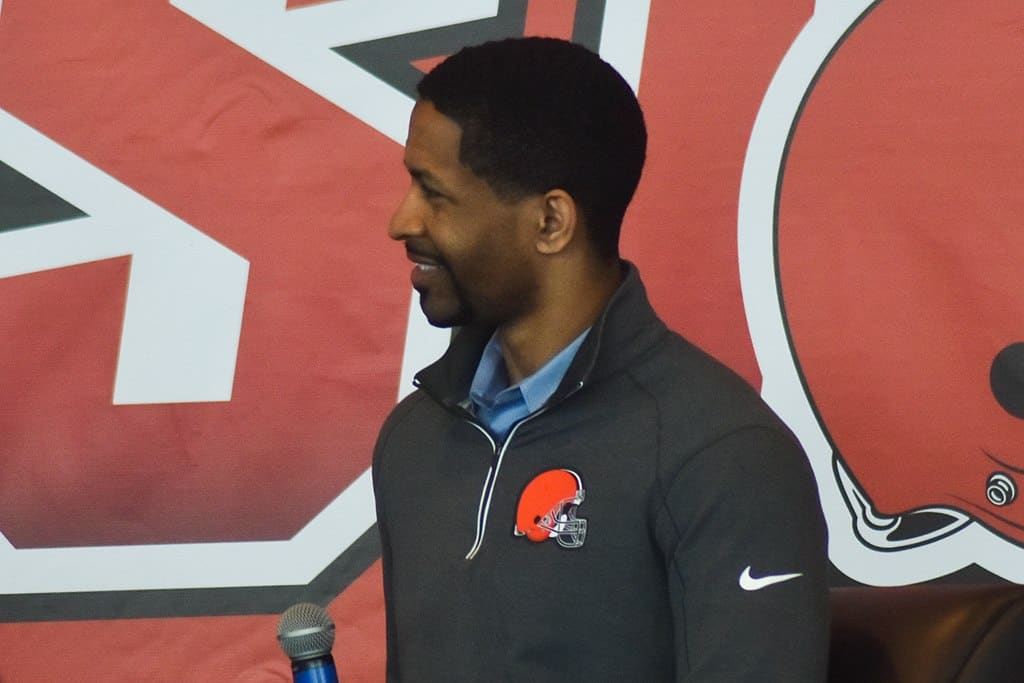 Cleveland Browns GM Andrew Berry has been busy assembling an extremely talented roster.
New to the job in 2020, he focused on upgrading the offense.
This past offseason, 2021, his priority shifted to the defense.
Berry is a Harvard graduate who has done extremely well since becoming the Browns GM.
Here are three things we learned about Berry in the 2021 offseason.
1. He Is Persistent
The Browns wanted to add defensive end Jadeveon Clowney for over a year.
Repeatedly, Berry made overtures to get Clowney in 2020 but failed.
The #Browns are still linked to free agent DE Jadeveon Clowney who could want $17 million this season and still have DE Olivier Vernon on the roster at $15.5 million. If you could pick only one, which player would you rather have on the Browns roster this season?

— The Ken Carman Show w/ Anthony Lima (@KenCarmanShow) April 28, 2020
That did not stop him from pursuing Clowney again in 2021, and everyone in Cleveland is happy that he succeeded this time around.
Ironically, after Berry got Clowney to the Browns, he described Clowney as being "relentless".
The same could be said for Berry himself.
"We love his relentless style of play. He's one of the more disruptive players in the game and we think he's going to add an element of ruggedness along our defensive line and will pair nicely with many of the guys we have on the roster already. The other thing we love about Jadeveon is his versatility, his ability to play all across the front and impact the game regardless of his alignment."
2. He Looks Everywhere For Roster Additions
We thought Berry was done with the offense; however, he surprised all of us last week by signing wide receiver Davion Davis from The Spring League.
BREAKING: #TSLBlues WR Davion Davis is heading to Cleveland for mini-camp with the @Browns.

Davis finished #TSL2021 with 14 receptions for 223 yards and 2 TDs (including this highlight reel catch in Week 1).

Congrats, @14DDavis!#TSLinNFL pic.twitter.com/eKWpgPgfzF

— The Spring League 🏈 (@TheSpringLeague) June 14, 2021
It is unclear how many general managers are combing through The Spring League rosters on the heels of minicamp looking for more players, but we now know Berry is.
3. He Answers Questions Without Providing Much Information
Berry must be a terrific poker player.
To begin with, he never seems rattled or stressed.
He has a lot of stress managing this roster and dealing with all of the players on soon-to-expired contracts.
His wife even gave birth on the opening day of the draft; nothing makes this guy flinch.
So it should not be too surprising that he is cool and collected when answering the media's persistent questions.
He formulates his answers in such a way that he provides only the scant amount of detail and leaves the rest unsaid.
For instance, we only heard from Nick Chubb and Denzel Ward this week that their agents had been contacted by the Browns regarding contract extensions.
Berry is not forthright with that information.
Back in March, when asked about Chubb, Berry said:
"I think you all know the affinity that we have for him both as a player and as a person. We do have a number of players who are extension-eligible, which Nick is one. And that's something that we'll sort through as we go through the offseason. But certainly we like Nick — the player and the person. And all those big decisions are things that we have to figure out in the overall big picture as we navigate the next several months."
Berry's actions speak louder than his words; this seems to be his personality and management style.
So far it has been a huge success in Cleveland.