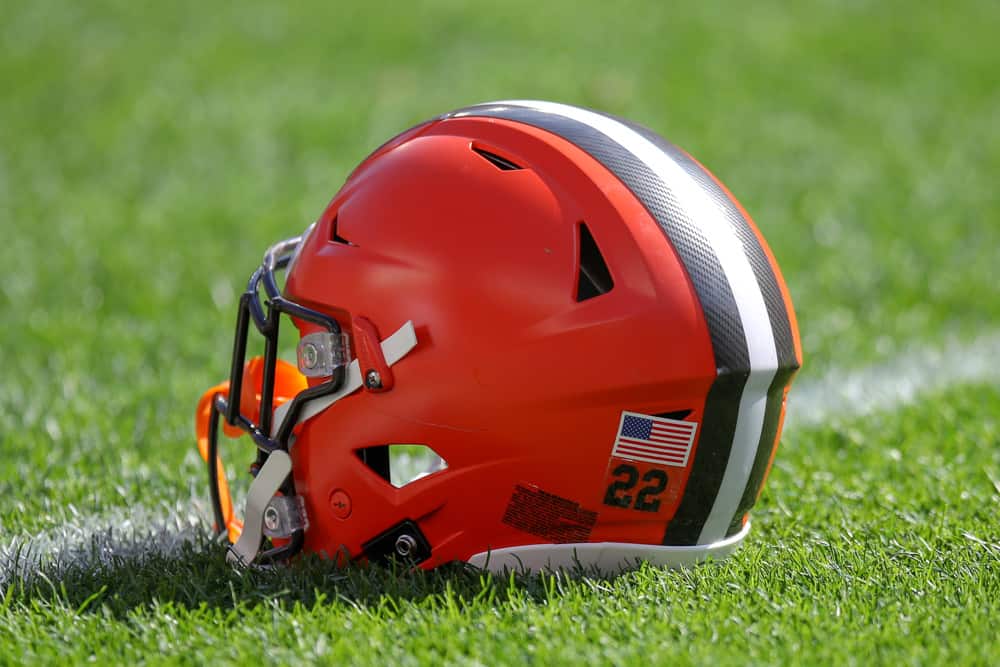 Episode 5 of the Cleveland Browns documentary series Building the Browns dropped on August 1.
It is titled "Back To Work".
Coach Stefanski is huge proponent of the word "work", and there are signs and shirts around the facility bearing the word during this episode.
During the episode, we see a lot of work and a little bit of fun as we follow the Browns through the month of June.
Here are three things we learned from the fifth episode.
1. Laying The Foundation At Voluntary OTAs
55 #Browns players at OTAs today. Five of whom are watching. That leaves 35 not at the voluntary session.

— Scott Petrak ct (@ScottPetrak) June 2, 2021
The episode opens during voluntary OTAs.
Coach Stefanski talks about how well the team has done with Zoom and virtual training sessions during the pandemic, but it can never replace the in-person interaction and teaching that happens when players and coaches are on the field together.
Players can be actively corrected with the goal of making just a one-time correction as players adjust based on real-time coaching.
Neither rookies nor second-year players have experienced NFL OTAs before.
We also get to watch the linebackers interact with the Browns linebacker coach Jason Tarver.
Tarver is high energy, spirited, and vocal.
One of the newer Browns linebackers, Anthony Walker, commented that he already believed Coach Tarver was one of the best linebackers coaches he has ever had.
Observations from #Browns OTAs yesterday:
_ No offense: Fullback Andy Janovich most notable player at voluntary workout.
_ Rookie RB/WR Demetric Felton was with wideouts (had couple early drops).
_ Delpit and Williams not doing much.
_ Revamped defense taking early steps.

— Tom Withers (@twithersAP) June 3, 2021
2. Fun Times At Jarvis Landry's Celebrity Softball Game
@bakermayfield, @obj and @God_Son80 at The Jarvis Landry Celebrity Softball Game. pic.twitter.com/k6mqcW0bqD

— Cleveland Browns (@Browns) June 12, 2021
On June 12, 2021, Landry hosted his second annual celebrity softball game for charity.
It is an event loaded with elite athletes, but not all of them are gifted at baseball.
.@God_Son80 brought out the big names for a great cause at his Celebrity Softball Game!

For more information on The Jarvis Landry Building Winners Foundation, visit: https://t.co/3FgupHDl6l pic.twitter.com/G4l7Guksh5

— NFL (@NFL) June 14, 2021
As Baker Mayfield wins the home run derby, we see Odell Beckham Jr. struggle in the batting box.
Baker Mayfield was hitting dingers all over the yard at Jarvis Landry's softball game 👀 @bakermayfield @God_Son80 @Browns

(via @ScottPetrak)pic.twitter.com/ZqCBZSs9Ku

— The Checkdown (@thecheckdown) June 13, 2021
Kareem Hunt is fired up and engages in a healthy competition with both of his teammates.
Hunt did not win the home run derby, he did hit a grand slam during the game.
Landry's team won by a score of 22-7.
3. Mandatory Minicamp
Coach Stefanski shows us time and again why he is the reigning NFL Coach of the Year.
He opens up mandatory minicamp once again talking about the work that needs to be done.
Stefanski clearly articulates the goals of minicamp.
They are:
Improve as a team, player, and unit
Teach and re-teach fundamentals
Develop relationships
He likened minicamp to a condensed version of training camp.
Players are in jerseys and shorts with no pads but are wearing helmets.
Takk McKinley in D-line drill at #Browns mandatory minicamp pic.twitter.com/ODiU7GbDQ2

— Nate Ulrich (@ByNateUlrich) June 15, 2021
Myles Garrett, Curtis Weaver and Jadeveon Clowney in D-line drill at #Browns mandatory minicamp pic.twitter.com/1WCU0Md7AJ

— Nate Ulrich (@ByNateUlrich) June 15, 2021
That is to encourage teaching and learning with a little fun sprinkled in.
My favorite part of this week's Building the Browns was Jarvis and Odell having some fun with Donovan's TD celebration dance! 😂 pic.twitter.com/IR95nSR0Jf

— Cheeks (@alittlecheeky) August 1, 2021
We hear John Johnson III starting to take a leadership role.
He quotes Lamarcus Joyner who told JJ3 in his rookie year to treat every third down as if it is the Super Bowl.
While big plays may not always be made on those third downs, he said Joyner emphasized that being attentive to doing the job at hand on third down is critical.
He said that Joyner did not say much, but when he did, it meant something.
We also hear Coach Stefanski talk about Jarvis Landry's football acumen.
He credited him with being the smartest football player Stefanski has been around.
Episode 6 will most likely include training camp and preseason games so stay tuned for that when it is released.