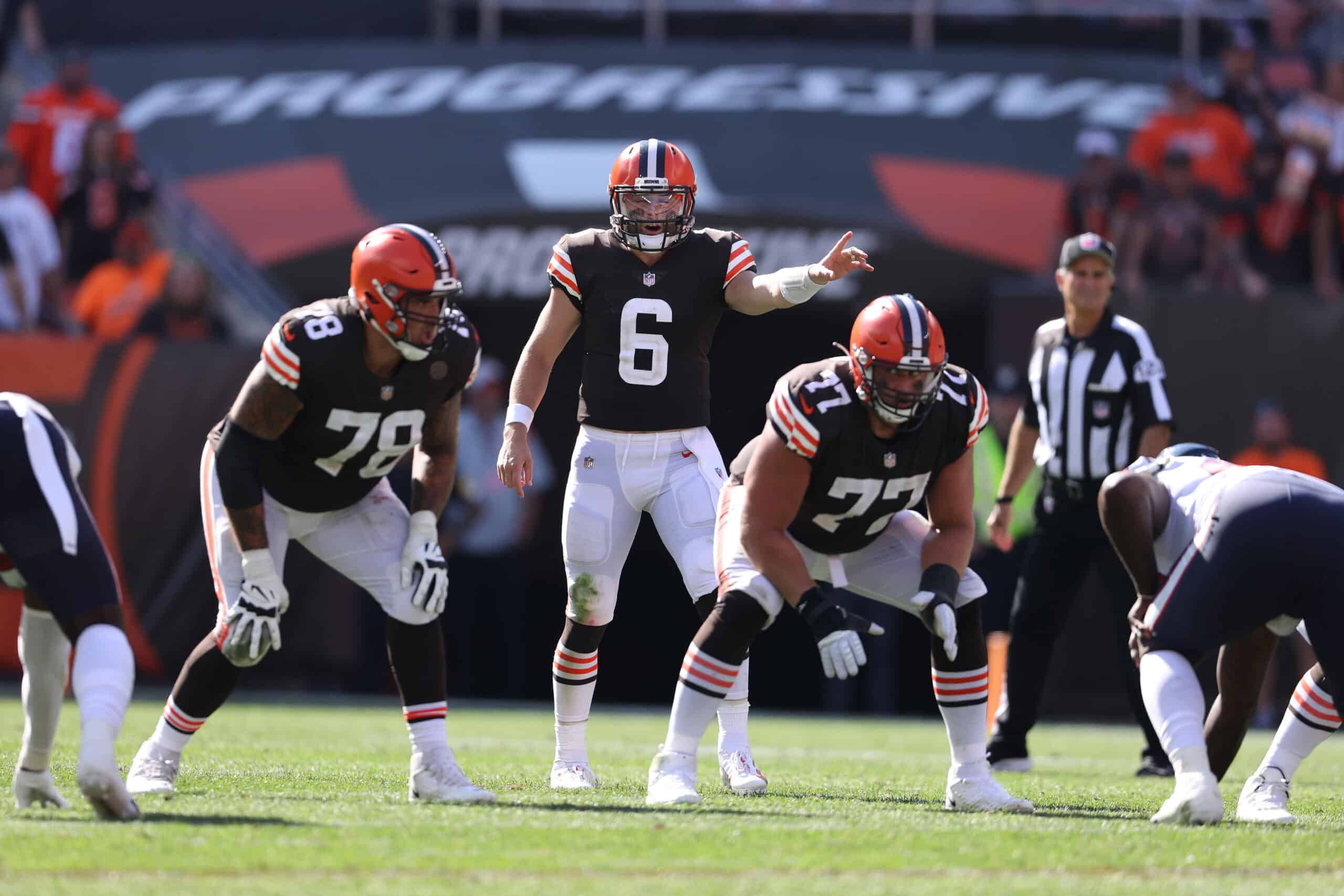 Tyrod Taylor returned to Cleveland as the starting quarterback for the Houston Texans.
And for one half, he kept his team even with the Cleveland Browns.
But a tweaked hamstring put Taylor on the sideline while a dinged shoulder couldn't do the same to Baker Mayfield.
Mayfield played through the pain and secured the win with a solid 19/21/213/1 performance.
VICTORY FORMATION! #HOUvsCLE

— Cleveland Browns (@Browns) September 19, 2021
And while the final was a little closer than most of us expected, the Browns will take the 31-21 victory.
Cleveland ran for 156 yards, including a 26-yard touchdown jaunt by Nick Chubb.
And the victory kept Kevin Stefanski's streak of never losing two games in a row intact.
Here are 3 things we learned from the Browns' 31-21 victory against the Texans.
1. Demetric Felton is a Wide Receiver 
Jarvis Landry left the game with a knee injury incurred on the Browns' first drive.
That left Cleveland with 3 wide receivers… and the Swiss army knife, Demetric Felton.
Felton to that point had been used exclusively as a returner.
He is listed as a running back, but in the preseason, he showed why some analysts believe he should be a wide receiver.
Definition of Demetric Felton:

1. Versatile offensive weapon for the Cleveland #Browns.

2. A steal.

— Camryn Justice (@camijustice) September 19, 2021
Felton made the most of 2 targets Sunday, leading the team with 51 receiving yards and a touchdown.
And what a touchdown it was, with a beautiful spin move and broken tackle to turn a short pass into a 33-yard score.
He made players miss on his first NFL reception, too- an 18-yard catch and run.
Cleveland is likely to add a receiver before next week, but he might have to slot in behind Felton on the WR depth chart.
2. Every Opponent Will Bring Their A-Game To Cleveland 
Houston came into the 2021 season with 33 new players and a first-time head coach.
But anyone who follows Texans social media knows the team spoke confidently all week.
This Week 2 game was hyped as validation of Houston's legitimacy after a big Week 1 win against Jacksonville.
That is what happens when your team is expected to go deep into the playoffs.
Much Respect to the @HoustonTexans! They aren't just gonna show up, they are here to play! Looks like they have got a Good Coach!! 👍🏻 #Browns pic.twitter.com/aTs9SJHLuY

— BrownsTherapy (@BrownsTherapy) September 19, 2021
Cleveland is considered a gauge team, one other teams hope to play tough, not an expected win like years past.
David Culley pulled out all the stops with creative motion and misdirection, along with some pressure defense.
Cleveland's defense certainly raised some questions as to their scheme and cohesiveness.
But they escaped with a win and probably a bigger sense of urgency for their Week 3 opponent.
3. Really Good Rookies Are Still Rookies 
Andrew Berry and his scouting team have yet to miss on a pick over their first two NFL Drafts.
Several of this year's rookies and first-year players are counted on to play big roles.
But Stefanski has to expect there will be some growing pains before we can call the young players stars.
And there were a few learning moments for Stefanski to review this week.
#Browns HC Kevin Stefanski said rookie WR Anthony Schwartz made a mistake by stopping short on his route on the INT and he won't make that mistake again

— Nate Ulrich (@ByNateUlrich) September 19, 2021
Greg Newsome played another solid game but failed to turn his head to avoid a long pass interference penalty.
The play kept a touchdown drive alive and let Houston pull within 3 points in the second half.
And while it pays to be patient with rookies, Stefanski gave an earful to Anthony Schwartz for pulling up on a pass route.
Not only did the mistake lead to an interception, but Baker Mayfield incurred his injury going for the tackle.