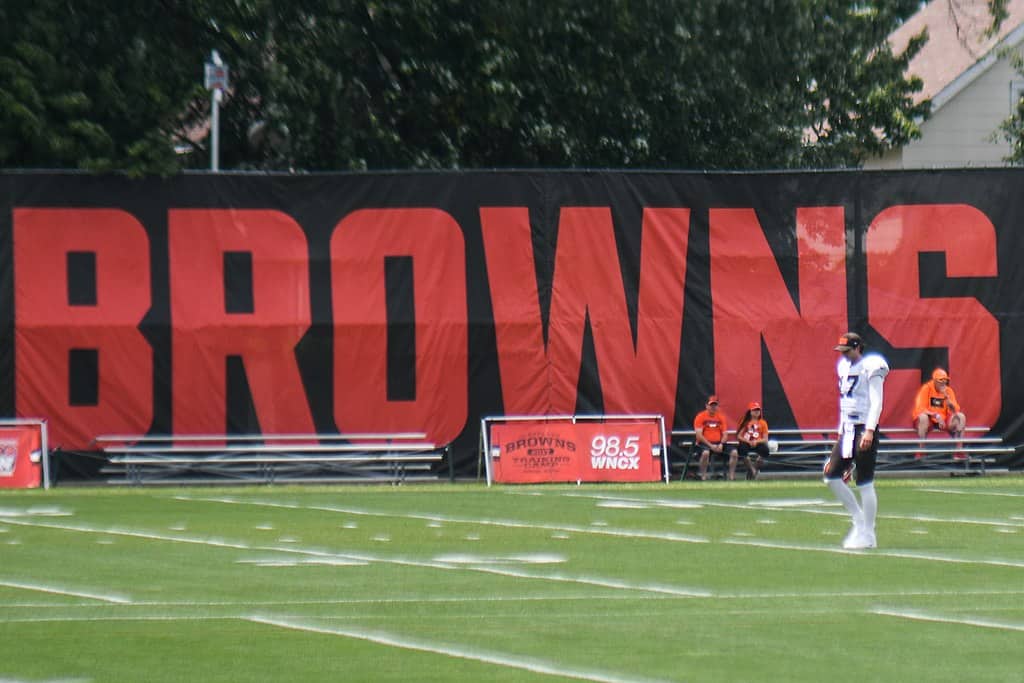 Luckily for football fans, training camp and the preseason is right around the corner.
Often times, preseason camp isn't the most exciting time of the year.
Although, it gives players a chance to get back into the groove and get adjusted to the football atmosphere again.
It's also a time for younger or inexperienced players to impress their organizations.
The Cleveland Browns do have a few hidden gems that could surprise people during camp.
1. Curtis Weaver
Maybe not completely unknown, but linebacker Curtis Weaver deserves more attention than he's getting right now.
In 2020, the Miami Dolphins used a fifth-round pick to select Weaver out of Boise State.
Sadly, he suffered a season-ending foot injury in training camp and was surprisingly cut by the organization.
Cleveland was lucky enough to claim Weaver off waivers and placed him on the injured reserve.
The Rams also attempted to claim new Browns DE Curtis Weaver off of waivers yesterday, per source.

Cleveland had higher priority, as both teams saw the opportunity to add a talented developmental prospect for their pass rush to develop in 2021 and beyond.

— Field Yates (@FieldYates) August 26, 2020
The Browns believe there is enough potential there that they were willing to pay Weaver to sit out for the entire 2020 season.
A year later, Weaver is healthy and ready to compete for a roster spot in training camp.
As a junior, Weaver recorded 52 tackles, 19.5 tackles for loss, and 13.5 sacks in 14 games at Boise State.
He earned the 2019 MWC Defensive Player of the Year award for his outstanding 2019 campaign.
It's quite surprising he fell into the fifth round and that the Dolphins cut him.
Now, Weaver has a chance to actually earn himself a role on the Browns defense.
There is plenty of competition, but the Browns should be able to find a role for Weaver on this roster.
2. Demetric Felton
Obviously, the Browns have no shortage of running backs on this roster.
Both Nick Chubb and Kareem Hunt are going to see a majority of the touches in the backfield.
However, Demetric Felton is a name to remember as we head into training camp.
The Browns used a sixth-round pick on the UCLA running back during the 2021 draft.
He might not be the best pure runner on the roster, but he certainly is one of the shiftiest.
UCLA's Demetric Felton hit the juke button about 5 times on this 100-yard kick return TD. pic.twitter.com/gk0cCPRyLC

— Chris Hummer (@chris_hummer) September 22, 2019
The former wide receiver made a name for himself when he switched to running back before his senior season.
Following the switch, Felton rushed for 668 yards on 132 attempts with five touchdowns.
That's not all, he also recorded 22 receptions for 159 yards and three scores through the air.
His receiving numbers took a bit of a decline during his final season due to the fact he moved to a full-time running back role.
However, Felton could be an interesting weapon for the Browns heading into next season.
Possibly, someone they can use for short passes, screens or even runs to the outside.
A young dual-threat option who could earn himself the No. 3 spot on the depth chart.
3. Marvin Wilson
There is no doubt that defensive tackle Marvin Wilson is going to have an uphill climb in training camp.
He'll join a handful of tackles attempting to claim a limited amount of spots on the active roster.
Possibly, the Browns saw something in Wilson that other teams failed to see.
They signed Wilson shortly after the draft and will give him a chance to earn a spot on this roster.
The undrafted tackle out of Florida State does not lack strength or skill whatsoever.
This year is gonna be so fun to watch Marvin Wilson again.

That's him tossing first-round pick Mekhi Becton (all 6'7, 350+ of him) pic.twitter.com/wGhqXDhZDz

— Cam Mellor (@CamMellor) April 28, 2020
There is certainly work to be done as far as technique and mechanics are concerned.
Wilson is a bit of a projected, but the Browns see upside in his game.
During his junior season, Wilson finished with 44 tackles, 8.5 tackles for loss, and five sacks.
It's unlikely that Wilson becomes a starter, but he might be able to contribute to the roster.
The talent is there and it wouldn't be surprising if he jumped a few spots on the depth chart quickly during camp.