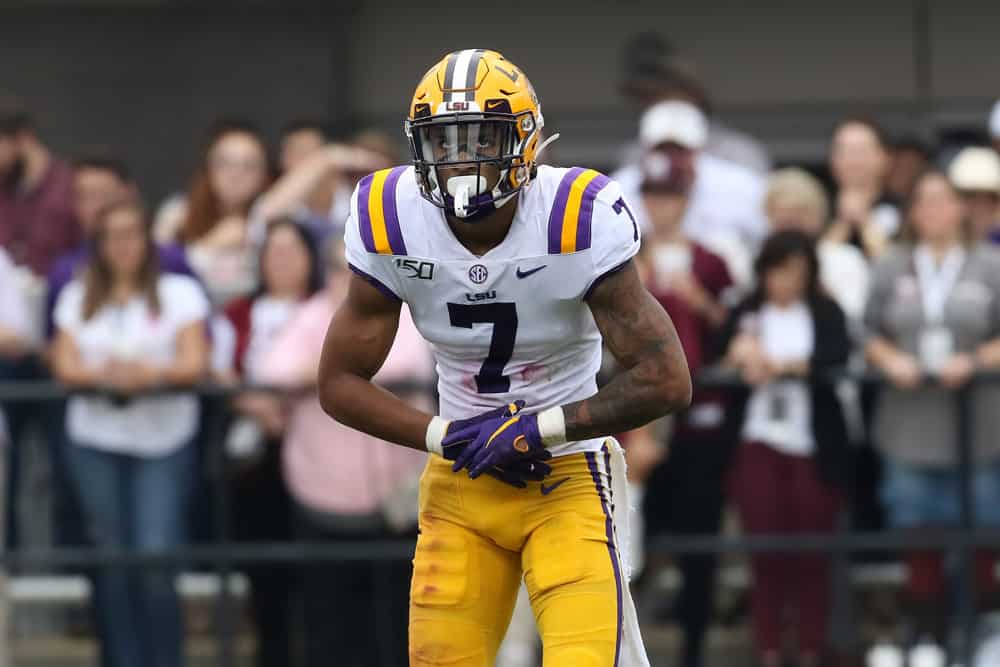 Grant Delpit was a unanimous first-team All-American for LSU in 2018 and a consensus choice in 2019.
He is the third LSU safety to take home the Jim Thorpe Award as the best at his position.
But scouts noted some early head drops and an occasional hesitation at the point of attack on tackles.
It was enough to let two other safeties come off the board ahead of the Cleveland Browns rookie.
And that is enough to spark a fire in Delpit´s belly as he embarks on his NFL career.
#Browns rookie Grant Delpit in his new uniform pic.twitter.com/HvUQyIKWZW

— BrownsWave \: (@BrownsByBrad) August 6, 2020
Delpit played through a high-ankle sprain last season, undoubtedly affecting his play.
But some prominent NFL people think a little tinkering is all Delpit needs to be an accomplished tackler.
Like former GM Charley Casserly, who spoke about Delpit with the panel at NFL Now. 
Via Kevin Flaherty of 24/7 Sports: 
"Now, some people were concerned about the tackling. I watched the tape. You know what? I think the guy can tackle. I just think he needs to work on technique. Multiple position guy, strong, free, nickel, linebacker."
With Joe Woods leading the defensive coaching staff, there is little doubt Delpit´s technique will be addressed.
That leaves it up to Delpit to prove the 32 teams who passed him up missed out on a superior safety.
Here are three ways Grant Delpit can make an early impact in 2020.
1. Delpit as a Gadget Player 
Sheldrick Redwine and JT Hassell are the only safeties returning from 2019.
But Andrew Berry quickly bolstered their ranks, signing free agents Andrew Sendejo and Karl Joseph.
Delpit would benefit from watching and learning from the veterans this season.
But it will be hard to keep Delpit off the field.
Besides showing coverage ability (8 interceptions), Delpit also wreaked havoc behind the offensive line.
Perfectly timed blitz by LSU S Grant Delpit for a huge sack. pic.twitter.com/aJGLQyr0Hm

— Rob Paul (@RobPaulNFL) December 7, 2019
After 7 sacks and 17.5 tackles for a loss, Joe Woods will use the rookie in the attack from somewhere, somehow.
Delpit could bolster a linebacking corps expected to struggle in pass coverage.
He can also use his pass rush prowess, letting Delpit roam behind the line in search of a weak spot.
Woods is expected to use a lot of defensive backs in lieu of traditional formations.
Delpit could be a wild card, allowed to line up anywhere on any given play.
This could make him a great weapon lurking behind a strong front four.
2. Delpit as the Starting Free Safety
Sendejo is excited to mentor the young safety in his rookie year.
But after 110 games played, can the veteran ward off a challenge from Delpit?
Sendejo is the natural leader of the defensive back group.
But Joseph can be the field leader working from the box.
LSU true sophomore safety Grant Delpit (6'3 203) – 73 tackles, 5 sacks, 5 INTs – has raaaaaange pic.twitter.com/AVyer5hG26

— Brad Kelly (@BradKelly17) December 3, 2018
Delpit has yet to cover NFL-level wide receivers.
But he displayed a knack for finding the ball and impacting plays.
If his reaction time keeps up with his instincts, Delpit could steal the starting role from his mentor.
As long as his instincts prove reliable at this level.
Andrew Berry only signed his veterans to one-year deals.
If the battle comes down to a coin flip, there is no allegiance or commitment to Sendejo.
3. Delpit as the Starting Nickel/Slot Corner 
Kevin Johnson is another free-agent signed in the offseason.
As the only cornerback with experience in the slot, he is the presumed third corner in Wood´s nickel defense.
But Johnson got his start as an outside corner, moving inside later.
Grant Delpit stands out for more than just his coverage ability. He had almost twice as many career run-stops as the next closest top safety in this year's draft. pic.twitter.com/IRJrFheWyh

— PFF CLE Browns (@PFF_Browns) April 25, 2020
Delpit has the coverage skills needed to handle a slot receiver.
He also adds an element of flexibility to use in extravagant blitzes and a solid run defense.
It would not be the first time a free safety manned the nickel.
Woods could solve the problem of Sendejo vs Delpit by starting both in his base defense.
Delpit and the Wild Card
Safety Sheldrick Redwine and cornerback Terrance Mitchell did a fine job when injuries forced them into action last year.
With four solid safeties and four solid corners, the wild card is defensive coordinator Joe Woods.
The flexibility of the defensive backfield makes Woods´ game plan unpredictable.
And Grant Delpit is the most flexible of the bunch.
Woods will find some way for Delpit to make an impact early in 2020.