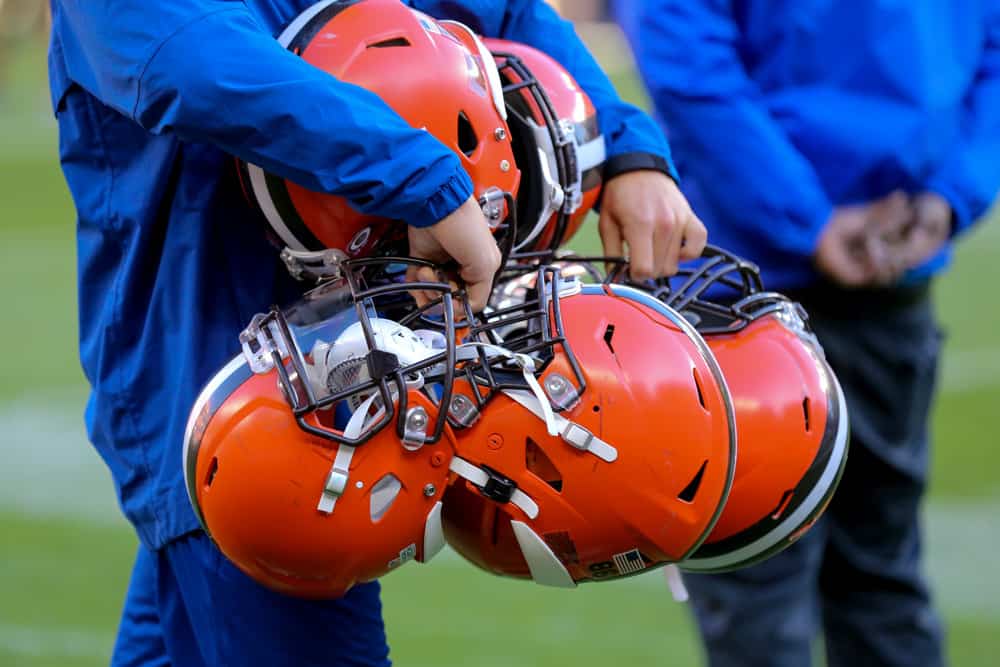 The Cleveland Browns put together an 11-5 season and a playoff victory in 2020.
Much of the credit was given to quarterback Baker Mayfield who was having a breakout campaign.
Mayfield does deserve praise because without him the Browns wouldn't have accomplished what they did.
However, Mayfield's borderline Pro Bowl caliber campaign shielded some of the attention away from other players.
There were a few players that did put up good numbers in Cleveland last season and nobody seemed to notice.
1. Harrison Bryant
The Florida Atlantic product impressed the coaching staff during training camp.
However, the fourth-round pick Harrison Bryant did end up as the third tight end to begin the 2020 season.
Obviously, Austin Hooper was going to be the No. 1 option at tight end after signing a massive contract.
The Browns have signed TE Austin Hooper to a 4 year $44 Million contract. pic.twitter.com/nJ3xVhPTxf

— Everything Cleveland (@everythingcle_) March 16, 2020
Bryant did see his share of snaps despite being the third tight end on the depth chart.
Through 15 games, Bryant finished with 24 receptions, 238 yards, and three touchdowns.
He did end up starting nine games for Cleveland due to the fact both Hooper and Njoku battled injuries.
It was his rookie campaign and he hauled in 63.2% of his targets last season.
The fact that the Browns offense is ridiculously stacked made it difficult for Bryant to get a consistent amount of targets.
It appears Bryant has made enough of an impact to finally jump Njoku on the depth chart.
A much deserved promotion and hopefully he'll be able to see more action in 2021.
2. Ronnie Harrison
Somehow, general manager Andrew Berry doesn't have a warrant out for his highway robbery of the Jacksonville Jaguars.
Last September, Cleveland acquired safety Ronnie Harrison from Jacksonville in exchange for a 2021 fifth-round pick.
Harrison is a former third-round pick and was coming off a career year with the Jaguars.
It's uncertain why the Jaguars would make a trade like that, but Cleveland is happy they did.
The 24-year-old was quickly forced into significant playing time with Cleveland due to injuries at the position.
Through 11 games, Harrison recorded 38 tackles, seven passes defended, and one interception.
Harrison was limited as well due to injuries, but performed well when he was on the field.
Ronnie Harrison with the THEFT and SCORE 😤 @Rharr_15 @Browns pic.twitter.com/Wi88ZYpXU3

— The Checkdown (@thecheckdown) October 11, 2020
The Browns secondary was a disaster last season, but it would've been worse without Harrison.
Sadly, he'll likely fall into more of a rotational type of role heading into the 2021 season.
Cleveland is expected to get second-round pick Grant Delpit back after he missed all of last season.
They also signed under-the-radar safety John Johnson III to a three-year deal this offseason.
There is a good chance Harrison's role decreases in Cleveland, but that shouldn't take away from what he did on the field in 2020.
3. Sione Takitaki
In 2019, the former third-round pick linebacker Sione Takitaki saw limited action with the Browns.
However, the fact Cleveland failed to add much linebacker depth during the following offseason forced Takitaki into a bigger role on defense.
Luckily, he was able to capitalize on the extra snaps and likely earned himself a starting job in 2021.
Through 15 games, Takitaki recorded 67 tackles, one sack, and one interception last season.
He showed much improvement from his rookie campaign and really deserves credit for his work on defense.
SIONE TAKITAKI GETS THE PICK.

INT number 4 for Big Ben.

(via @NFLBrasil)pic.twitter.com/6lXszSGmh9

— Bleacher Report (@BleacherReport) January 11, 2021
Takitaki started 12 games for Cleveland last season after making a lone start during his rookie season.
The Browns trusted their second-year linebacker with more playing time and he shined.
That being said, there will be plenty of competition at the linebacker position during training camp.
Cleveland signed former Indianapolis Colts linebacker Anthony Walker to a one-year deal.
They drafted two linebackers in Jeremiah Owusu-Koramoah and Tony Fields II during the NFL Draft.
It won't be an easy task getting playing time at linebacker in Cleveland next season.
Although, Takitaki deserves a fair shot at being a full-time starter after what he accomplished last year.
4. Wyatt Teller
Last, but certainly not least is right guard Wyatt Teller.
In 2020, Teller came out of nowhere and quickly became one of the best guards in the entire league.
The former fifth-round pick turned a corner and has become a cornerstone piece of the Browns offensive line.
He somehow didn't make the Pro Bowl despite putting up impressive numbers all season long.
Highest grade for a guard after four weeks (since '06):

2020 Wyatt Teller – 94.1
2013 Evan Mathis – 93.9
2016 Zack Martin – 93.6
2016 Justin Pugh – 93.3 pic.twitter.com/DO8UC01nuX

— PFF (@PFF) October 5, 2020
In 2019, the Browns acquired Teller from the Buffalo Bills in exchange for a couple of late-round draft picks.
That deal is looking like a steal, assuming Teller continues to shine in 2021.
He worked hard throughout the offseason to improve his game and it showed during the 2020 campaign.
It wouldn't be shocking to see the Browns begin discussing an extension with Teller in the near future.
The 26-year-old is well deserving of an extension after the season he put together in 2020.