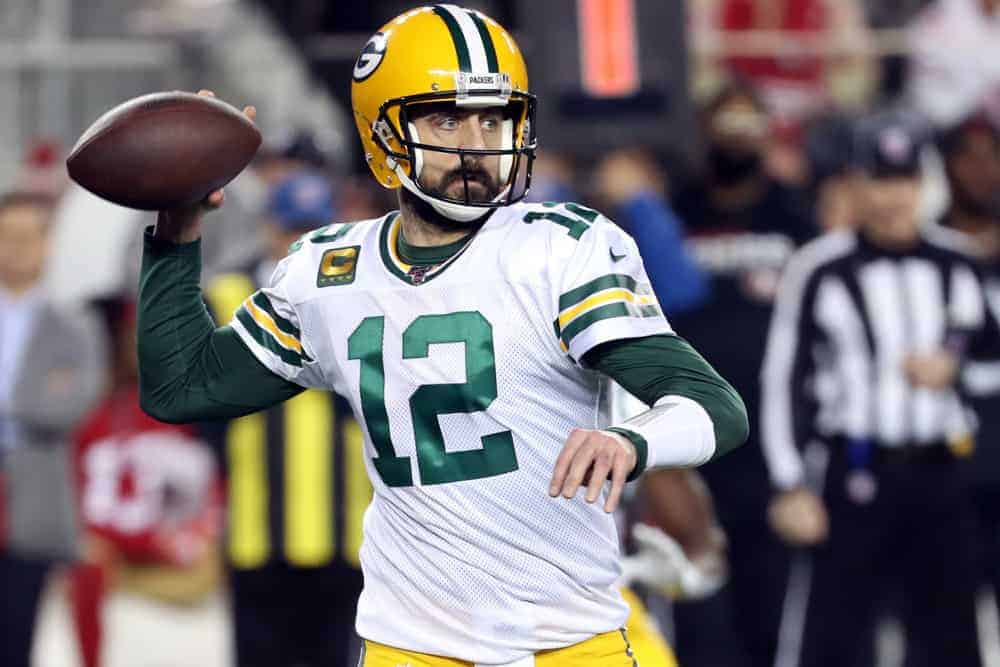 In the past few weeks, the Aaron Rodgers destination board has changed.
First, it was San Francisco, then it was Denver.
Then, in the past couple days he was rumored to be a… Cleveland Brown!?
REPORT: The Denver Broncos are Aaron Rodgers #1 preferred destination pic.twitter.com/pmdbaH2NEF

— Denver Broncos 365 (@DailyBroncos) May 6, 2021
Ever since the 2020 draft, the drama has become its own soap opera.
Think of it as "Days of Aaron Rodgers' Lives" or "As Aaron Rodgers' World Turns."
When the Green Bay Packers selected Utah State quarterback Jordan Love with the 26th pick of last year's draft, Rodgers has been a constant news story.
The pick was startling at first, especially since Rodgers has firmly been entrenched as the Packers starter since 2008.
Most draft experts believed the Pack would grab a receiver in 2020 to help Rodgers.
Instead, the team moved up from their 30th spot in a trade with Miami to get Love.
Their thinking was, they would get a quality signal caller to mold for a few years until Rodgers retired.
Of course, this is nothing new in Green Bay since the team did the same thing in 2005 when they drafted Rodgers (Pick 24) to eventually replace legend Brett Favre.
That's when the drama began.
Almost immediately, the reports from Wisconsin were that Rodgers was unhappy.
He, too, had wanted a flashy receiver to throw bombs to and use that connection to get back to the Super Bowl.
Rodgers was allegedly unhappy that the Packers had already started thinking of his successor.
Packers coach Matt LaFleur says he 'can't fathom' Aaron Rodgers not in Green Bay, has urged Jordan Love to block out noise – ESPN https://t.co/orlyzpQpmj pic.twitter.com/lf1tFpvbqX

— SPORTARUCE™ (@sportaruce) May 2, 2021
After the fervor died down, and Green Bay continued championing Rodgers as their man, the team got back on track.
Love did not see the field in 2020 and the Packers finished 13-3 and lost to eventual Super Bowl champion Tom Brady and the Bucs in the NFC Championship game.
Rodgers was awarded his third league MVP.
Although the successful 2020 season should have been the end of the Love drama, it ramped up again before the 2021 draft.
As the draft approached, it was clear once again that Rodgers was looking to leave Green Bay.
Just before the first round kicked off, there were rumors of Rodgers to San Francisco.
Then, as teams such as the Browns were adding to their rosters in the early rounds, Rodgers was seemingly destined for Denver.

Mayfield to Green Bay!?
As the Packers front office continues to work on damage control and do everything in their power to hold on to Rodgers, the rumor mill keeps spinning.
The latest hearsay involved Cleveland trading Baker Mayfield for Rodgers.
On May 5, ESPN's Bill Barnwell proposed the following between the Browns and Packers: Browns 2022 and 2023 first-round picks to the Packers, along with quarterback Baker Mayfield and tight end David Njoku in exchange for Rodgers and cornerback Josh Jackson.  Barnwell then added:
"Would the Browns dare consider trading their former first overall pick? They should at least consider the possibility," wrote Barnwell. "Mayfield is mostly beloved in Cleveland, and it would be incredibly risky to trade him away for a quarterback in his late 30s.  The Browns would have to consider it, though, because they're facing a difficult question with Mayfield's future: do they really want to pay Mayfield the going rate for franchise quarterbacks? Upgrading to Rodgers would drastically alter the ceiling for the Cleveland offense, which might have a case as the second-best in football with him at the helm. The analytically inclined Browns would be able to create a more efficient attack by dramatically upping their pass rate."
ESPN's Max Kellerman added his own take on Rodgers to Cleveland.
"Aaron Rodgers on the Browns right now, in my view, makes them Super Bowl favorites over the Bucs and the Chiefs," Kellerman proclaimed.
The best landing spot for Aaron Rodgers? @maxkellerman thinks it's the Cleveland Browns.

"Aaron Rodgers on the Browns right now, in my view, makes them Super Bowl favorites over the Bucs and the Chiefs."

— First Take (@FirstTake) April 30, 2021
Thankfully, cooler (and wiser) heads prevailed and the Browns unequivocally denied any such move.
According to Mary Kay Cabot of Cleveland.com, the Browns have no desire to trade their current QB.
"The Browns believe their 2018 No. 1 overall pick can win Super Bowls for them, and they won't try to trade for Rodgers regardless of the compensation," Cabot wrote.
The #Browns are all in on Baker Mayfield and won't be trying to trade for Aaron Rodgers: Brown Insider https://t.co/LmKDaIK7r4

— Mary Kay Cabot (@MaryKayCabot) May 8, 2021
Cabot went on to add that the team is "ecstatic" in how Mayfield played for them last season.
Furthermore, the team recently picked up his fifth-year option for 2022.
After a rough 2019 season, Mayfield bounced back in 2020 under new head coach Kevin Stefanski.
In his third year, Baker passed for 3,563 yards, 26 touchdowns, and eight interceptions (a career best).
He also had a QB rating of 72.2 which bested his previous QBR by almost 20 percentage points.
It must be said that, as effective as Rodgers is, he is 37 years old.  Mayfield is 26.
Barring any unforeseen catastrophic injury, Rodgers can play at a high level for at least 3-4 more years.
The same thinking applies to Mayfield, only that he could play for another decade or more.
If the trade was made, Rodgers may very well get the Browns to the Super Bowl.
At the very least, the team would be in contention each year he played.
However, the future is always on the minds of NFL front offices.
It was for Green Bay.
The Pack knew that Rodgers will not play forever and they elected to grab his successor sooner rather than later.
Cleveland already has their potential franchise quarterback.
Assuming Mayfield continues getting better (and there is no reason to believe he can't) the Browns are smart to stick with him.
Rodgers will eventually retire.
If he were a Brown, that means Cleveland would have to draft his replacement in the next few years.
Then, the team would have to start over from scratch and hope the new QB performs close to Rodgers' (or Mayfield's) level.
Why do that when they already have someone in place that the team can build around?
Thankfully, the Browns have reversed their recent history and used their heads in this decision.
It's safe to say that all of Cleveland agrees.