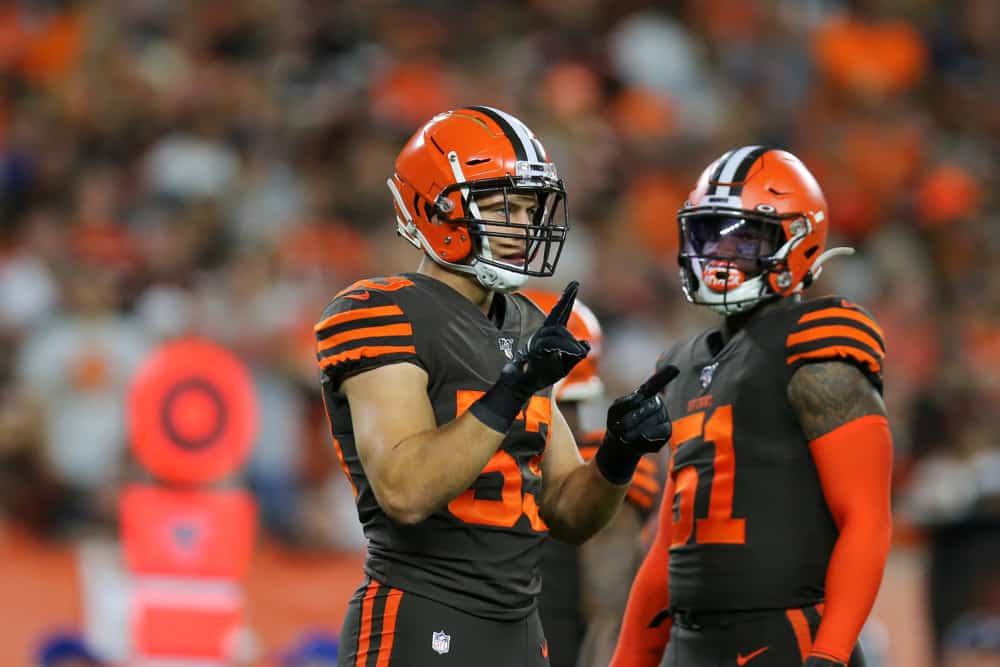 The youngest general manager in the league is going to have some tough decisions right off the bat.
Andrew Berry will look to build the Cleveland Browns into a contender but will need to take a look at upcoming free agents on his own team.
Berry will need to make a key decision on these five players.
1. Joe Schobert-ILB
The NFL tackles leader in 2017 would be a huge loss.
Before Berry was hired, multiple sources said that the Browns are willing to let Schobert walk.
Report: Browns willing to let Joe Schobert leave in free agency https://t.co/9StwRuoWOc

— ProFootballTalk (@ProFootballTalk) December 15, 2019
For the season, Schobert had 133 combined tackles, which ranked 10th overall.
Schobert could be a highly coveted free agent that could be paid greatly, which is a potential reason why the Browns could be letting him walk.
Either way, he is a key piece on defense that would be hard to replace:
Prediction: Signs with another team
2. Damarious Randall-FS
Randall revived his career with the Browns after three seasons with the Green Bay Packers.
After trading for Randall in 2018, the Browns exercised his fifth-year option for 2019.
Randall finished 2019 with 61 combined tackles and 2.5 sacks.
After trading Jabrill Peppers in a package for Odell Beckham Jr., Randall took on a new role.
Prediction: Resigns with the Browns
3. Kareem Hunt-RB
Hunt really makes it hard to love him as a fan when he makes decisions like these.
WATCH: Kareem Hunt's bombshell police video, open vodka container & drug confession pic.twitter.com/D6LYnjCIJx

— TMZ Sports (@TMZ_Sports) January 27, 2020
However, when Berry was introduced as the team's general manager on Wednesday, he had this to say to reporters:
"We want guys who are going to be smart, tough and accountable, on and off the field," Berry said. "Kareem understands that and we're looking forward to him meshing with our culture moving forward."
It sounds like the Browns want him back.
Hunt rushed for 179 yards and hauled in 285 receiving yards and three touchdowns.
He missed eight games due to suspension.
In 2017, he rushed for 1,327 yards and as the NFL's leading rusher.
Prediction: Resigns with the Browns
4. Christian Kirksey-ILB
Kirksey has not lived up to the contract extension he signed in 2017.
Since then, he has a combined 54 tackles and zero sacks.
Kirksey is set to make $9.95 million in 2020 and $10.45 million in 2021.
With Schobert (mentioned above) looming in free agency, the Browns need to decide if they want him back.
If so, cutting Kirksey could save $7.55 million in cap space if they move on from him.
The Browns have drafted two linebackers, including Mack Wilson, who they really like too.
Prediction: Schobert is too expensive, so the team keeps Kirksey
5. David Njoku-TE
Njoku is coming off the most disappointing season of his career.
The season featured Njoku breaking his wrist, left inactive twice coming off the IR, and only four games played.
His athleticism is not questioned but his ability to stay healthy is a huge question mark.
Berry will need to determine if Njoku is worth the fifth-year.
Since he was picked outside the Top 10, his option calculation will be trickier.
Instead of using the cap percentage average of the top 10 salaried players at the position, one uses the third through 25th highest salaries at the position.
Last year, the number for tight ends was $5.398 million.
Prediction: Berry picks up option due to familiarity
Sashi Brown and Andrew Berry was far from perfect

But they weren't NEARLY as bad as some of y'all make them out to be

They drafted the following:

Myles Garrett

Jabrill Peppers

Larru Ogunjobi

Joe Schobert

David Njoku

Rashard Higgins

All impact players at some point

— Relle (@__Relle__) January 29, 2020