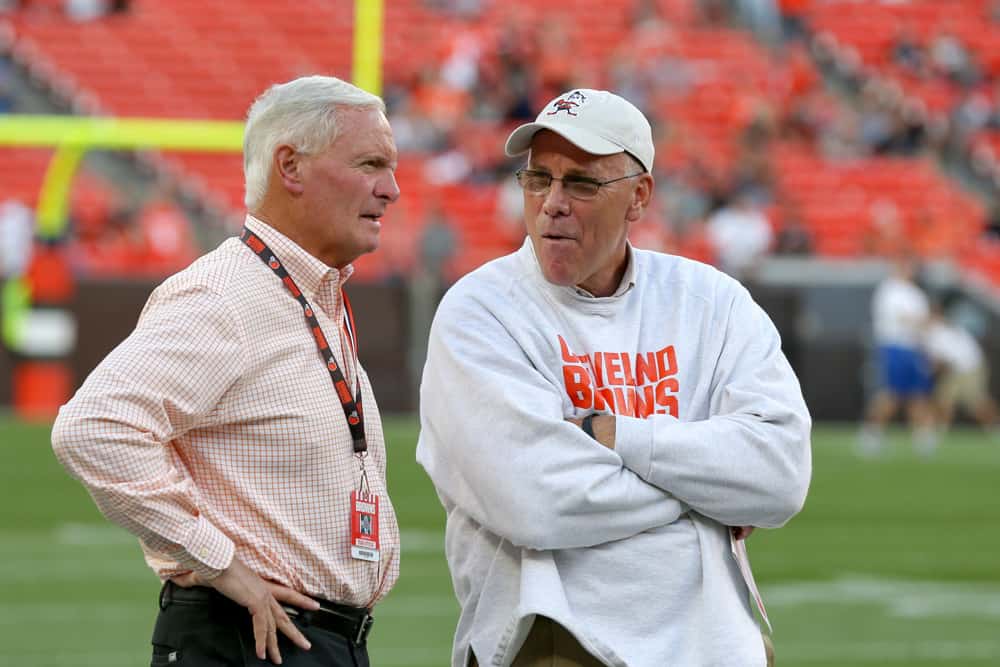 There's no sugarcoating it.
The 2019 season was a huge disappointment for the Cleveland Browns.
This year the team was supposed to take the next step forward to legitimacy.
Instead, they took a step backward.
Now, the team will be lucky to finish the season with a .500 record.
True, that would be a slight improvement over 2018's 7-8-1 record.
However, that's not the step forward anyone was expecting of this team.
How does Cleveland right the ship going into the offseason?
How do they get back on track to contend in 2020?
Here are five suggestions that need to (or should) happen.
1. Dump Freddie Kitchens 
This is obvious even to the most casual observer.
Before the season began, Freddie Kitchens looked like a promising hire for the head position.
He had helped inspire Baker Mayfield to the brink of greatness in 2018.
As offensive coordinator, he worked magic into the team and pulled them to respectability.
What had begun as another disaster of a season for the Browns ended with high hopes for 2019.
What was also interesting about the Kitchens hire was that the Browns hired a fresh face from the coaching ranks.
Despite some progress, the NFL is still a good-old-boys network.
The same coaches continue to get hired for the head jobs despite young assistants showing promise.
The Kitchens hire piqued interest just as Sean McVay did for the Rams or Kyle Shanahan did for the 49ers.
The Browns took a pass on veteran coach Gregg Williams for new blood to lead the team.
Unfortunately, it is obvious Kitchens is not the offensive mastermind the team hoped for.
He is also less than inspiring about his leadership abilities.
It is one thing to support your players, but it is another thing entirely to lead by example.
Sideline shouting matches with players, questionable attire after the brawl against Pittsburgh, and eyebrow raising quotes to the media.
The rivalry is real. Browns coach Freddie Kitchens was spotted wearing GV Art's "Pittsburgh Started It" shirt on Friday. What do you thinking of Kitchens sporting this shirt?
Photo: Brian Southern pic.twitter.com/ORRSPFEsoD

— clevelanddotcom (@clevelanddotcom) November 30, 2019
#Browns Jarvis Landry voicing some…umm…frustration with Freddie Kitchens. pic.twitter.com/tFtEkHDFyC

— Jon Doss (@JonDoss) December 15, 2019
This is not someone who inspires greatness in his team.
This is also not the person talented free agents want to play for.
If the team hopes to improve in 2020, they need to bring in help.
Before 2019, an offer to a free agent from the Browns was intriguing.
Now?
Not so much, especially if Kitchens is still in charge next year.
Who in their right mind would want to join this hot mess of a team?
The optics are bad for Kitchens and the team and that needs to change immediately.
2. Hire a Veteran Head Coach
Yes, this runs counter to what I mentioned above.
However, the Browns are in a precarious situation as a team.
They do not need a fresh face from the coaching ranks to lead them to the next step.
This team needs a proven veteran head coach with a history of team building and a great winning culture.
A lot of intriguing names have been mentioned to replace Kitchens.
Of those names, Ron Rivera is a smart choice.
If you got in Ron Rivera's face???

He'd punch your mouth loose. #BROWNS

— Randy Lee Danger 🚀 (@randella22) December 16, 2019
Rivera, who was fired earlier this year by the Carolina Panthers, would be just the antidote the Browns need.
Rivera cut his teeth in the NFL as a linebacker with the Bears in the 80's and 90's.
He was a member of the vaunted '85 Bears team whose defense crushed opponents to a 15-1 record.
After his playing days ended, Rivera became a coach, which eventually led him to Carolina.
Not only was Rivera a popular coach in Carolina, but he was also a great leader of men.
While the head man in Carolina, Rivera dealt with outsized personalities including Cam Newton and Steve Smith.
He took a team that was in dire straights and to the Super Bowl in 2016.
Browns fans may question the hire considering Rivera was fired mid-season.
However, many insiders believe Rivera was the fall guy when he was dumped.
The primary reason Carolina has struggled the past two years can be attributed to injuries.
Specifically, Newton's injuries the past two years have caused the Panthers to be inconsistent on offense.
When Rivera was fired by the team, many of the Panthers players were unhappy with the decision.
Some openly questioned the move, including Newton, Greg Olson, and even former Panthers.
Carolina's questionable decision may just be Cleveland's gain.
3. Bring in someone to work with Mayfield and the offense
Say the Browns do hire Rivera.
He would most likely bring in his own people.
Keep in mind that current defensive coordinator Steve Wilks worked with Rivera in Carolina.
If Rivera kept Wilks, the defense would be set.
Kitchens did not help Baker Mayfield last offseason by hiring a quarterbacks' coach with scant coaching experience.
The new coaching staff would have to restore Mayfield's decision-making ability and confidence in the pocket.
There are talented offensive minds in the NFL, but who should the Browns bring in to tutor Mayfield?
How about Josh McDaniels?
I know, this sounds crazy, but hear me out.
There is a rumor that Dee Haslam is said to prefer Mcdaniels.
REPORT: sources on the ground are confident that Freddie Kitchens will be OUT as head coach shortly after the end of the 2019 season.

Dee Haslam is said to prefer Josh McDaniels as her top choice for the next head coach.

— CSPN (@CSPNetwork) December 17, 2019

McDaniels has been an intriguing name for the Browns potential head position in 2020.
However, he did not make it through two seasons at the helm of the Broncos in 2009-2010.
He was set to join the Colts as their head man in 2018, but decided to back out.
These experiences do not inspire a lot of confidence in Daniels as a head coach.
The Browns do not need a potential nightmare after this season's nightmare.
However, McDaniels as an offensive coordinator and quarterback mentor to Mayfield?
Why not?
It is not a stretch to say McDaniels loves being in New England and working with Tom Brady.
He also works daily with Bill Belichick, winner of six Super Bowls and former Browns coach.
However, Brady turn 43 next season and the Patriots have looked mortal this season.
Belichick has said he wants to continue to coach, but how long will he stay after Brady (eventually) retires?
This would be a great opportunity for McDaniels to leave New England for a new project.
The Browns have a talented core of athletes on offense and McDaniels could get them over the hump.
After working for years with Brady, McDaniels could tutor Mayfield on the finer points of quarterbacking.
Belichick could also prepare McDaniels on expectations in Cleveland and how to win over the fan base.
Yes, this idea is one of fantasy, but imagine the possibilities.
4. Address the offensive line in free agency and the draft
Okay, let's say the Browns have a new coach and offensive mastermind, what else do they need in 2020?
How about upgrading the offensive line?
This is a group that needs some serious help.
Currently, the unit is a patchwork of inability and inconsistency.
The #Browns offensive line has disappointed this year, but one member makes the grade as a Top 25 overall lineman https://t.co/ZT9vkFHTaP

— PFF CLE Browns (@PFF_Browns) December 20, 2019
In 2018, Mayfield was sacked 25 times on his way to a productive season.
The 2019 season still has two weeks left and Mayfield has been sacked 34 times.
This trend cannot continue to happen or the Browns will be looking for a new quarterback in the near future.
The Browns cannot hope to improve on the offensive side of the ball if they can't protect their quarterback.
One can only wonder how this season would have been had the line been able to block properly.
The team must put priority in bringing in people who can protect Mayfield for the next decade.
5. Add Playmakers To The Defense
Not only has Cleveland been frustrating to watch on offense, but the defense has also been underwhelming.
This unit has talent, but has been undone by injuries and suspension.
Currently, the Browns defense is ranked 17th overall and the team's plus/minus number is -6.
For those not in-the-know, plus/minus numbers are crucial to a team's success.
Basically, plus/minus is the number of turnovers a team commits on offense versus how many turnovers their defense causes.
The Browns defense has taken the ball away from opponents 18 times this year.
The offense has turned over the ball to opponents 24 times.
Take 24 subtract 18 and you get six.
Cleveland is on the wrong side of the column.
If a team is in the negative, that is a sign things are going poorly.
For comparison, the Patriots currently sit at +24, best in the NFL.
The Browns -6 plus/minus puts the team in the bottom half of the league, number 22 to be exact.
However, this number can return to a positive in 2020 if the Browns make changes in the off season.
This list can put them on the right path.