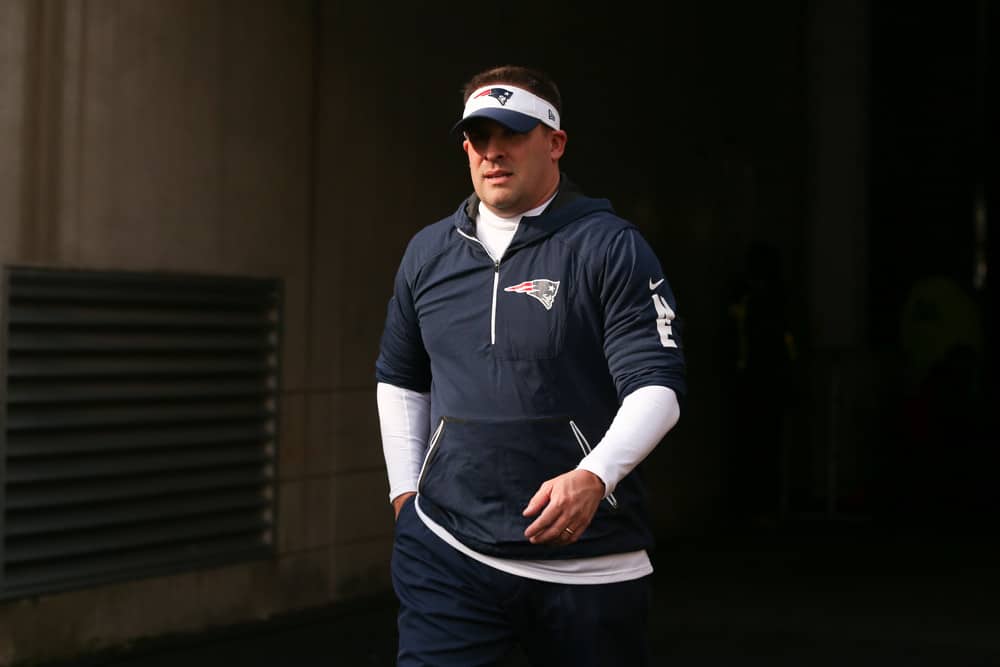 Despite word from Browns camp last week that the Haslam's will be sticking with head coach Freddie Kitchens for the foreseeable future, the rumor mill is up and running with potential replacements.
One such replacement is a frequent guest on the coaching carousel that takes place every winter in the NFL, New England Patriots offensive coordinator Josh McDaniels.
The Browns are often linked with McDaniels when they have a head coaching vacancy.
In fact, do a quick search on the internet for "Josh McDaniels Browns" and you'll get results from a few different years.
So why is McDaniels so often linked with the Browns?
Beyond the obvious connection to Belichick and the Patriots' success, McDaniels is a Northeast Ohio kid.
He went to Canton McKinley High School and played college football at John Carroll University in Cleveland.
He comes from a rich background of Northeast Ohio football tradition via his father, Thom McDaniels, who is one of the greatest high school football coaches in the history of the state.
Does all of that connection and history to Northeast Ohio mean he's the right choice for the Browns?
No, of course not.
But it does add to the allure and drama of it all.
Could McDaniels be the Browns version Lebron James and the Cleveland Cavaliers?
Northeast Ohio kid saves his hometown team and brings the long-suffering city a championship.
You thought the Cavaliers parade was big, just imagine with a Browns Super Bowl parade would look like.
Take away the local connection and does McDaniels still look like an exciting hire?
Let's take a look at his resume.
Before Sean McVay and Kyle Shanahan were the hot young offensive minds, there was Josh McDaniels.
He has been trusted to run Bill Belichick's offense as the Patriots offensive coordinator for 11 of the last 14 seasons.
They've done alright.
Two of those 3 seasons not in New England McDaniels spent as the head coach of the Denver Broncos, which made him the youngest head coach in NFL history at the time.
Perhaps the job was too much for McDaniels at the time as the tenure was covered in scandal and futility on and off the field.
After a season and a half in Denver and with an 11-17 record, McDaniels was fired.
Like the prodigal son, he eventually made it back to New England where Papa Bill welcomed him back with open arms.
Throughout the years McDaniels has flirted with other job openings, including one infamous time with the Indianapolis Colts when he was announced as their new head coach and then promptly removed himself as a candidate.
This move earned him scorn from players and coaches around the league and cost him his agent.
Yet despite the abrupt turn around in Indy, McDaniels remains the hot coordinator on the market every off-season.
.@AlbertBreer on @BullandFox re: Josh McDaniels: "I would say he would be very interested in the Cleveland job if it were on the table. Last year, there were two jobs he was really interested in. One was Cleveland, other one was Green Bay. This year, it's Cleveland and Carolina."

— Keith Britton (@KeithBritton86) December 18, 2019
Teams cannot escape the allure of a Belichick disciple in the hopes that they will be able to replicate the Patriot's success.
The Browns themselves have tried multiple Belichick coordinators, Romeo Crennel and Eric Mangini, but neither of them was able to achieve much.
Would it be different for McDaniels in Cleveland?
Freddie Kitchens was hired because of his relationship with Baker Mayfield and his creative and prolific offensive play calling in the second half of the 2018 season.
So far, the task of being the head coach has exceeded Kitchen's abilities and he has failed miserably at the thing he was supposedly good at.
McDaniels would inherit an offense with incredible potential.
A bright young quarterback mired in a sophomore slump, but with weapons galore.
Pro Bowl wide receivers in Jarvis Landry and the newly recommitted Odell Beckham Jr to throw too.
League rushing leader Nick Chubb paired with former Pro Bowler Kareem Hunt in the backfield running the ball.
McDaniels should be salivating at the opportunity to run an offense with that kind of talent.
In fact, it could be argued that in all his time in New England, McDaniels has never had an offense with that many weapons to work with.
Sure, he's had Tom Brady and occasionally Rob Gronkowski, but other than that he's lead offenses to Super Bowls with skill players that played different positions in college.
A mature McDaniels who has learned from his failures could be exactly what the Browns need.
Surely the extra years in with Belichick have made him ready for a head coaching job again, right?
According to sources, he was a top contender for the Browns job last season when Kitchens was hired and remains a favorite of Dee Haslam.
I can say it's true that there is 'some' within that like McDaniels

— LA (@TheRealLA__) December 17, 2019
Will the Haslam's have the courage to make the move?
We'll have to wait and see.