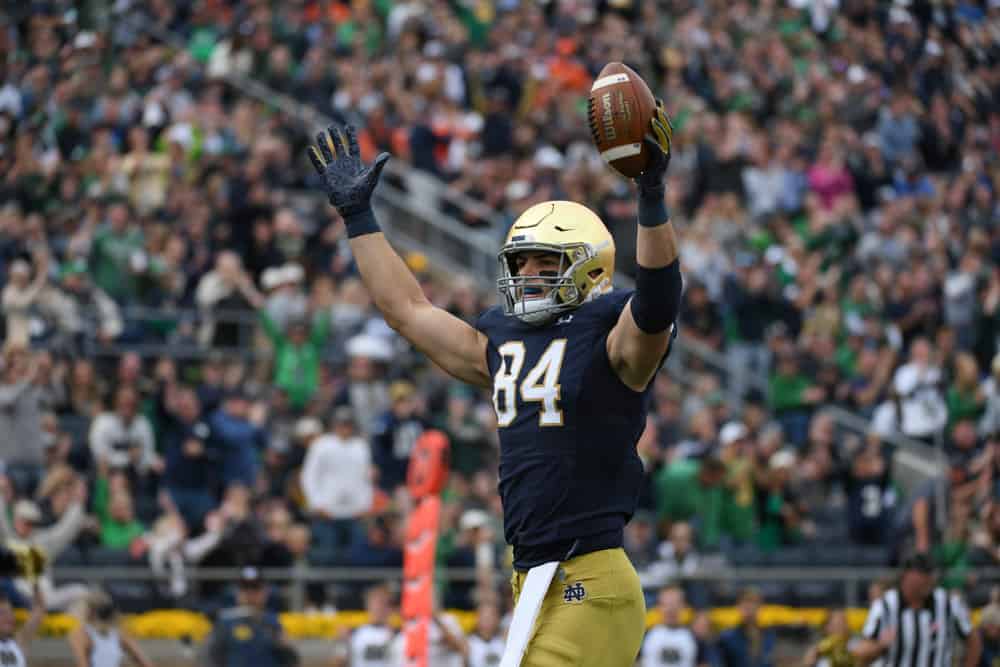 Looking ahead to the 2020 draft, the Cleveland Browns may be in need of a tight end.
Although he is still under contract, David Njoku may find himself elsewhere next season.
Demetrius Harris, Stephen Carlson, and Ricky Seals-Jones are currently on the roster.
However, none of them appear to be a long-term answer for the Browns.
New head coach Kevin Stefanski and quarterback Baker Mayfield would benefit from an extra pass-catching target next year.
As the team heads into the offseason, here are a number of tight ends to watch for in April's draft.
Note: This list is not intended for ranking, only for informational purposes.
1. Cole Kmet, Jr., Notre Dame
https://t.co/dZ4wDMkh3l
TE Cole Kmet is the truth

— O'Tierney (@Irishtemper419) January 30, 2020

Since declaring for the draft, Cole Kmet is regarded as one of the top tight end prospects.
Scouts love the versatility Kmet brings to the game.
At Notre Dame, he was lined up next to either tackle, in the slot and even out wide.
Kmet's release at the snap keeps defenders on their toes as his route running is smooth.
At 6'5" and 250 pounds, defenders covering Kmet are often in a mismatch.
Based on his film at Notre Dame, Kmet thrives running routes in the seams.
He has good hands and can be counted on to make tough catches.
Kmet will be a terror in the red zone, creating match up nightmares for even NFL defenders.
Despite his ability and huge upside, 2019 was Kmet's first as a college starter.
He still has much to learn and at times one can tell his game is still raw.
For example, he will have to be a more consistent blocker in the NFL.
When blocking bigger and stronger opponents, Kmet can be overpowered.
He can also struggle to get leverage at the line of scrimmage with some defenders.
Overall, though he only started one year in college, Kmet showed amazing potential.
Look for him to be one of the first tight ends taken off the board in April.
2. Brycen Hopkins, Sr., Purdue
Y'all go checkout my highlight tape for the 2018 season! More of these to come here in just 70 days 👀 I thank God for the opportunity to play this game! #BoilerUp
Purdue TE Brycen Hopkins – 2018 Season Highlights "Crushed Up" 🚂 https://t.co/0HbBu647hg via @YouTube

— Brycen Hopkins (@Itsbhop89) June 21, 2019
After limited playing time his first two years, Brycen Hopkins started to come into his own as a redshirt junior.
That season he played well enough to show up on the radar of NFL scouts.
Entering his senior year, Hopkins was on the Mackey Award watch list for the nation's top tight end.
Hopkins completed 2019 with 61 catches, 830 yards, and seven touchdowns.
Following the season, he was named first-team All-Big Ten and second-team All American by numerous outlets.
Hopkins did not receive the Mackey Award, although he did receive the Kwalick-Clark Tight End of the Year award.
At 6'5", 245 pounds, Hopkins has great athleticism for his size.
Numerous scouts note that he is a fluid route runner and can find holes in the defense.
He is versatile, having lined up in the slot and the backfield in addition to his normal tight end alignment.
Hopkins can separate well from defensive backs and, especially, linebackers.
Scouts also note that Hopkins is a plus athlete in running after the catch.
In the open field, he can outrun most linebackers or lower his shoulder into quicker defenders.
Although Hopkins has shown glimpses of catching the ball cleanly, he tends to double-catch and re-grip the football.
Also, scouts note that Hopkins is an average blocker and won't necessarily overpower his man.
This is an area he will need to work on at the next level.
An interesting side note, Hopkins is the son of former Oilers/Titans tackle Brad Hopkins.
3. Hunter Bryant, Jr., Washington
He's serviceable, but so are most of the TE's in this class when it comes to blocking. He's on the smaller side, but he plays big and excels gaining YAC. My concern is the 13 games he missed in three seasons.https://t.co/EiqTL7lYD8

— 🏈Adam Hail DC Aniba 📽 (@TheBandGreport) February 1, 2020
Hunter Bryant does not look like a typical tight end.
At 6'2", 239 pounds, his build is more like that of a receiver.
His stature gives Bryant an advantage over typical tight end defenders.
Quick at the snap, Bryant works hard at separating himself from defenders and getting into the open field.
He is versatile and can line up in multiple formations including slot and out wide.
Bryant is fluid in his movements and is adept at coming out of his breaks at just the right time.
He has great ball skills and can track the ball to make adjustments in route.
Watching him on tape, it is surprising how he can find a sudden burst of speed when needed.
He does not taper off at the latter part of his routes, but instead runs wide open through the catch.
NFL personnel marvel at his run after the catch ability.
However, scouts note that Bryant does not fare well at the point of attack when blocking.
This is largely due to his smaller frame as he does not have a lot of mass.
Game film shows him often lining up in an atypical formation for a tight end.
He can be found, pre-snap, lined up behind and off the outside hip of the tackle.
This formation appears to take the pressure off Bryant blocking larger-bodied defenders.
Blocking edge rushers will not Bryant's strong suit.
It is easy to see that Bryant would not be a typical tight end in the NFL.
However, his versatility and athletic ability will make him a tough matchup.
4. Jared Pinkney, Sr., Vanderbilt.
Following the Senior Bowl this past Saturday, Vanderbilt Football's star trio of Jared Pinkney, Kalija Lipscomb and Ke'Shawn Vaughn are one step closer to realizing their NFL dreams.

Story by @lukemukundan:https://t.co/sBcoz15EL2 pic.twitter.com/4PZ3BhEpFm

— Vandy Hustler Sports (@vuhustlersports) January 31, 2020
At first glance, a casual observer might not be overwhelmed by Jared Pinkney.
He isn't a burner and he does not necessarily dazzle the viewer.
Pinkney can hold his own as a blocker, although his hand placement is sometimes questionable.
In man-to-man coverage, he struggles against good coverage defenders and can't always separate from his man.
However, the more one watches tape of Pinkney, the more one can see what is appealing about him.
On run plays, Pinkney can more than hold his own as a blocker.
Although he can struggle in man coverage, he does seem to find just the right hole in the defense.
He makes difficult catches in the middle, as well as the perimeters, of the field.
Even when he is in tight coverage, Pinkney can catch the ball in traffic and power through defenders.
Given his frame, 6'4", 254 pounds, Pinkney can box out defenders to give his quarterback a reliable receiver.
Also, of note, though he is not overly fast, Pinkney can get a head of steam after the catch.
When he does, he is tough to bring down and Pinkney will make a second effort to get crucial yardage.
Pinkney is an interesting prospect for NFL teams.
He may fall to the middle or later rounds of the draft, depending on the Combine and his pro day.
Whoever drafts Pinkney will find him to be a tough competitor and reliable receiver in the clutch.
5. Albert Okwuegbunam, Jr., Missouri
The BEST Tight End in the SEC 💯

Official Albert Okwuegbunam (@albertok1234) Highlights

As a redshirt-freshman, Okwuegbunam led the NATION in Touchdowns by a Tight End (11) 🔥

🎥 Full Video: https://t.co/OUXdRLhqm1 pic.twitter.com/V1BHYSRCqh

— Blake Harris (@BlakeHHarris) July 7, 2018
Albert Okwuegbunam is an intriguing prospect for teams looking at tight ends.
At 6'5", 255 pounds, he has a large frame and strength to snag passes in crowds.
He has strong hands and is able to slow a ball's trajectory and catch it softly.
Film of Okwuegbunam shows him making a lot of catches in the middle of the field.
Okwuegbunam has been clocked in the 40-yard dash at 4.7 seconds.
This speed, coupled with his size, makes him difficult to defend, especially with smaller corners.
Scouts note that Okwuegbunam is adept at walling off defenders when preparing to catch a ball.
If he gets separation from his defender, he is nearly impossible to cover.
NFL scouting personnel do note that his blocking is average.
For his size, he lacks the physicality necessary to drive his man off the line at the point of attack.
Also, while Okwuegbunam is a great receiver between the hashes, he is not a vertical threat.
Moreover, when current Denver Bronco Drew Lock was quarterbacking the Tigers, Okwuegbunam caught 17 touchdowns in two years.
With Kelly Bryant at the helm in 2019, Okwuegbunam only had six touchdowns.
In other words, scouts don't know what to expect from him in the NFL.
Will he make a difference if he is drafted by a team without an established quarterback?
Overall, scouts have Okwuegbunam projected as a developmental tight end in the NFL.
If drafted by a team willing to work with him, Okwuegbunam could become a dependable asset.
6. Colby Parkinson, Jr., Stanford
Can't. Teach. Height.

Colby Parkinson used all of his 6'7″ frame on the game-winning TD 😳 pic.twitter.com/HrRnpuVi9g

— Bleacher Report (@BleacherReport) September 23, 2018
Watching game film of Colby Parkinson, he does not appear to be a true tight end.
Stanford used him a lot split out wide and even in the slot.
Given his propensity to line up in basic receiver packages, his highlights reflect his skills in this area.
Parkinson catches the ball well and has no problem fighting for it in traffic.
Even when getting banged around by defenders, Parkinson concentrates on hauling in passes.
Though not always quick at the snap, he gains speed and explosiveness through his routes.
Parkinson can challenge corners and safeties and can create separation through his physical will.
He can block defenders well on the perimeter, creating leverage against smaller opponents.
However, Parkinson was not asked to block in-line in typical tight end positions.
Due to his somewhat slight stature, 6'7", 251 pounds, he can get overpowered blocking edge rushers.
In the run game, he struggles to get push against defenders, which can kill a play instantly.
Scouts also note that Parkinson is not overly creative in his route running.
He can run seams well, but there is not a lot of route versatility beyond that.
Also, his run after the catch ability is not strong.
He can get taken down too quickly by defenders and he does not have overly elusive moves to break tackles.
Overall, Parkinson does project well as an NFL player.
He most likely will not be used as a true tight end in the pros.
However, with experience, Parkinson can become a versatile offensive piece used to create mismatches against a defense.
7. Adam Trautman, Sr., Dayton
Things in life that aren't fair:

1) Cost of college

2) Growing old

3) Covering Adam Trautman on a blaze out in 1v1s. pic.twitter.com/UYH46gw4eK

— Dalton Miller (@DaltonBMiller) January 25, 2020
Adam Trautman began to make noise in his junior year of 2018.
That year he finished the season with 40 receptions, almost 600 yards receiving, and nine touchdowns.
In 2019, he put himself on the map and NFL scouts on notice.
Trautman had 70 catches for 916 yards and 14 touchdowns.
What makes Trautman intriguing is that he arrived at Dayton to play quarterback.
After not making any progress in that position, he converted to tight end in 2016.
He slowly but surely learned the nuances of the position and has improved every year.
Trautman played basketball in high school and his athleticism shows on the field.
He has fairly good speed and has the versatility to line up in multiple spots.
As with other tight ends on this list, Trautman was used in the slot and out wide.
He has great size for the position at 6'5" and 250 pounds.
He uses his frame to box out defenders and has great hands.
In many film clips, Trautman is seen high pointing the ball over his defender.
He is not afraid to take hits and makes the extra effort to get yards after the catch.
The knocks against Trautman are predictable.
He played at Dayton so his competition was not as strong as other athletes on this list.
Also, as he has only played the position a few years, he is still learning.
He'll have to work on his blocking techniques at the next level.
Trautman is currently listed by scouts as a day-three prospect.
However, in the right situation, Trautman could develop into an all-star.
8. Harrison Bryant, Sr., FAU
Harrison Bryant led all TE's in:

Catches: 65
Yards: 1,004
First-down receptions: 45 pic.twitter.com/mDiQeFKnOp

— PFF Draft (@PFF_College) January 25, 2020
Harrison Bryant's draft stock has risen steadily this year and, watching film, it is easy to see why.
Another tight end with versatility, Bryant lined up split wide and in the slot in addition to the usual formation.
Although he does not always look fast, Bryant has a knack for getting open.
This is evident in his 2019 stats.
Bryant had 65 receptions for over 1,000 yards, a 15.4 yard per catch average and seven touchdowns.
Although his build for a tight end is slight, 6'5", 240 pounds, Bryant isn't afraid to take hits.
Much of his game film shows him catching the ball in traffic and not going down after the first hit.
Bryant has good hands and he uses his length to out-point defenders for the ball.
His hips aren't overly fluid, but he can run passable routes.
Bryant has a nose for the football as well as good football IQ.
He will fight for yardage and gains positive yards after the catch.
His downside is that he did not always line up as a traditional tight end.
When he's in the "home" position, Bryant will line up behind and just off the outside hip of the tackle.
His in-line blocking in this position is not strong, though he's a willing blocker.
Scouts note he is clumsy when approaching his target to block and his hand placement is weak.
Bryant will most likely be a mid to late-round pick.
However, he has great upside and could stick as a second or third tight end/receiver for an NFL team.