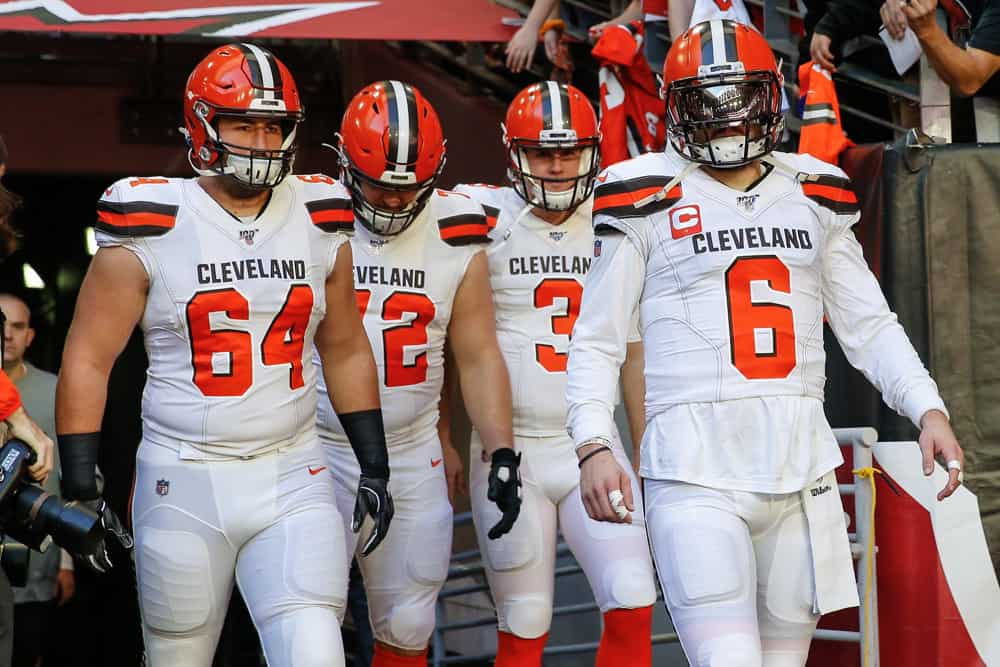 The Cleveland Browns laid an egg last week and many thought (including myself) that their playoffs chances had vanished.
Some still think there's a 0% chance they make the playoffs (including myself).
But after further review, the ruling on the matter is changed.
The truth is, the Browns still have a chance at the playoffs.
Albeit a very minuscule chance.
But a chance, nonetheless.
Here's what needs to happen for the #Browns to make the playoffs.

Week 16
Browns beat Ravens
Jets beat Steelers
Saints beat Titans
Colts beat Panthers

Week 17
Browns beat Bengals
Ravens beat Steelers
Texans beat Titans
Colts beat Jaguars

— Dustin Fox (@DustinFox37) December 18, 2019
There are four games in each of the last two weeks that need to result in the Browns' favor in order for them to crack a wild-card spot in the AFC Playoff picture.
Week 16
Ravens @ Browns – Browns win (+380 ML)
Panthers @ Colts – Colts win (-310 ML)
Steelers @ Jets – Jets win (+150 ML)
Saints @ Titans – Saints win (-140 ML)
All four games that need to happen in the Browns favor occur during the 1 o'clock window.
If these four scenarios play out, their playoff chances would jump from <1% to 12% heading into the final week.
We have a big favorite in the Colts, a small favorite in the Saints, a small underdog in the Jets, and a big underdog in the Browns.
It seems the toughest part of this entire picture lies in having to face the Ravens this week.
Week 17
Browns @ Bengals – Browns win
Steelers @ Ravens – Ravens win
Titans @ Texans – Texans win
Colts @ Jaguars – Colts win
The final four games in the final week also occur in the 1 o'clock window and seems more likely to happen than the prior week.
The odds aren't out yet, but if they can just beat the Ravens in Week 16, then their chances increase greatly.
The only tough one in Week 17 is the Texans over the Colts, but they just beat them last week.
So, there you have it folks.
The eight-step path that the Browns need to pray upon for their season to go from dumpster fire to small oven fire.
Obviously enough, the Browns sole focus will be on beating the Ravens come Sunday.
Seems easy enough, all they have to do is find a way to slow down the 2019 NFL MVP in Lamar Jackson! Piece of cake!