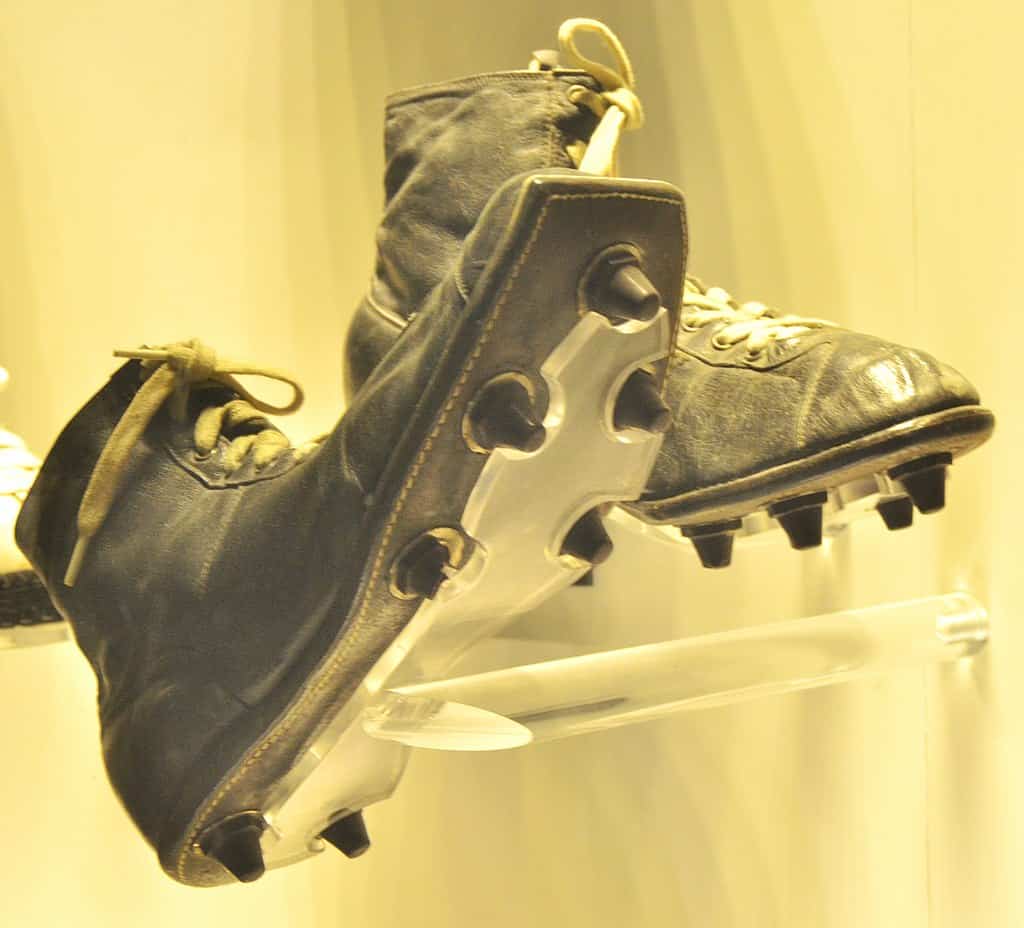 The history of the NFL has been a witness to a plethora of colorful characters.
Some of those characters were so colorful that they were bequeathed a nickname that fit their outsized personality.
The names have been menacing, such as: "The Assassin" (former Raider defensive back Jack Tatum), "Bad Moon" (former Browns receiver Andre Rison), "Dr. Death" (Skip Thomas, also a former Raiders DB), and "Mean" Joe Greene (former Steelers defensive lineman).
Some of the monikers have also been amusing: "Alabama Antelope" (former Green Bay receiver Don Hutson), "Amish Rifle" (current Dolphins quarterback Ryan Fitzpatrick), "Bambi" (former Cowboys and Chargers receiver Lance Alworth), and "Captain Checkdown" (for former journeyman quarterback Trent Edwards' propensity to check  out of certain plays.
Perhaps the most entertaining nickname (at least in Browns history) was "The Toe."
76 Days: Lou Groza #Browns #BrownsTwitter pic.twitter.com/K8cUg2sh77

— Downtown Browns (@DowntownBrowns_) June 26, 2020

Lou "The Toe" Groza played multiple positions for Cleveland, but his bread-and-butter spot was as a kicker.
Groza played an astounding 21 seasons for the Browns, including a whopping 268 games.
His longevity was matched only by his consistency as an athlete and character as a human being.
This is the story of the life and career of The Toe.

Growing Up in Martins Ferry
Louis Roy Groza was born on January 25, 1924 in Martins Ferry, Ohio.
An interesting fact, his parents were immigrants from Transylvania (now known as Romania).
Even spookier was the talent the Groza boys displayed in athletics.
Groza's brother, Alex (one of four brothers), was a prep basketball star and played collegiately at the University of Kentucky.
Alex won two national championships as a Wildcat and won an Olympic gold medal before  playing in the NBA.
Groza himself was a high school letterman in football, basketball, and baseball.
In 1941, the Purple Riders won a state championship in basketball with Groza as its captain.
During the playoffs that season, Groza set a state record for most points during the playoffs with 51.
This mark included a game-high 18 points during the championship game.
He also happened to be the captain of the Martins Ferry High baseball team.
Groza excelled on the gridiron, of course, and learned how to kick by watching another of his brothers, Frank.
As a senior in 1941, he helped lead Martins Ferry to a share of the state title.
Following the season, he was named First-Team All-Ohio by the Associated Press and United Press International.
After graduating from high school, Groza stayed local to attend Ohio State.

Brief College Career and Military Service 

As a freshman at OSU, Groza performed well for head coach Paul Brown.
During the 1942 season, he played in three games as a tackle and kicker for the Buckeyes.
He made five field goals including one from 45 yards.
In 1943, with World War II at the forefront of the news cycle, Groza dropped out of school to join the Army.
After basic training, Groza attended Brooks Hospital in San Antonio to receive additional training as a battlefield medic.
He then found himself attached to the 96th Infantry Division in Okinawa and saw action in the Pacific Theatre of the war.
As an Army Corpsman, Groza witnessed countless war atrocities.
Legendary #Cleveland Browns tackle and placekicker Lou Groza was born in Martins Ferry, #Ohio on January 25, 1924. He was also a US Army veteran of #WWII who served in the South Pacific. Classic old school for sure. I miss these guys. pic.twitter.com/vzzZtJZWMt

— Patrick Kerin (@PatrickKerin1) January 26, 2019
"I saw a lot of men wounded with severe injuries," he later said. "Lose legs, guts hanging out, stuff like that. It's a tough thing, but you get hardened to it, and you accept it as part of your being there." 
While stationed in Okinawa, Groza received a package from Brown.
In the package was a contract for him to join Brown's new team, the Cleveland Browns, when his time in the Army ended.
Groza signed the contract and was given a $500 monthly stipend and a $7,500 annual salary, all while still serving in the Armed Forces.
When his time in the service ended, Groza headed back to the States and then to Cleveland to begin the next chapter of his life.

Groza and the Browns Roll Through the AAFC
Making the ultimate first impression, Groza showed up to Browns training camp in Army fatigues and a duffel bag.
He joined a club primed for immediate success.
To say that Brown was an effective recruiter is an understatement.
In addition to inking Groza, Brown also signed many of his former college players as well as athletes from Ohio and the Great Lakes area.
Quarterback Otto Graham joined the team along with running back Marion Motley and receivers Dante Lavelli and Mac Speedie.
Together they formed a juggernaut that was difficult to beat.
Playing mostly kicker his first two years, Groza helped the team to a 24-2 combined record for the 1946-47 seasons.
During the inaugural '46 season, Groza set pro football records for field goals (13 of 29) and extra points  (45 of 47).
The Browns went to the AAFC Championship game and faced the New York (football) Yankees.
While nursing a sprained ankle, Groza missed three field goals in the game but the team still pulled out a 14-9 victory.
The following year, the Browns returned to the championship game and, again, faced the Yankees.
With Groza watching on the bench because of an injury, the Browns won their second title game in a row 14-3.
In 1948, Groza began playing more snaps at the left tackle position.
He eventually solidified that part of the line and played alongside guard Abe Gibron and future Hall of Famer Frank Gatski.
That season, Cleveland completed the first perfect season in pro football history with a 14-0 record.
In a game against the Brooklyn (football) Dodgers, Groza kicked a 53 yard field goal, the longest in the history of the pro game at that point.
The Browns had a kicking weapon unmatched by any other team.
The Great Lou Groza. #Browns pic.twitter.com/W9AI8lYEGK

— Sports Plus (@PrepSportsPlus) October 3, 2019
Though he didn't always have the greatest field goal kicking percentage, Groza acquired "The Toe" nickname because of his big kicks.
"Anywhere from 40 to 50 yards, he was a weapon," said Tommy Jones, Groza's holder for eight years. 
Cleveland rolled over the Bills in the '48 AAFC Championship game 49-7.
53 Days till the @Browns Season starts. In 1948 Lou Groza kicked a 53-yard field goal against the AAFC's Brooklyn Dodgers that was then the longest kick in pro football history. pic.twitter.com/ootuHdtKnP

— Americans Are Bad-Ass!!! (@TuffinUpAmerica) July 19, 2018
In the last season of the AAFC's existence (1949) the Browns returned to the title game and defeated the San Francisco 49ers 21-7.
That same season, Groza made just 2 of 9 field goals but only missed one extra point (34 of 35).
At the close of the year, the Browns became one of the newest members of the NFL.

Groza Helps Cleveland Find Continued Success in the NFL 
Cleveland's first year in the NFL picked up where their AAFC affiliation left off.
The team went 10-2 in 1950 and Groza had his best year yet, making 13 of 19 field goals and converting all of his extra points.
He would be named to his first Pro Bowl after the season.
During a game against the Redskins that season, Groza set an NFL record by making his 13th field goal of the year.
He also scored a touchdown on a tackle eligible play during that game on a pass from Graham.
It would be the only touchdown of his career.  
Who doesn't miss the days when big, beefy guys with black high tops and numbers like 76 would tee up the ball in the #NFL — and kick with a squared-off toe, no less? This is #Browns HOFer Lou Groza. pic.twitter.com/JdH0bNWQbY

— Dan Daly (@dandalyonsports) October 19, 2019
By this time, Groza's success as a kicker was viewed by some as a threat.
The kicking game had been important for teams up until that point.
However, Groza's kicks (especially the number of his made kicks and his ability to hit from long distances) led the league to investigate his kicking methods.
Groza wore a kicking shoe with a block front edge that was not unheard of at the time.
Lou Groza and his famous square-toed kicking shoe. The legendary #Cleveland #Browns placekicker and offensive tackle was born in the tough industrial town of Martins Ferry, #Ohio on January 25, 1924. You don't get much more classic old school football than this. #NFL #Midwest pic.twitter.com/kR5QhRV7Tw

— Patrick Kerin (@PatrickKerin1) January 26, 2020
However, he would use his cleats before kicks to scrape the ground in a straight line.
This would allow for better accuracy for his straight-ahead kicking style.
He would also sometimes put a piece of tape on the ground for better accuracy.
In 1950, the NFL instituted the "Lou Groza Rule" that officially banned kicking aids, including tape.
In the '50 NFL title game against the LA Rams, Graham drove the Browns down the field with time running out and the Browns down by one point.
Groza trotted onto the field with only seconds left and calmly kicked a 16 yarder to win the game 30-28.
Will the Super Bowl come down to a final kick? Here is one of the best photos ever (from the Associated Press) as Lou Groza of the Browns defeats the Rams 30-28 in the 1950 NFL championship game. Groza's winning field goal came with just 20 seconds remaining. pic.twitter.com/wNhj2Vxi9o

— Joe Ziemba (@cardschicago) February 2, 2019
"Pressure didn't bother him at all," Graham said years later. "We always felt if we got within 40 or 50 yards of the goal post, he could make it, and 95 percent of the time he did." 
Groza was ecstatic after the victory, famously taking off his shoe and kissing it. 
"It was total euphoria," Groza later recalled. "On that day we proved that we belonged, that we were a major league city." 
For the next three years, the Browns went to the NFL Championship each year.
Each year, they would end up
losing, once to the Rams in a title game rematch in 1951 and twice to the Lions.
In the '51 title game, Groza kicked
a 52 yarder that would remain a Championship record for over 40 years.   
NFL in Ballpark Series
Shibe Park, Philadelphia 10/19/52 – After Dub Jones of Browns scores on 16-yard run against the Eagles, teammate Lou Groza kicks extra point. The kick was also the 86th consecutive extra point made by Groza breaking an NFL record. Final: Browns 49, Eagles 7 pic.twitter.com/Y4bTnUaN5h

— Old-Time Baseball Photos (@OTBaseballPhoto) September 7, 2018
Groza experienced success both at his line position and as a kicker during this period.
The 1953 season would turn out to be his best ever as a kicker.
That year, he made 23 of 26 field goals for an 88.5% average and also converted all but one extra point.
He made the Pro Bowl after each season and was named First-Team All-Pro after the 1952 and 1953 seasons.

League MVP 
The 1954 season was an embarrassment of riches for both Cleveland and Groza.
Argument between Frank Kilroy of the @Eagles and Lou Groza of the @Browns was Russ Gestner, business manager of the Browns. The angry Groza finally was restrained from belting Kilroy. The Toe charged that Kilroy elbowed him in the face (1954).Source: @Cleve_Memory pic.twitter.com/dIudYDhw7k

— John Skrtic (@SkrticX) March 15, 2019
The Browns would finish the year 9-3 and end up in the championship game (again) against the Lions for the third year in a row.
Unlike the first two attempts against Detroit, this time Cleveland pounded their foe 56-10.
Groza led the league in field goals made that year with 16.
He also led the league in field goal percentage with 66.7% and extra point percentage with 97.4.
Following the season, The Sporting News named Groza the NFL MVP.

The Good Times Continue before Retirement 
In 1955, Groza made exactly half his field-goal attempts and missed one extra point.
The Browns returned to the title game and defeated the Rams 38-14.
In 1956, Cleveland had its first losing season in franchise history (5-7) and Groza missed the Pro Bowl for the first time since 1950 despite making 55% of his kicks and all his extra-point attempts.   
Lou Groza of the @Browns signs an autograph in the 1950s #ThusWasCLE pic.twitter.com/AETiVgYAC3

— This Was Cleveland (@thiswascle) November 30, 2016
From 1957-1959, Groza returned to the Pro Bowl each year.
However, he was selected largely on the basis of his line play in 1958 and 1959 due to 42% and 31% field goal percentages (respectively) both years.
After losing to the Lions in the 1957 NFL Championship game and the New York Giants in the conference playoffs in 1958, the team missed the postseason in 1959.
Citing back issues, Groza decided to retire following the '59 season.
For the next year he would scout for the team and spent considerable time with the insurance business he founded.
"I was 36 and I thought I had retired", he said at the time.
He wouldn't stay retired for long.

Groza Returns 
With his back seemingly healed and his body rested, Browns owner Art Modell coaxed Groza back to the team in 1961.
Groza agreed to return, but he would be strictly a kicker.  In the '61 season, he didn't miss a beat.
"Old Days"Lou Groza kicks a field goal in a 1961 Browns-Giants game at Yankee Stadium.#NFL #NYG #Browns⁠ ⁠ #Cleveland #NYC #Giants #1960s pic.twitter.com/AouNuDtob9

— Tom's Old Days (@sigg20) November 7, 2018
For the season, he had the second-highest field goal percentage of his career with 69.6% (16 of 23) which led the NFL that year.
Groza also led the NFL that season in extra point percentage with 97.4.
A 1963 photo of Cleveland Browns place-kicker Lou Groza
"Show me another guy who toes a / Football as neatly as Lou Groza."
– "Hoosier Pick", 1946#GoBrowns
An (American/Canadian) #Football thread 🏈 pic.twitter.com/svo4K4kHKZ

— Deny Fear (@dean_frey) October 1, 2019
By the time Cleveland returned to the NFL title game in 1964, Groza had made over 60% of his kicks every year (except for the 1962 season) after his return from retirement.
When the Browns returned to the championship game for the first time since 1957, they were considered underdogs against the heavily favored Baltimore Colts.
The Browns would not go quietly into the night, however.
Groza scored the first points of the game on a 43-yard field goal in the third quarter.
Cleveland would then go on to shut out the Colts 27-0.
Groza was responsible for two field goals and three extra points during the game.
The team went back to the championship game in 1965  but would lose to the Packers 23-12.
That season, Groza made 64% of his kicks as well as all his extra-point attempts.
Two years later, Groza wrapped up his 21st year as a pro with 11 of 23 field goals made along with converting all his extra points.
The Browns made the playoffs but lost in the Conference Championship game to Dallas 52-14.
Staring at his 44th birthday, Groza decided to retire again, this time for good.

Legacy 
Groza retired as a model teammate, citizen, and professional.
He was responsible for 1,349 total points (1,608 if one counts his NFL and AAFC numbers) on 234 of 405 field goals for 57.8%.
His NFL extra point percentage of 97.6 includes converting on an astounding 641 of 657 attempts.
In addition to his four AAFC Championships, Groza was also a member of four NFL Championships.
He was a four-time First-Team All-Pro and a two time Second-Team All-Pro and was voted to the Pro Bowl nine times.
Groza was chosen as a member of the NFL's 1950s All-Decade team as well as the 50th Anniversary All-Time Team.
He is a member of the Browns Ring of Honor and has had his number 76 retired by the franchise.
In 1974, Groza was elected to the Pro Football Hall of Fame.
HOF OT/placekicker Lou Groza was born OTD in 1924. HOF Enshrinement Class of 1974. Groza spent his entire 21-season career with the @Browns. He was selected to 9 Pro Bowls and tallied 1,608 points in his career (this mark stood for years as the all-time NFL scoring record). pic.twitter.com/DRxu983Joo

— Pro Football Hall of Fame (@ProFootballHOF) January 25, 2019
His Hall profile includes a quote by Groza that displayed his humility.
"Kicking was something I did because I had the talent," said Groza.  "I always considered myself a tackle." 
Post-Career and Death
After retiring, Groza received an invitation to play for the 49ers but declined.
He was also offered a position as kicking coach for the Browns, but he declined that offer as well.
Groza continued to run his insurance business and was an honorary ambassador of the Browns.
When Modell moved the team to Baltimore following the 1995 season, Groza was devastated.
He later said the move was, "like some man walking off with your wife."
By the time the late 1990s rolled around, Groza was suffering from back and hip surgeries as well as Parkinson's disease.
After having dinner with his wife, Jackie, at a country club in 2000, Groza suffered a heart attack.
He was brought to a hospital and died shortly after.
To honor him, the Browns wore the number '76' on their helmets during the 2001 season.
"Old Days"Before "Soccer Style"Kicking came to the NFL, Lou Groza gets off a FG attempt,during an early 1960's Browns-Giants game at Yankee Stadium.#NFL #NYG #Browns #Cleveland #NYGiants #1960s pic.twitter.com/hJEc1WT1cc

— Tom's Old Days (@sigg20) October 1, 2019
Summing up the loss he and all Browns fans felt after Groza's passing, Graham shared his thoughts about Groza, his former teammate and friend. 
"You could count on him for anything," said Graham. "He was a heck of a nice guy, we're all going to miss him."