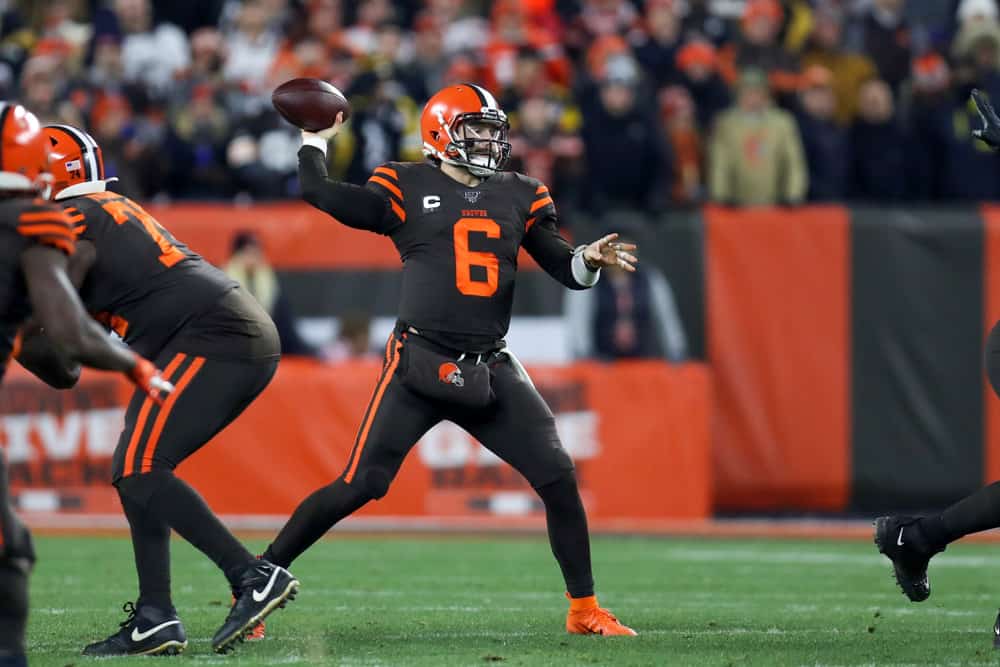 Cleveland Browns new offensive coordinator Alex Van Pelt is ready to hit the ground running.
The new Cleveland Browns offensive coordinator revealed on Wednesday that he wants to "change the footwork" of quarterback Baker Mayfield this offseason.
Alex Van Pelt wants Baker Mayfield's feet to be more "like Mozart and not like Metallica" as he looks to how to make the Browns offense better https://t.co/zcSMvHXL5S

— ProFootballTalk (@ProFootballTalk) February 19, 2020
The Music Analogy
Van Pelt used rock and roll to explain what he wants out of Mayfield.
At his introductory news conference at Browns headquarters, Van Pelt said, "I want the feet to be like Mozart and not like Metallica."
Van Pelt expanded by saying, "With the footwork, it's just a fluid motion. You're really back there dancing through the pocket as you go through your progressions."
Alex Van Pelt came off strongly in his press conference. He emphasized footwork and technique when he spoke on Baker Mayfield. Explained how he could help Baker improve with both. Acknowledged the disparity between Baker with play action and without. Detail oriented. Love it.

— Nick Karns (@karnsies817) February 19, 2020
Getting Out Of Regression
Mayfield has told reporters this offseason that he wants to improve his footwork.
In 2019, Mayfield regressed to second to last in completion percentage (59.4) and passer rating (78.8).
However, Van Pelt said that his ability to accurately pass the ball on the move is one of his greatest strengths.
#Browns OC Alex Van Pelt says that the biggest thing that stood out to him while watching @bakermayfield, was his ability to accurately pass on the move to all levels of the football field.

— BrownsAccess (@BrownsAccess) February 19, 2020
As a rookie in 2018, Mayfield completed 63.8 percent of his passes with 27 touchdowns, 14 interceptions, and a passer rating of 93.7.
Those totals regressed to 22 touchdowns and 21 interceptions in year two.
Van Pelt stressed that Mayfield is still a "skilled and talented player."
"He's obviously a skilled player, a talented player," Van Pelt said. "I love the fire and the passion in his game. It's our job as an offensive staff to help him and make him successful."
Calling The Plays
Van Pelt specified that the interceptions need to change.
"The increase of interceptions," Van Pelt said, "that'll be something that'll be a point of emphasis — making the right decisions, protecting the team and protecting the ball."
Mayfield's interception total was second in the league to Tampa Bay Buccanneers' quarterback Jameis Winston (30).
Former head coach Freddie Kitchens and offensive coordinator Tom Monken are no longer with the team.
Van Pelt said that new head coach Kevin Stefanski and him will "work through" who calls the plays next season.
Stefanski called plays for the Minnesota Vikings last season as the team's OC.
On the other hand, Van Pelt has not called plays since 2009.
Last season, Van Pelt was the quarterback's coach for the Cincinnati Bengals.
All In On Mayfield
Van Pelt made it pretty clear that he loves the Browns' quarterback.
"Obviously, he has the skill set — the talent, the arm, throwing the ball on the move to escape pressure, all those things," Van Pelt said. "I think the future's bright."