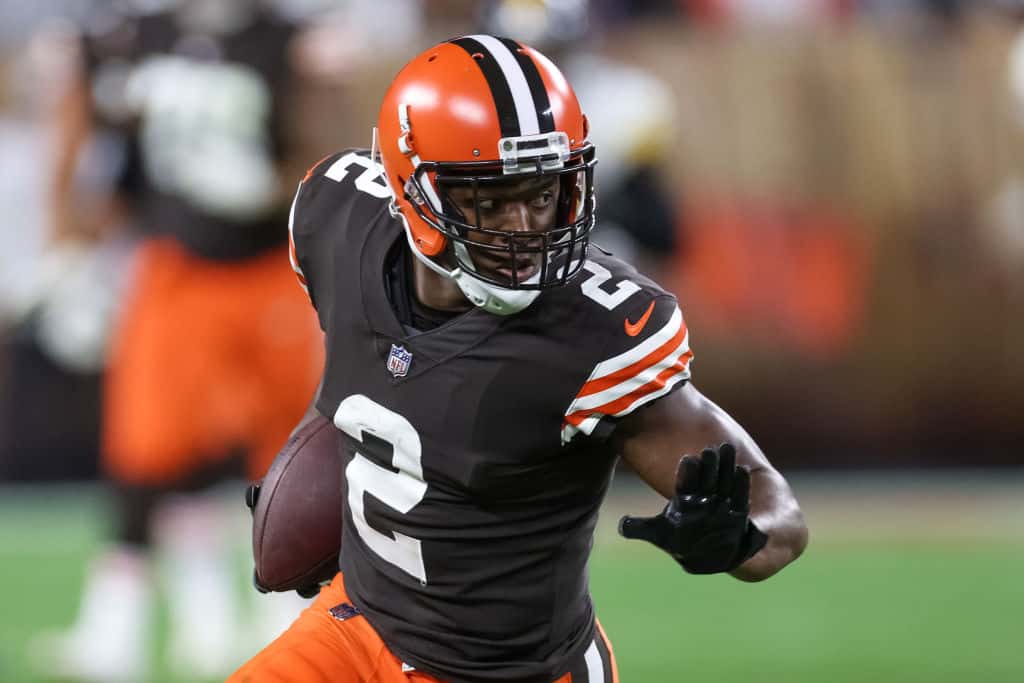 It looks like Cleveland Browns fans can breathe a sigh of relief about one of their key offensive players.
Kevin Stefanski left a lot of folks worried when he offered scant details about an injury to Amari Cooper.
But this morning, Stefanski told reporters there is a chance Cooper could be on the field for practice.
Minutes later, Cooper was spotted on the sideline bikes with others rehabbing injuries.
Kevin Stefanski said Amari Cooper is feeling good and "might" be back on the field today.

He had a minor tweak in yesterday's practice. #Browns

— Anthony Poisal (@AnthonyPoisal) July 24, 2023
And he did not look particularly hobbled by whatever happened this weekend.
There are still few details at this point about what happened to the Browns' WR1.
Stefanski only said it was not related to Cooper's offseason core-muscle surgery.
For what it is worth, Cooper did not seem worried as he joined his teammates on the bikes this morning.
WR Injuries Piling Up
Andrew Berry added a slew of wide receivers this offseason as the team shifts to a pass-first offense.
But they lost one of their promising young players before the first offseason meeting took place.
Michael Woods II tore an Achilles while working out with teammates and Deshaun Watson.
Marquise Goodwin then landed on the PUP list when trainers diagnosed him with blood clots.
#Browns Amari Cooper on the side along with Marquise Goodwin, Colby Gossett, Anthony Walker, Jakeem Grant, Sione Takitaki and Anthony Schwartz pic.twitter.com/TGWwiEvaIR

— Fred Greetham (@FredGreetham9) July 24, 2023
And the maligned Anthony Schwartz started his battle for survival by tweaking a hamstring before camp.
Coming back from his own Achilles injury, Jakeem Grant also sat out the first day of camp.
But the loss of Cooper would be the biggest of these potential losses.
There are many who believe Cooper is set up for his best season ever as the number one target for Watson.
What It Means For The Browns
At this point of the season, sitting out for a minor "tweak" is far from a devastating event.
Cooper's standing is not threatened, and the Browns can be overly cautious with their star.
Meanwhile, Stefanski gets a chance to see more of the wide receivers fighting for the last roster spot or two.
Players like David Bell and Cedric Tillman will benefit from more touches.
Browns HC Kevin Stefanski says there's "definitely no long-term concern" about WR Amari Cooper's tweak. Could do limited work today. Day to day pic.twitter.com/ftyMnShBE8

— Jori Epstein (@JoriEpstein) July 24, 2023
But it also can present a rare chance for others to jump up in the pecking order.
Cleveland does not have enough roster or practice squad positions for every receiver.
And each touch is a chance to impress for players like Jaelon Darden, Daylin Baldwin, and Mike Harley Jr.
These players wish Cooper well, but won't mind giving him an extra day or two of rest.