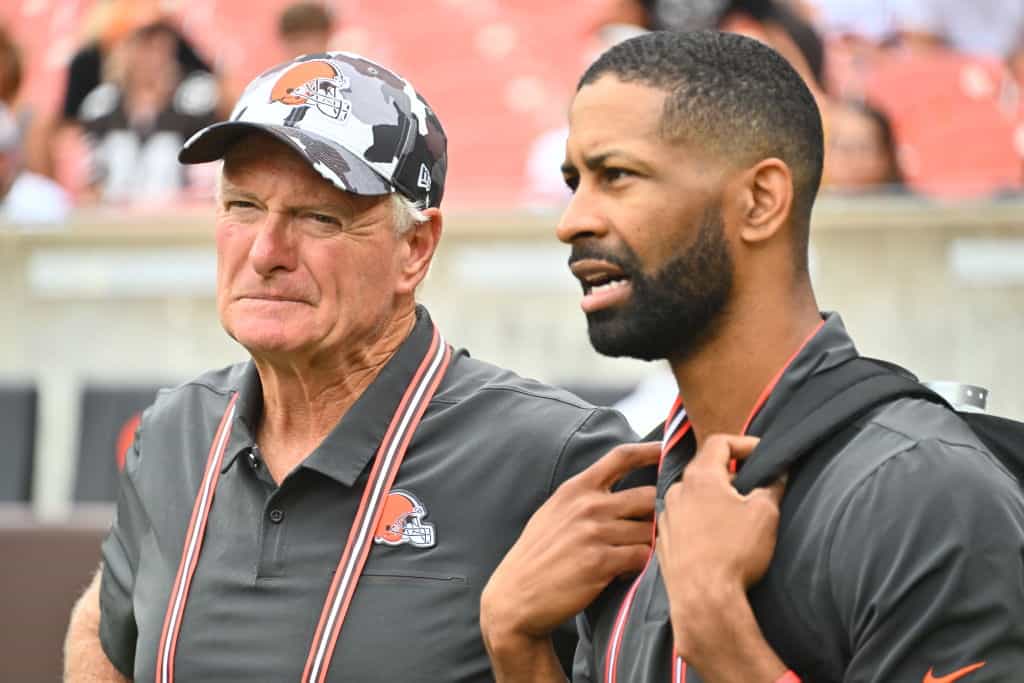 The Cleveland Browns just got the worst possible news with Deshaun Watson's season-ending injury.
However, Kevin Stefanski and his coaching staff aren't ready to panic yet, and they'll roll with fifth-round rookie QB Dorian Thomposn-Robinson for a must-win divisional game with the Pittsburgh Steelers.
This game could have huge postseason implications and even be for the first spot in the AFC North, but the team is confident in what they've seen from DTR to get the job done.
With that in mind, ESPN Cleveland radio pundit Tony Rizzo predicted that the Browns would just try to get through this game, "dumbing it down" to make it easier for Thompson-Robinson to beat the Steelers.
"They're getting through this game, they're gonna try and dumb it down and beat the Steelers, and then I think they're trying to bring in the cavalry," – @TheRealTRizzo on Browns QB options going forward 👀👀👀 pic.twitter.com/75hdEjNI2A

— ESPN Cleveland (@ESPNCleveland) November 16, 2023
Then, he believes they're going to "bring in the cavalry," adding that there must be at least one veteran QB out there who sees that defense and special teams and thinks that he could lead them to the playoffs.
Of course, the Browns could target the likes of Ryan Tannehill or Jimmy Garoppolo if they're waived by their teams, but the teams have no financial incentive to do so unless they know for a fact that the Browns would pick them off waivers, and that could be against the rules.
As for free agents, with the Los Angeles Rams signing Carson Wentz, most of the options remaining aren't exactly young.
We have the likes of Matt Ryan, Joe Flacco, Nick Foles, Cam Newton, Colt McCoy, and even Colin Kaepernick, and we all know that's not happening.
So, barring a miracle, it seems like it'll be the DTR-P.J. Walker show from now on.