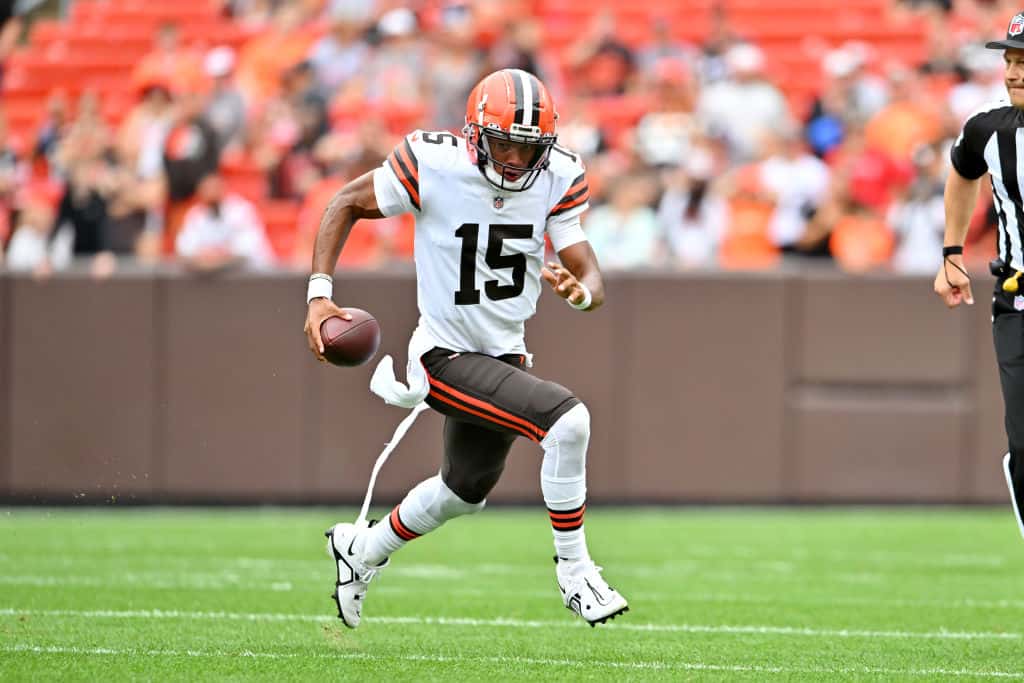 For a few hours on Thursday, Josh Dobbs was the official QB2 of the Cleveland Browns.
Kellen Mond, on the other hand, was out of work and looking for a new opportunity.
All of a sudden, Dobbs was shipped to Arizona, Mond was unpacking his bags, and the Browns had a rookie at QB2.
Tony Grossi might have called the turn of events risky, but fellow ESPN Cleveland analyst Tony Rizzo isn't so sure.
"I think he [DTR] did enough to make the Browns comfortable with this move," – @TheRealTRizzo on the Browns trading Josh Dobbs.

Do you like the trade and DTR being QB2? pic.twitter.com/BsbL15TXC0

— ESPN Cleveland (@ESPNCleveland) August 25, 2023
Rizzo is non-plussed by the turn of events that handed the backup job to rookie Dorian Thompson-Robinson.
"This kid, he looks farther along than most rookie quarterbacks. And I think he did enough to make the Browns comfortable with this move," Rizzo said.
Indeed, Thompson-Robinson displays uncanny maturity and football-savvy when called upon.
But the Browns still hope Deshaun Watson can take the field for 17 regular-season games.
Kevin Stefanski professed faith in Dobbs' abilities, often citing his intelligence and skill set.
But while Dobbs had regular-season game experience, he and DTR have the same number of NFL victories: zero.
If the Browns were in different circumstances, Thompson-Robinson might be a rookie starter.
And given his performance so far, fans would be anxious to see him lead the offense.
#Browns QB Joshua Dobbs avoids the pressure, loses part of his jersey, scrambles away, tightropes the sideline, and someway somehow almost scores a touchdown. This is crazy.pic.twitter.com/7tv1g2e7N8

— Ari Meirov (@MySportsUpdate) August 21, 2022
But the team has a durable and reliable quarterback in hand, and ideally, the backup spot will be an afterthought.
On top of that, the team saves about $1.5 million in cap space for 2023.
And they moved up two rounds in the 2024 draft in exchange for a player who would have walked after the season.
That makes it a good deal for the Browns, one that hopefully won't matter down the road.