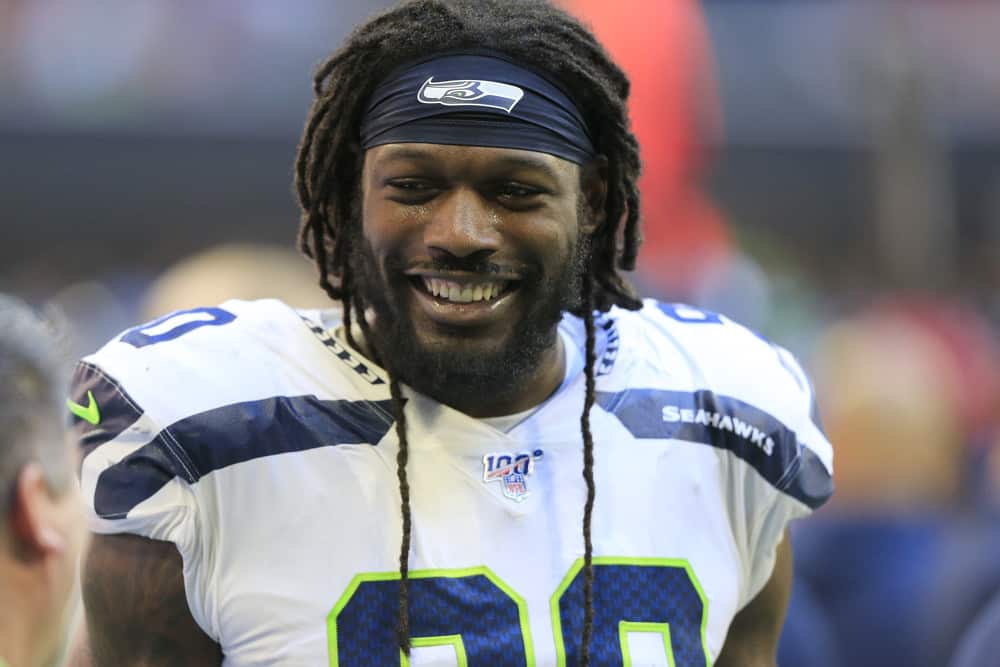 ESPN´s Adam Schefter owns a well-earned reputation for breaking accurate and timely NFL news.
But his latest report that Jadeveon Clowney doesn´t want to play in Cleveland is raising eyebrows.
Cleveland Browns fans were predictably miffed by the allegation.
Twitter exploded with comments suggesting the team look elsewhere… with varying degrees of tact.
Schefter´s report is that Clowney turned down a big offer from the Browns.
#repost @pfootballchase
・・・
Update: The Browns have the richest offer on the table for free-agent DE Jadeveon Clowney, per adamschefter.
Schefter joined @espncleveland today and said Clowney's highest offer is from… https://t.co/xdKPbQnwf2

— Franchise Tag Podcast (@FranchiseTagPod) May 28, 2020
The reported fact is Andrew Berry made the best offer so far for Clowney.
After that, Schefter speculates why Clowney has not signed.
The most important words from Schefter are "I think…" and "I don´t know."
Adam Schefter, on The Next Level on @ESPNCleveland today, had this to say about DE Jadeveon Clowney and the Browns @AdamSchefter @egoldie80: pic.twitter.com/d3URysUQ7M

— Jake Trotter (@Jake_Trotter) May 27, 2020
Many fans and pundits jumped on Schefter´s opinion as gospel.
But others stood by earlier reports that Cleveland remains the frontrunner to land the defensive end.
One of the most vocal in challenging Schefter´s assumption is Pat McAfee, host of the popular self-named podcast.
McAfee says it makes no sense for Clowney to turn down a "big" offer from the Browns.
And the first question he asks is, "what is a big offer?"
Not Enough Information to Judge 
Jadeveon Clowney entered free agency with a big number in his head.
He wanted to make $20 million per season as a premier defensive end.
That number was met with some doubt right from the start.
Clowney is one of the best all-around defensive ends in the game.
But he carries some injury and wear concerns, as well as less-than-elite sack totals.
Clowney not signing with the Browns is a head scratcher, they've offered him the most money and he would be playing alongside Myles Garrett, Sheldon Richardson and Olivier Vernon ultimately boosting his sack numbers; a statistic which he lacks hurting him in future negotiations.

— Richie Reach (@RichieReach) May 30, 2020
The former Seahawk realizes he was double and triple-teamed more than any other defensive end in 2019.
Despite that, he was credited with a quarterback pressure at the second-highest pace in the NFL.
But he comes off core muscle surgery and previously suffered micro-fracture damage.
This makes long-term commitments a dicey proposition.
Seattle, hampered by the salary cap, declined to make a UFA tender that would have guaranteed $16.5 million.
The Seahawks would like to see Clowney on their line, but can only slot him in at about $12 million.
When will @AdamSchefter release the details of the deal the Cleveland Browns gave to Jadeveon Clowney.

— Trusttheprocess (@Trustth52502071) May 29, 2020
So what is the big offer from the Browns?
Nobody outside of Berea and Clowney´s agent knows.
Did the Browns offer a one or two year deal at $14-15 million?
Or did they go with a four-year deal at a lower per-season amount?
McAfee asserts it is ridiculous to think Clowney, without other options, would turn down a multi-year, high-dollar offer.
Or Would He? Why Clowney Might Reject Cleveland
Many fans assume the offer from Cleveland is the best deal for Clowney.
That led Schefter and others to think Clowney rejected playing for the Browns.
The latest Browns/Jadeveon Clowney update is an insult to the city of Clevelandhttps://t.co/6NpnikyqgV

— Sports News & Stuff (@SportNewsNStuff) May 29, 2020
Cleveland´s run of irregular management under the Haslam family could be a reason.
Some social media comments revolved around the losing culture.
With so many injuries, maybe Clowney wants to base himself in a warmer climate.
But McAfee and others, like Yahoo Sports senior NFL writer, Charles Robinson, think otherwise.
It is more likely that the big offer simply isn´t in Clowney´s best interests.
Robinson and McAfee agree Clowney might have to take a prove-it deal and try for more money in 2021.
During McAfee´s Tuesday podcast, "The Pat McAfee Show," Robinson said,
"He's still in a situation where he may need to sign a one-year, prove-it deal. But I think the Browns are interested in him longer term than that. And if he's going to sign a reduced deal, I'm telling you right now that's a one-year deal. He's not going to take some contract where someone is going to pay him $14 million per year."
McAfee speculates that Cleveland might be trying for a two-year prove it deal or a longer-term, less money deal.
That would be the best deal offered, but not enough to satisfy Clowney´s desire to be paid like the best DEs are.
Even if Cleveland came back with a $13-14 million one-year deal, Clowney could decide to return to Seattle.
For a couple of million dollars less, he´d arguably be in a more comfortable position to stand out.
And Then There is The Myles Garrett Situation
It is difficult to think there might be a better situation than Cleveland for Jadeveon Clowney.
It is an up-and-coming team with a popular new defensive coordinator and head coach.
Working opposite another Pro-Bowl caliber defensive end in Myles Garrett will only help Clowney.
But Clowney is serious about wanting top-level pay, although he lowered his asking price to $17-18 million.
In the current financial environment, Clowney will be hard-pressed to get that commitment.
But the Browns more or less guaranteed a top-level defensive end contract is forthcoming… for Myles Garrett.
General manager Andrew Berry says Cleveland Browns plan to sign defensive end Myles Garrett on long-term deal:https://t.co/iOEZTldwVF pic.twitter.com/NuMamoDMSQ

— 247Sports (@247Sports) May 6, 2020
Complicating matters further is that Garrett and Clowney share the same agent.
One can reasonably speculate the agent is in a bad position trying to appease both his clients.
But if the Browns are the only ones making a serious offer, maybe that agent let slip the info that prompted Schefter's tweet.
Tennessee is the only other team mentioned in the Clowney sweepstakes, with Cleveland the most-mentioned favorite.
Robinson asked McAfee on the same podcast if rejecting an offer from Cleveland would spark interest from other teams.
McAfee was quick to say he didn´t think so, fearing teams would instead be scared off by the perceived price tag.
Which Brings Us Back To… 
Cleveland is still the odds-on favorite to land Jadeveon Clowney.
But it looks like they´ll have to tweak their offer, possibly even downgrading it.
Jadeveon´s agent might prefer a one-year deal in hopes the economic situation of the NFL bounces back in 2021.
Or Clowney might think he has a shot at another big-dollar contract after 2-3 years.
Either way, the Browns have the most cap space and a perfect situation for Clowney to thrive.
Browns stay interested in Clowney while building solid line https://t.co/BPvVMZN9SM pic.twitter.com/67zUDoBiYO

— WKBN Sports (@WKBNSports) May 29, 2020
If he is worried about the instability, he can negotiate escape clauses.
Perhaps a change in coaches makes him a free agent.
Seattle looms as a comfortable fall-back for the free agent.
With the shortened and unusual preseason, Clowney might feel he can put up a bigger year for the Seahawks.
Cleveland already has two top pass rushers in Garrett and free agent Adrian Clayborn.
It is possible they are playing hardball with Clowney on a long-term deal.
But Pat McAfee is sure whatever the situation,
Clowney did not reject a big-dollar, multi-year offer from the Browns or anybody else.
At least, not by his definition of "big dollar."