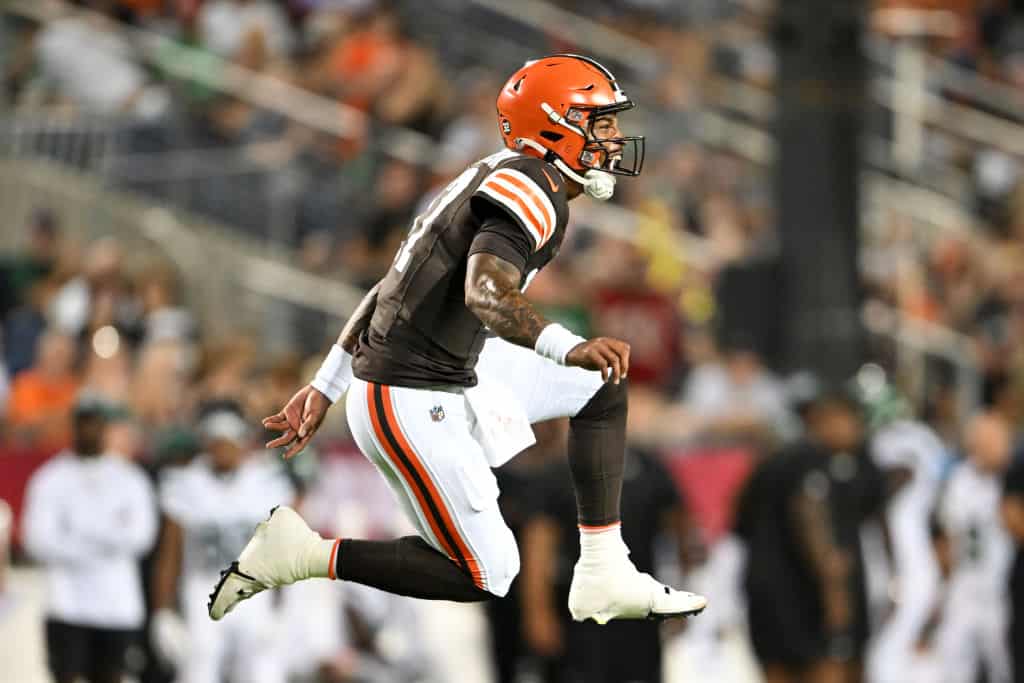 Back in 2020, the Cleveland Browns won 11 regular season games and an awesome Wild Card matchup.
But that was still only good enough for third place in the AFC North, thanks to the Baltimore Ravens' better division record.
Since their 1999 reincarnation, Cleveland has finished second in the division twice, the last time in 2007.
ESPN+ analyst and founder of Football Outsiders Aaron Schatz thinks they can break through for a title in 2023, via The Volume.
Should the Browns be … FAVORITES in the AFC North? 🤔@ASchatzNFL tells @jasonrmcintyre why it's not so far-fetched pic.twitter.com/2P5jKvxZYU

— The Volume (@TheVolumeSports) August 16, 2023
Schatz tosses the results of last season's six games with Deshaun Watson out the window.
Instead, he bases expectations on the previous years when Watson and Kevin Stefanski were both much better.
And that means Browns fans should expect a lot this season, as he told Jason McIntyre of The Volume Sports:
"We actually have the Browns as our favorite in the AFC North, even though the Bengals come out as a better team. I think the Browns will be a good all-around team unless Watson really is as (bad) as he looked last year."
He cites the same caveat as most analysts, but Schatz might be the first to go out on a limb and predict success.
Schatz expects the Browns to be better on defense and special teams.
But his first-place prediction is all about the probability of an improved offense.
Stefanski ran good offenses with bad quarterbacks for several seasons.
And Watson was a franchise-level quarterback for three years.
#Browns QB Deshaun Watson warming up for his 2023 debut. pic.twitter.com/PVp9oF7o1G

— Camryn Justice (@camijustice) August 11, 2023
Schatz asks what is more probable – that the Browns have an excellent offensive coach and great quarterback, or that six games in 2022 show that they both forgot how to be good?
The analyst says that probability favors the overwhelming volume of good outcomes versus six games of bad play.
And that means the Browns are likely to do well enough in all three phases to win the AFC North.