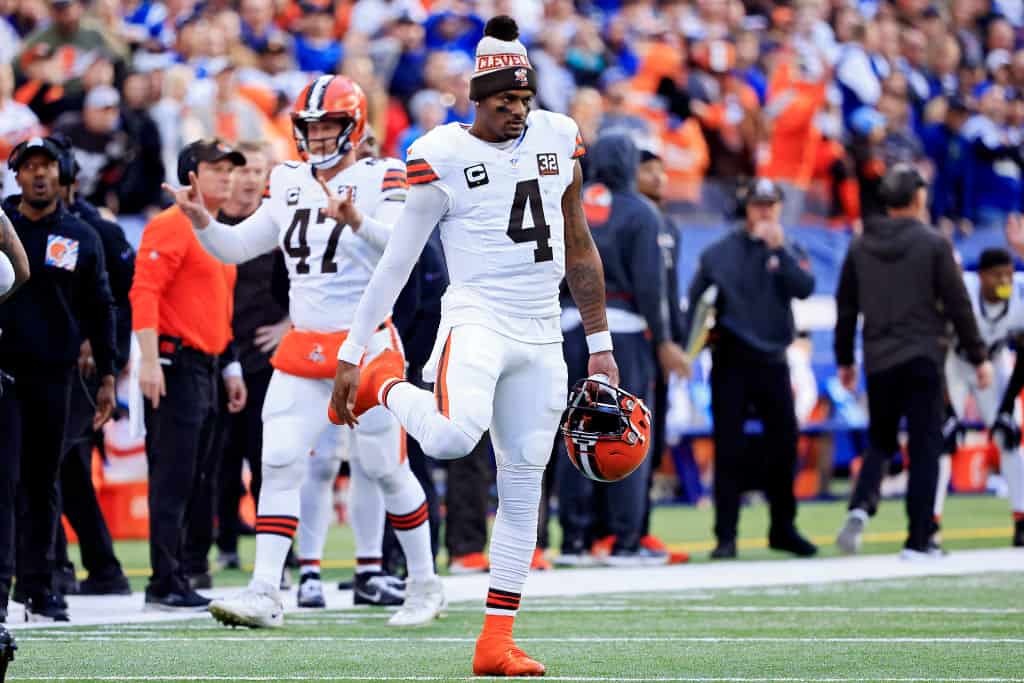 With the news of Deshaun Watson's return to the practice field comes the next big question of the moment.
Will the Cleveland Browns' starting quarterback return to game action this week?
Head coach Kevin Stefanski wouldn't say, promising to update reporters during the week.
Even before that noncommitment, ESPN Cleveland's Tony Rizzo wondered how the Browns would decide.
"At what percentage do you put Watson out there," – @TheRealTRizzo… pic.twitter.com/fjcq7KAYDv

— ESPN Cleveland (@ESPNCleveland) November 1, 2023
Rizzo told his radio audience that he does not expect Watson to be 100% at any point this season.
He even alluded to Watson possibly needing an offseason procedure to get there before next year.
So at what point do the Browns let Watson take the field?
Do they think 80% is good enough or will they wait until the passer is at 90%?
Rizzo wants to know if the Browns know and he especially wants to know who makes the decision.
Cleveland's medical personnel famously cleared Watson to play before and after an MRI was taken.
#Browns Deshaun Watson over the middle to Cedric Tillman pic.twitter.com/Jz1c3FgKAP

— Mary Kay Cabot (@MaryKayCabot) November 1, 2023
They did not believe the player could damage himself worse than he already was with a bruised rotator cuff.
But several other orthopedic specialists chimed in to say Watson's injury has a 4-8 week recovery expectation.
Stefanski told reporters Watson had no restrictions heading into the Colts game.
But Watson clearly wasn't up to snuff, pushing short passes and with little zip on longer throws.
To be fair, Watson seemed as surprised as anybody at how poorly he threw in Indianapolis.
And that lends more credence to Rizzo's concern over how and who decides when the quarterback plays again.