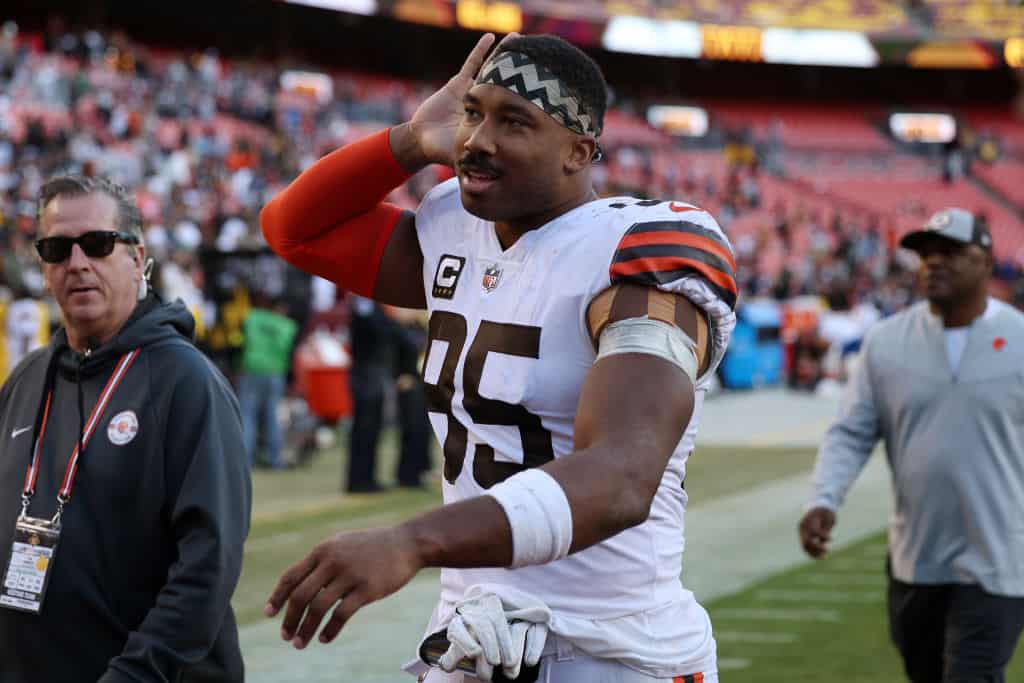 Many analysts think the Cincinnati Bengals can fend off the Baltimore Ravens and win their third straight AFC North title.
Some also believe if Kenny Pickett improves just a little, Pittsburgh can challenge, too.
And if we are to believe ESPN analyst Tony Grossi, the Cleveland Browns are joining the division title conversation.
During an appearance on ESPN Cleveland, Grossi said: "I am detecting a 'look out for the Browns' sentiment as we get closer to training camp."
Does the rest of the AFC North fear the #Browns? @TonyGrossi says there's momentum building… pic.twitter.com/nRBKc8biAd

— ESPN Cleveland (@ESPNCleveland) July 20, 2023
That would be the Browns team that has yet to win a single AFC North division title since its inception in 2002.
Cleveland last won a division in 1989 when they played in the AFC Central.
Could this be the Browns' year to shine?
Track Record Is Not Promising
Grossi alluded to the popular notion that the Browns can't get out of their own way.
Not only do they play in the toughest NFL division, but historically speaking, they are destined to fall flat.
But he says there are people who don't believe it is the team's predetermined fate to come up short.
And when they look at the roster, they wonder how the Browns can be discounted as contenders.
🔥🔥🔥 @deshaunwatson pic.twitter.com/fCFUXYHcAi

— ESPN Cleveland (@ESPNCleveland) July 19, 2023
There is a subgroup of the "Browns is the Browns" crowd that puts their expectations squarely on Deshaun Watson.
It is difficult to discern those who wish ill will on Watson versus those who legitimately think he peaked three years ago.
But almost everyone agrees if the Watson of 2020 shows up, anything is possible for the Browns.
And yet, there is the nagging history of disappointment.
Browns Out Of Another Conversation 
Cleveland has not had a bad offseason, rebuilding their weakest position groups on both sides of the ball.
But they are missing from the "who won the offseason" conversations for the first time since Andrew Berry arrived.
And that might be a good thing for the Browns as they can finally fly into a season under the radar.
Betting entities generally predict the Browns to finish around the 9-9.5 win mark.
Cleveland Browns O/U 9.5 Wins? 🤨@RightSideVP and @JoeRaineri break down the 2023 schedule and team win total (via @FDSportsbook) for the #Browns in the NFL

Listen on-demand via @ApplePodcasts! 🎙@SiriusXMSports #NFLTwitter #DawgPound pic.twitter.com/We8sF1Sv2R

— SportsGridRadio (@SportsGridRadio) July 11, 2023
But more publicized predictions range widely from 6 to 12 wins.
That is what happens when your quarterback is a big question mark.
And it is only exacerbated by recent history, as well as some not-so-recent tendencies.
But if Grossi is right, the Browns have some folks paying attention as they prepare to surprise their rivals.