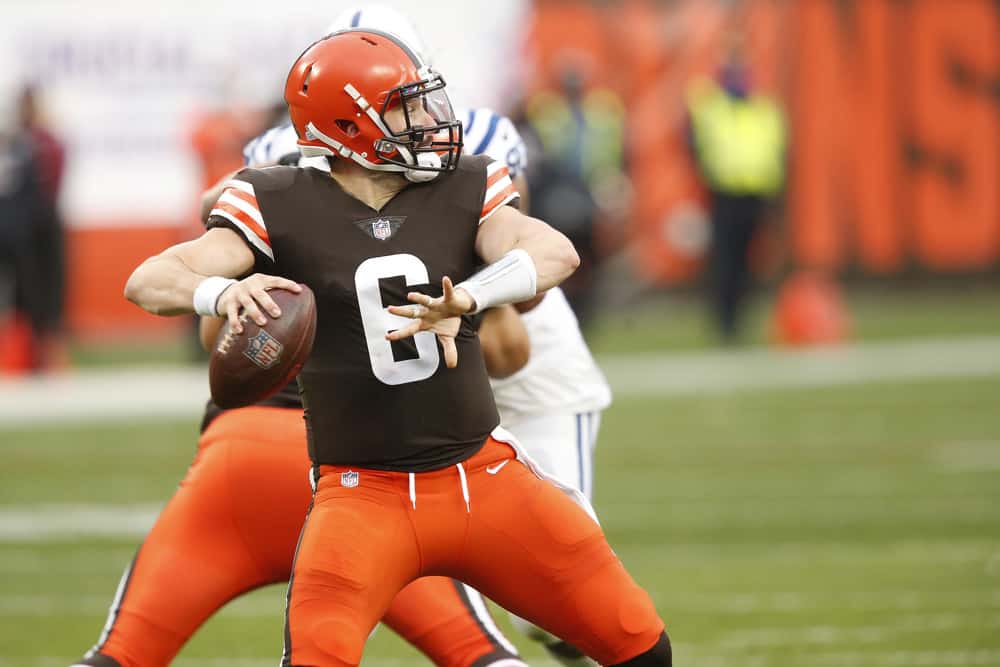 On Trash Talking Tuesday, Rob Parker takes on all the fans who believe Baker Mayfield is now a franchise quarterback because of his performance against the Cincinnati Bengals on Sunday.
It's Trash Talking Tuesday. Watch the VIDEO. If you think Baker Mayfield has arrived, I'm trashing you! https://t.co/vb9UKI4nyM

— Rob Parker (@RobParkerFS1) October 27, 2020
Parker's Argument – In His Words
"Baker has owned the Cincinnati Bengals during his career.  So crowning him as a king who has suddenly arrived for beating the Bengals isn't right."
Parker goes on to elaborate that Baker got off to a bad start and then caught fire.
"He completed 22-23 passes nearly 300 yards and 5 TDs."
But Parker says Baker always succeeds against the Bengals.
"He is 5-1 and has thrown for like a billion yards, a 65% completion rate. This is nothing new, he has done this his entire career. This is not your measuring stick for Baker Mayfield, no way no how. Baker will need to beat some good teams before we crown him as an arriving franchise quarterback we can't live without."
In Reality vs. Bengals
Rob Parker is right, except for the billion yards part.
In 2020, Baker has thrown for 516 yards against the Bengals in their two meetings.
He is 38 for 51 with 7 TDs and 2 INTs.
Those are big stats, but let's face it the Bengals are not a superpower in the NFL right now.
Baker's Stats vs. Top Tier Teams
Baker Mayfield's stats against the 2 "good teams" he played

just saying pic.twitter.com/XWsL8GebjR

— CB (5-1)😈🎃 (@mvp_lamar8) October 25, 2020
In the Browns' two losses, against the division leading Pittsburgh Steelers and Baltimore Ravens, Baker's stats are not as glowing.
To begin with, the Browns only managed 13 total points in both games, scoring 6 against the Ravens and 7 against the Steelers.
Those are the only games this year that the Browns scored in the single digits.
In those games, Baker threw for 309 yards total.
That was 31 completions out of 57 attempts.
He threw 2 TDs and 3 INTs and was sacked 6 times.
Note that he has only been sacked 11 times in 7 weeks, but 6 sacks came in those 2 games.
So Baker has not played as well or as cleanly in games against top-tiered teams.
Summary
Sports are fickle; an athlete's status is measured by how he or she performs in big moments.
To quell the naysayers, Baker Mayfield needs to win a big game in a big moment.
He will need to be instrumental in leading his team to the victory in that big game.
Only then will fans and media alike really believe in him.
And maybe not even then.