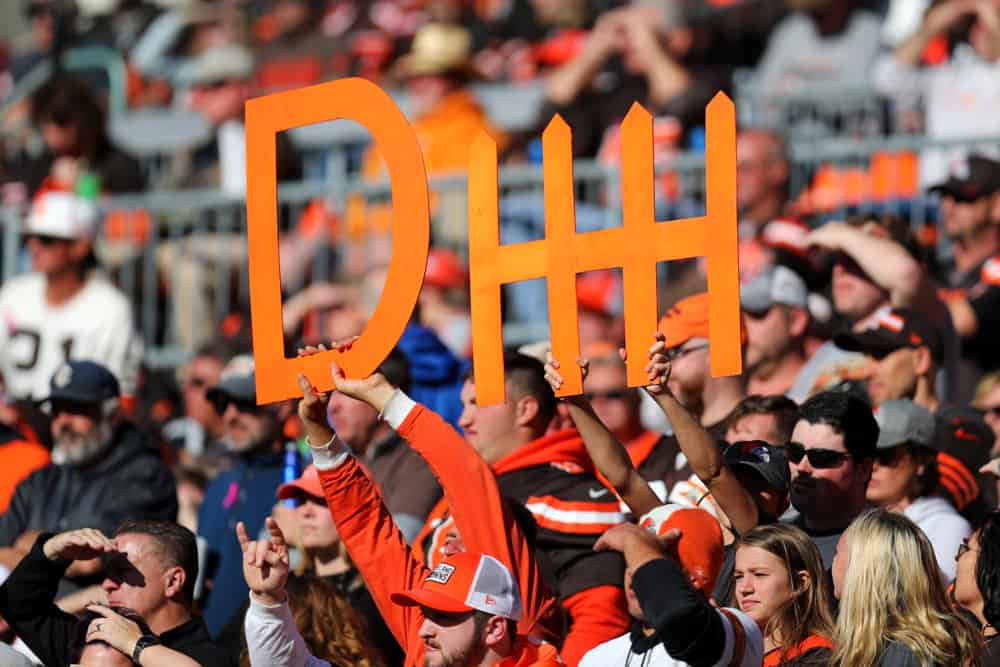 Zac Jackson, the Browns reporter for The Athletic joined the Bull & Fox Show to talk about the 7-3 Cleveland Browns upcoming game against the Jacksonville Jaguars.
Jackson has been working with or covering the Browns for 20 years so he has seen a lot of the good and bad and has plenty of perspective on the Browns' current success.
He covered a variety of Browns topics including:
1. Is The Browns Defense In Trouble Without Ward and Garrett*?
Jackson said the Jaguars have some good receivers though they may have their own COVID-19 or injury issues to deal with.
Jaguars ruled out WRs DJ Chark (ribs) and Chris Conley (hip) for Sunday's game vs. Browns.

— Adam Schefter (@AdamSchefter) November 27, 2020
The Jaguars starting QB Mike Glennon has played in 4 games in 2 previous years (not as a starter) so he may be rusty and throw some interceptions.
For the Browns, this game is not typically a danger zone or trap game, but it is 'uncharted territory' without two of their best defensive players.
2. How is Baker Performing?
Bad weather and playing with a lead has taken the pressure off of QB Baker Mayfield the past couple of games.
At some point, he is going to need to make plays, and that will help the Browns' front office to evaluate him.
Jackson labels him an average quarterback but says the Browns will have to answer these two questions when making a decision about his future.
How much better can he get?
What are the outside options for QB?
Earlier in the month on the 92.3 The Fan (The Ken Carman Show with Anthony Lima), Jackson was a bit more candid in his thoughts on Mayfield.
"I'm more optimistic on the Browns long term but I don't believe they'll win anything of substance with Baker Mayfield."
3. Describe The Browns.
Jackson says they are fun to watch and a good team.
He says they are not great yet.
They are really good in some areas.
Despite the starting offensive line only playing 6 games together this year, they are playing at a high level.
The defensive line had bad performances against the Ravens and Raiders but also have played well overall.
4. Can an NFL Team Win the Super Bowl With An Exceptional Defense and Average QB?
Jackson says it's possible but unlikely.
He points out that the San Francisco 49ers fit that bill last year and lost to the Chiefs in the Super Bowl.
5. What is stopping Browns from being a great team?
Time and experience have not been on the side of the Browns.
In this COVID-19 season, Jackson says the Browns are gaining invaluable experience and showing their grit.
They do not have enough great players (or good players playing at their peak) yet.
6. Describe Nick Chubb
This was a no-brainer and has universal consensus around the NFL.
Jackson calls him the "perfect player."
He is all football and no BS.
The Browns' running backs have a fourth-quarter highlight reel that's better than most other teams' full highlight reel.

— Zac Jackson (@AkronJackson) November 22, 2020
And the Chubb/Hunt rushing team has been unstoppable.
#Browns OC Alex Van Pelt says having Nick Chubb and Kareem Hunt is like having Mike Tyson and Evander Holyfield, two guys that can hit you with that knockout punch

— Mary Kay Cabot (@MaryKayCabot) November 27, 2020