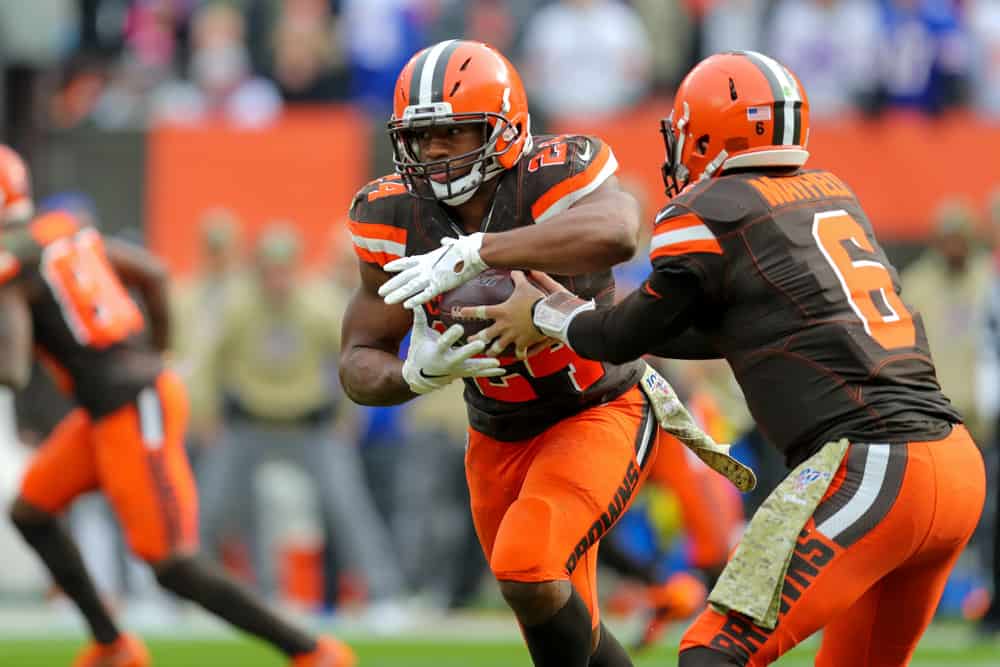 The Cleveland Browns offense has two of everything.
Two stud running backs in Nick Chubb and Kareem Hunt, two Pro Bowl wide receivers in Jarvis Landry and Odell Beckham Jr. and two pass-catching tight ends (for now) in Austin Hooper and David Njoku.
It's prompted NFL.com football analyst Bucky Brooks to rank the Cleveland Browns as having the best "starting five" — five offensive skill position players — in the NFL heading into the 2020 season.
Specifically, Brooks named Chubb, Hunt, Beckham, Landry and Hooper.
Here is what Brooks wrote of the Browns:
"The Browns have assembled an All-Madden Team on the perimeter with a collection of five-star playmakers surrounding Baker Mayfield. OBJ and Landry are sure-handed pass catchers with outstanding running skills in the open field. Hooper is the designated seam runner with slick route-running skills and sticky hands. Chubb and Hunt are high-end RB1-types with the potential to take over as inside-outside runners with sneaky skills in the passing game. In a redesigned offense that places a greater emphasis on balance and efficiency under head coach Kevin Stefanski, the Browns' starting five could become the most dominant unit in football."
Scout's Notebook: Browns boast best "starting five" in NFL (via @BuckyBrooks)https://t.co/dfdVNLRzpv pic.twitter.com/K4VNWPYa1r

— Around The NFL (@AroundTheNFL) July 3, 2020
Brooks ranked the Browns' starting five ahead of the Tampa Bay Buccaneers' unit of Mike Evans, Chris Godwin, Rob Gronkowski, O.J. Howard and Cameron Brate.
Here is what Brooks wrote of the Buccaneers:
"Tom Brady is stepping into a situation that could enable him to put up numbers comparable to his 2007 MVP campaign (68.9 percent completion rate, 4,806 pass yards, 50 touchdowns, eight interceptions, 117.2 passer rating). Evans and Godwin are arguably the league's best 1-2 punch on the perimeter with a collective combination of size, speed and athleticism that makes them so hard to contain. Gronkowski, Howard and Brate are a formidable trio at tight end with a collection of interchangeable skills that will drive defensive coordinators crazy when Bruce Arians unveils a variety of 12 (1 RB, 2 TE, 2 WR) and 13 (1 RB, 3 TE, 1 WR) personnel packages. If Brady has still enough gas in the tank to play at a high level, the Buccaneers' offense should light up scoreboards."
The Browns have the longest active postseason drought in the NFL, having last made the playoffs in the 2002 season.
The Buccaneers have the league's second-longest active playoff drought, having last made the postseason in 2007.
Brooks wrote that he watched tape and studied the rosters of all 32 teams to compile his rankings of the best starting fives.
In an episode of the "Move the Sticks" podcast, Brooks and Daniel Jeremiah discussed the importance of building an offense with playmakers to take advantage of opponents getting "five guys out" on the field running routes.
The New Orleans Saints' Alvin Kamara, Michael Thomas, Emmanuel Sanders, Jared Cook and Taysom Hill ranked third in Brooks' rankings.
Brooks ranked the Kansas City Chiefs fourth with Clyde Edwards-Helaire, Tyreek Hill, Sammy Watkins, Mecole Hardman and Travis Kelce.
The Dallas Cowboys ranked fifth with Ezekiel Elliott, Tony Pollard, Amari Cooper, Michael Gallup and CeeDee Lamb.