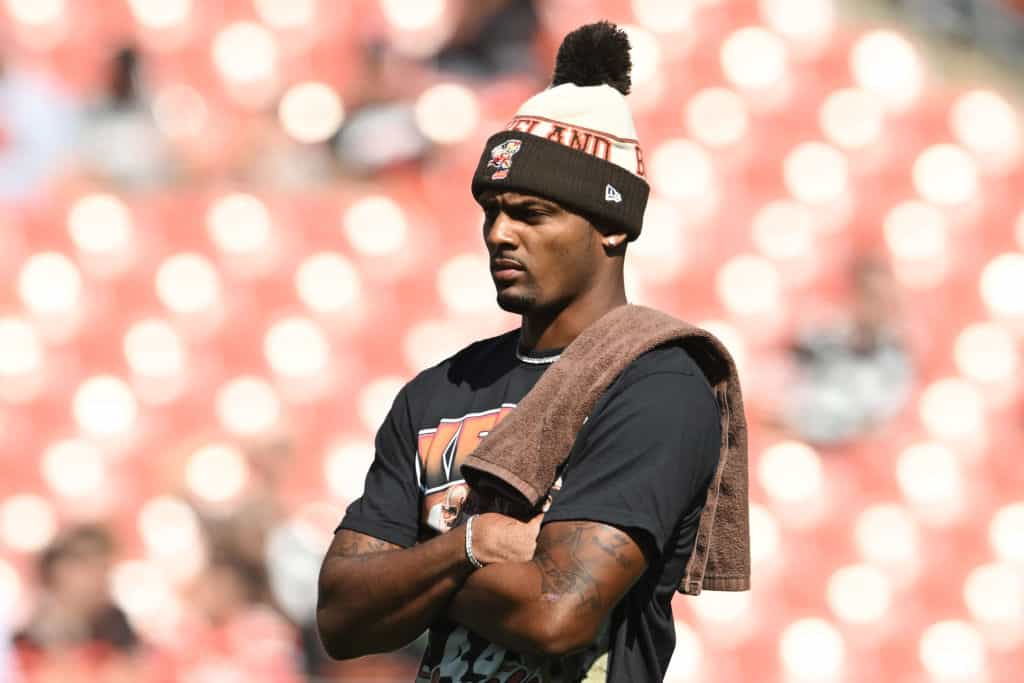 Just a little over a week ago, Kevin Stefanski seemed surprised when Deshaun Watson said he couldn't throw.
Watson's "progress" leading up to Week 4 led the Cleveland Browns coach to think his QB would play.
But after an extra week of rest, Watson was still working with the trainers on Monday.
That led Tony Rizzo to speculate about the severity of his injury and who might start on Sunday.
Watson injury more serious than we thought. Wouldn't rule him out yet, P. J. Walker in play for Sunday if 4 can't go. That is all. Go Browns! #DawgPound

— Tony Rizzo (@TheRealTRizzo) October 10, 2023
Rizzo's post on social media suggests that Watson's injury is more severe than the team has let on.
He sparks further discussion by throwing QB3 P.J. Walker into the discussion of Week 6 starters.
Stefanski and the Browns continue to keep information about Watson's shoulder close to the vest.
Officially, Stefanski says his starting quarterback is "day-to-day" and working through a rehab process.
Cleveland hosts the NFC's odds-on Super Bowl favorite San Francisco 49ers on Sunday.
They are coming off a complete dismantling of the Dallas Cowboys, 42-10, who were expected to put up more of a fight.
With a healthy Watson, Cleveland arguably presents the 49ers' toughest challenge so far this season.
Jim Schwartz's defense needs to have a banner day to keep things within reach, regardless of who is behind center.
#Browns Dorian Thompson-Robinson and P.J. Walker take the QB reps outside at practice while Deshaun Watson worked inside Monday in prep for #49ers pic.twitter.com/DZMsOdAAlM

— Mary Kay Cabot (@MaryKayCabot) October 9, 2023
But Cleveland's odds take a serious hit with either Dorian Thompson-Robinson or Walker running the offense.
After playing the second-best defense in the NFL in Week 4, the Browns now face the No. 3 defense of the 49ers.
Although their sack total is not impressive, San Francisco has the NFL's second-highest QB pressure rate.
And Stefanski is left to choose between the more elusive DTR or the more experienced Walker if Watson can't go.