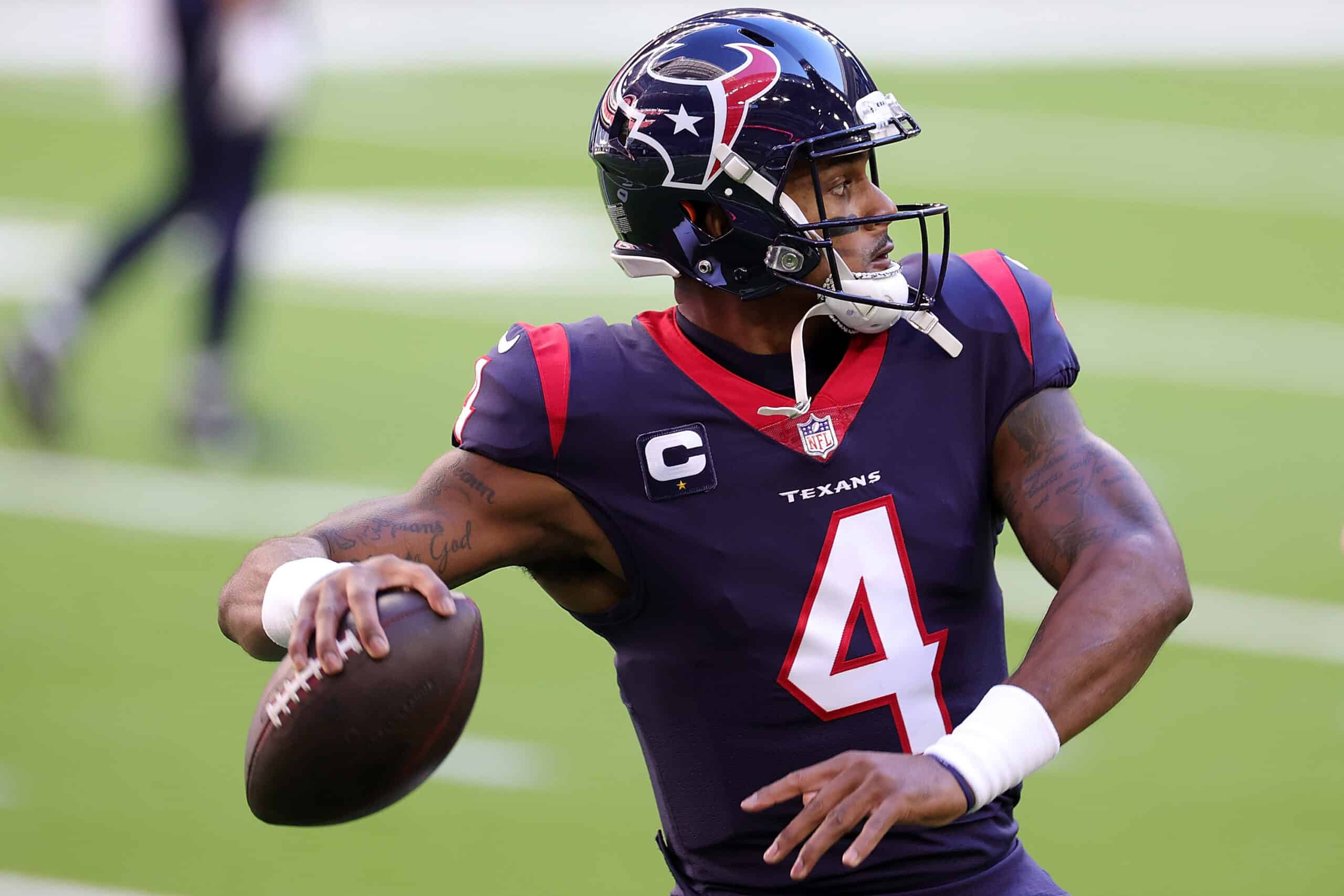 The Cleveland Browns are just one team that has been linked to Deshaun Watson.
On Monday morning, CBS Sports Brad Stainbrook reports that the team is still a possible landing spot for Watson.
The #Browns have indeed explored the possibility of trading for QB Deshaun Watson, sources tell @TheOBR. The interest level remains unknown.

— Brad Stainbrook (@StainbrookNFL) March 14, 2022
Though there is interest, Stainbrook describes the team's level of interest as "unknown."
Jeff Lloyd, the host of the Locked On Browns podcast, shared a hint of skepticism on the Browns' level of interest in his recent social media post.
What Lloyd Said
Lloyd provided a one-syllable answer to a Twitter exchange discussing teams that are all-in for Watson.
"Hmm"
Hmm pic.twitter.com/c1P8iz90zm

— Jeff-LJ-Lloyd (@Jeff_LJ_Lloyd) March 14, 2022
It is hard to completely interpret Lloyd's thoughts, but we can deduce he thinks the Browns are holding back.
That remains to be seen.
High Asking Price
If the Browns are indeed holding back, it could be because of the high asking price the Houston Texans have on Watson.
At least three first-round draft picks have been widely reported.
NFL Network's Ian Rapoport is saying the first-round draft picks are just part of the package.
From Free Agency Frenzy: The price for #Texans QB Deshaun Watson has not changed — three first-rounders and more. Just like the #Saints and #Panthers, Watson will have his say, as well. pic.twitter.com/uvF9QQ0DV1

— Ian Rapoport (@RapSheet) March 14, 2022
Mary Kay Cabot has indicated that Denzel Ward might have to be part of the Browns' proposed trade package to peak the Texans and new head coach Lovie Smith's interest.
The asking price is very high, and the Browns could very well not want to go that far in for one player.
We really don't know what is going on behind the scenes.
It seems as though the Watson trade is going to proceed quickly.
He is set to meet with the Panthers and Saints in the next couple of days.
Rapoport has said the trade could be done by the beginning of free agency which is Wednesday.
The Other Piece: Potential Suspension
What no one knows yet is if Watson will be suspended by the NFL.
Is the NFL organized enough to tell teams whether or not Watson will be suspended to start the season?

The team trading for him has to know if he's available to play.

— John Kosko (@JohnKosko3) March 13, 2022
That makes the asking price for him even steeper if he is.
Are all of these teams just in denial about the lengthy suspension Deshaun Watson has coming his way from the league? https://t.co/9t0rMd0AOl

— Josh Brickner 🇺🇦 (@joshbrickner) March 14, 2022
Teams going all-in on Watson may not have him for a chunk of games in 2022 anyway.
The Watson story will continue to be in the headlines, and the Browns may be indirectly related until he is effectively traded.
Stay tuned.