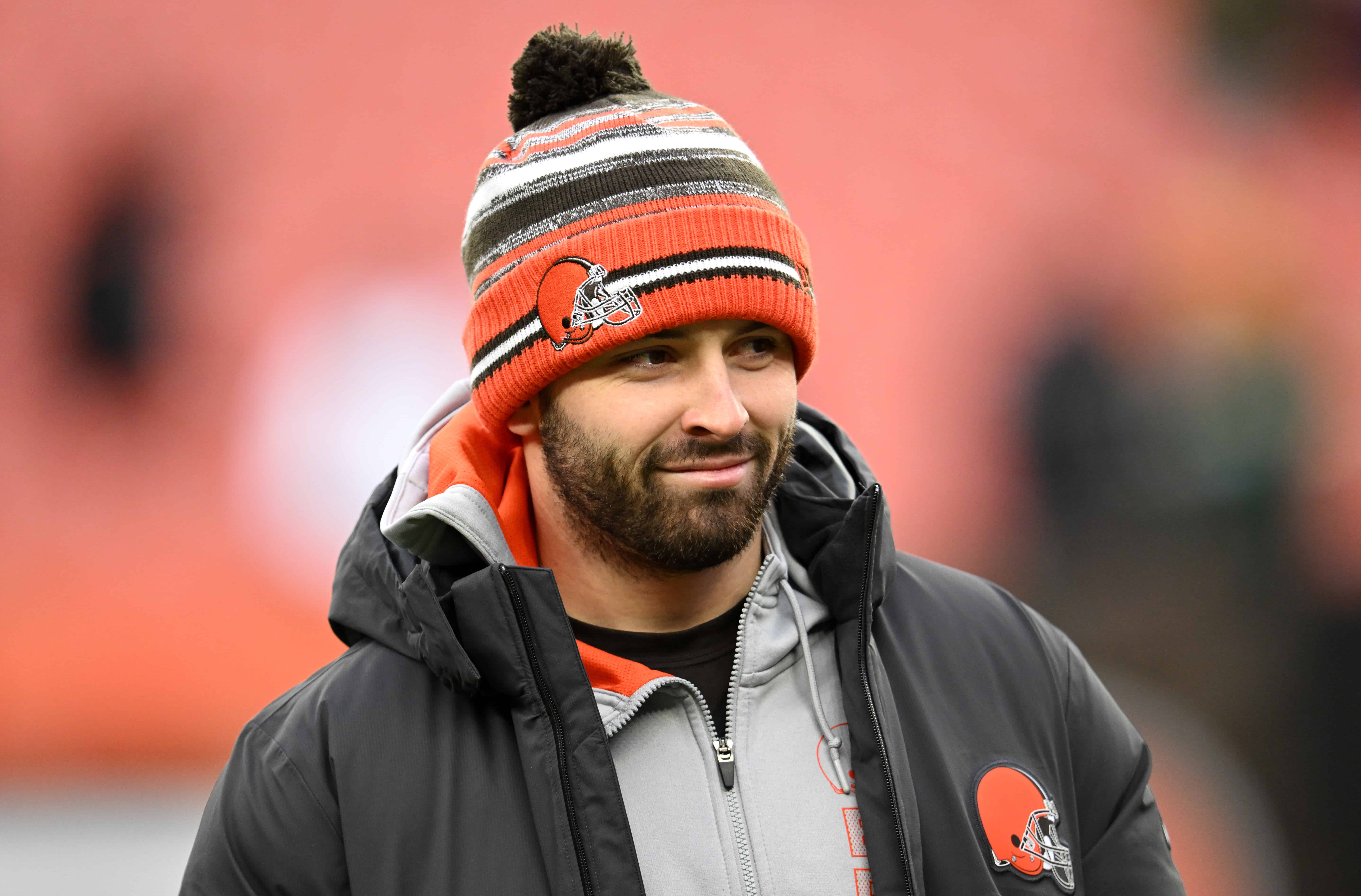 In somewhat of a surprise move from the Cleveland Browns front office, they have decided to explore trade options for starting quarterback, Baker Mayfield.
According to Aaron Wilson of Pro Football Network, the Browns have opened the phone lines to field exploratory trade calls for the four-year quarterback.
Source: Browns not entirely sold 100 percent on going forward with Baker Mayfield, fielding exploratory trade calls @PFN365https://t.co/BzMMti3CnX

— Aaron Wilson (@AaronWilson_NFL) March 14, 2022
For weeks now, Browns fans and football critics have been speculating about the possibility of the Browns moving on from the up and down Mayfield.
Mayfield is entering the fifth and final year of his rookie contract and he's slated to make $18.858 million in fully guaranteed money.
To say that his first four NFL seasons have been a roller coaster would be an understatement.
He has routinely gone from looking like a Pro Bowler to a confused rookie with little to no warning.
His off-the-field antics and media/social media interactions have also led to a mixture of endearment and despise from Browns fans.
We should be clear that at this point, trade talks are completely exploratory and the Browns haven't actually voiced their intention to move on from Baker.
Rather, they're simply throwing the bait out there and seeing what they can catch in terms of starting quarterbacks.
What are the Possible Options for the Browns? 
Unfortunately for the Browns, many of the top quarterback options are quickly disappearing from the market.
Russel Wilson was traded from the Seattle Seahawks to the Denver Broncos, Aaron Rodgers resigned with Green Bay, and Carson Wentz was traded to the Washington Commanders.
It's also speculated that the final big fish, Deshaun Watson, will likely get traded from the Houston Texans to the Carolina Panthers.
It's possible that the Browns can still swing a blockbuster deal for Watson, but it doesn't seem likely at this point.
There's a good deal of uncertainty in regards to what kind of trade value Baker actually has.
He was injured for much of last season with shoulder issues and had arguably the worst season of his young career.
Mayfield was also the target of criticism for various off-the-field antics including an ongoing feud with members of the national and local media.
However, he's a former Heisman trophy winner and there are still many who believe that Baker can be the star quarterback that we saw during the 2020-2021 season.
What Would a Deal for Watson Look Like? 
If the Browns have any hope of landing Deshaun Watson, they're going to have to give up a ton.
According to Mary Kay Cabot of Cleveland.com and the Plain Dealer, the deal would likely include Mayfield. high draft picks, and additional players.
Rumors: A #Browns trade for Deshaun Watson would likely have to include multiple first round draft picks, QB Baker Mayfield, and possibly other players, says @MaryKayCabot

— JPA Football  (@jpafootball) March 14, 2022
Other possible quarterbacks that the Browns may target include Gardner Minshew, Nick Foles, and Teddy Bridgewater.
The real question, however, is whether any of these quarterbacks are an upgrade from Mayfield.
Outside of Deshaun Watson, a three-time Pro Bowler, Mayfield is just as good if not better than any potential free-agent quarterbacks or trade targets.
Simply moving on from Mayfield for the sake of moving on would be a mistake.
The only way that the Browns should part ways with Baker is if they can upgrade the position rather than move laterally or backward.