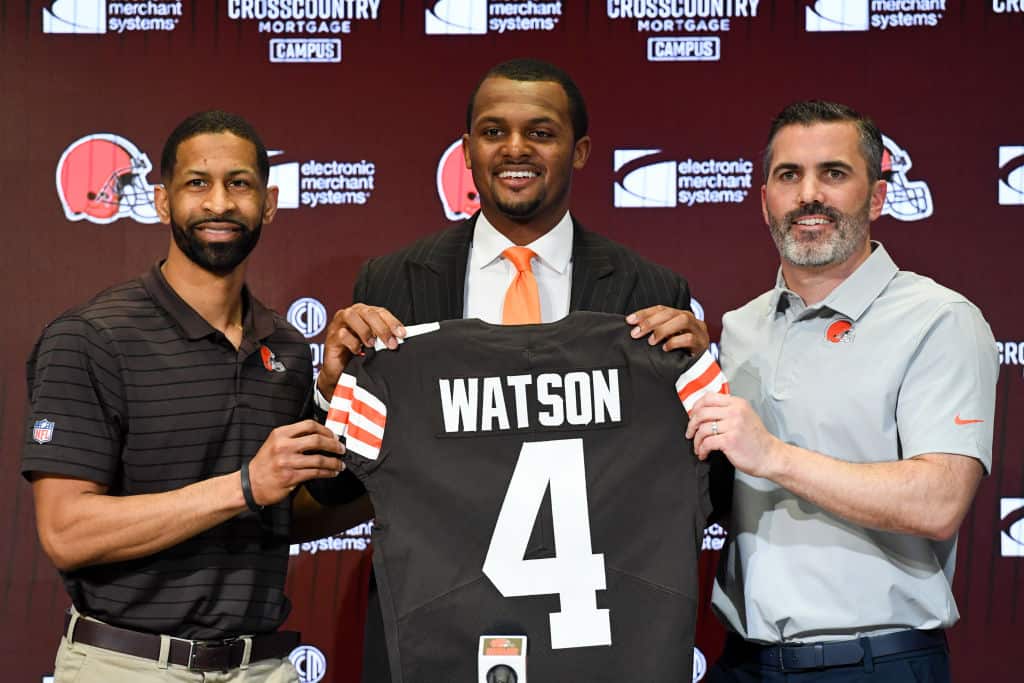 The Cleveland Browns gave up a lot to get Deshaun Watson.
More than that, they faced severe backlash for signing him to such a massive contract extension even before he was able to set foot on the gridiron.
That's why expectations are at an all-time high in 2023, as he'll get a full season with his teammates, coaching staff, and offense.
In a recent appearance on ESPN Cleveland, Browns GM Andrew Berry stated that the team is quite excited about Watson in 2023 after having a full offseason to prepare.
"We expect a lot out of Deshaun, having a full off-season under his belt, familiarity with his offensive teammates, familiarity with the playbook and offensive staff," – Browns GM Andrew Berry. pic.twitter.com/X1cOgBvGFP

— ESPN Cleveland (@ESPNCleveland) May 4, 2023
Watson had been away from the game for quite a while, first because of his holdout, then his legal turmoil, and finally for his subsequent suspension.
Growing pains were to be expected as he shook off the rust and got his legs back under him, and the Browns were right to be patient through his struggles when he was able to come back.
He won't have the benefit of the doubt in 2023, though.
The media and rival fans will be ruthless, considering is off-field controversies and massive paycheck, and he knows it.
Watson has a chip on his shoulder and is making sure to make up for all that lost time by bonding with his new skill players in offseason workouts, so there are plenty of reasons to be excited about the Browns' new-look offense.
The talent has always been there, and the production as well; now it's just a matter of putting him in a position to succeed in terms of play-calling.