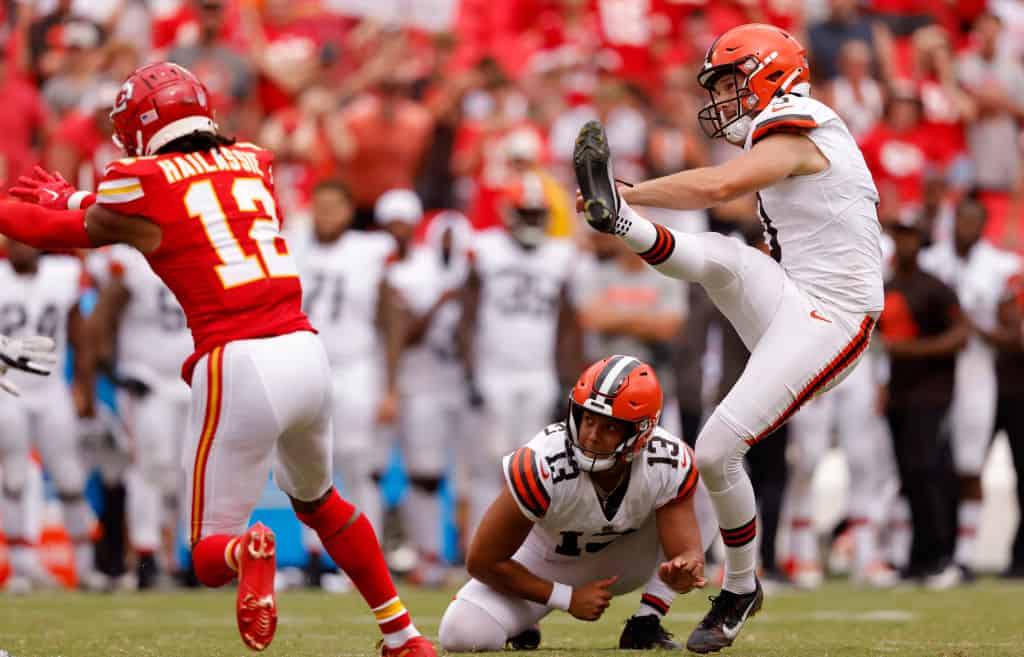 Cade York kicked three extra points and nailed a 40-yard field goal against Kansas City.
But at either end of that good day were a pair of plays that won't calm the nerves of Cleveland Browns fans.
York shanked an extra-point attempt that was nullified and had a potential game-winning field goal blocked.
But that didn't prevent GM Andrew Berry from giving York a clear endorsement during the game, via Jake Trotter.
GM Andrew Berry on K Cade York during the TV broadcast: "We have a lot of confidence in him going into the season…" #Browns

— Jake Trotter (@Jake_Trotter) August 26, 2023
Berry told TV viewers the team still has "a lot of confidence" in York.
When York nailed a go-ahead field goal with about six minutes to play, it appeared the comment was justified.
But Harrison Butker put the Chiefs back ahead and York was set up for a game-winner with under a minute to go.
Kansas City got a hand on the ball at the line to give the Chiefs the win.
Special teams coach Bubba Ventrone was a big believer in York heading into the 2022 NFL Draft.
And when he joined the Browns, he said the best kickers only think about the next kick, shrugging off the last.
But after pushing several kicks wide right, York is suddenly hooking kicks to the left.
In practice, York is near-perfect from every distance.
#Browns kicker Cade York is always money in practice: 6-for-6 inside fieldhouse today, including the last one from 50-plus.

— Mary Kay Cabot (@MaryKayCabot) August 24, 2023
He talks a big game about how confidence will never be a problem for him, shrugging off his struggles.
But maybe it's not confidence as much as over-excitement or over-thinking game situations.
If it was the holder, as many fans have suggested, the problem would be easy to spot.
Whatever the issue is, Berry seems to believe the young kicker will figure it out by September 10.