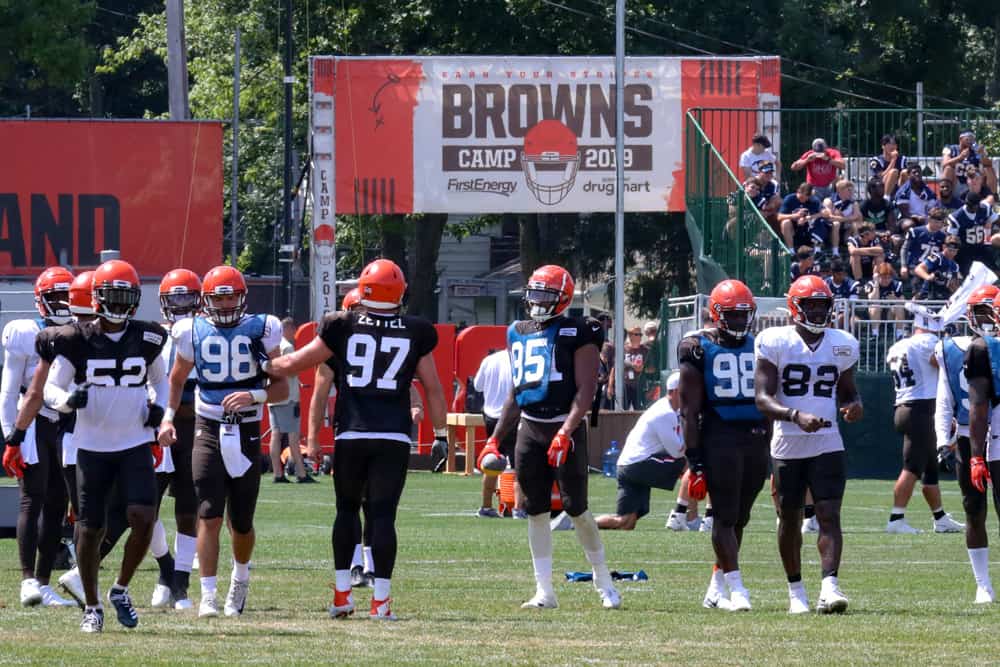 On Wednesday, the Browns introduced Andrew Berry as the youngest GM in the NFL.
Berry returns to Cleveland after serving as Vice President of Football Operations with the Philadelphia Eagles in 2019.
Browns fans had many questions in regards to Berry's approach to the roster because of his previous work under Sashi Brown.
Is he going to do a roster overhaul or try to win now with what he has?
Berry was asked about this in his introductory press conference and was clear about his intentions in the 2020 season.
"We want to aggressively add talent," Berry said. "If there is anything that I want to be defined by, it is aggression. We want to aggressively acquire talent because that is the name of the game from an NFL front office perspective, and we are going to explore every avenue that enables us to do that."
#Browns Andrew Berry on his thoughts of the current roster, as to the roster needing overhauled or not. pic.twitter.com/eH8B09XabG

— Fred Greetham (@FredGreetham) February 5, 2020
Berry was also asked about being 1-31 when he was the chief evaluator of talent under then general manager Sashi Brown, but said it was a different situation.
In that 2 year stretch, the Browns lost an NFL record 33 straight Sunday games that dated back to December 13, 2015.
"I can assure you that all of us that there during that time were equally disappointed with the results during that time," Berry said. "The one I can say, is the team, the organization, is at a much different state than it was heading into that 2016 season, whether it was the foundation of the roster, the overall strategy.
#Browns Andrew Berry talks about the 1-31 stretch and his assessment of where the team is now. pic.twitter.com/EmFQqQTyXX

— Fred Greetham (@FredGreetham) February 5, 2020
Berry also mentioned that in order to change the culture, it starts on the field and not with words or quotes during a press conference.
Browns owner Jimmy Haslam agreed with Berry in that having a quarterback makes a big difference this time around.
#Browns Jimmy Haslam said there is a major difference from when Andrew Berry was here before until now, in terms of roster building. pic.twitter.com/l1DEZKA6R7

— Fred Greetham (@FredGreetham) February 5, 2020
"Let's start with, we didn't have a quarterback then," Haslam said. "We have a quarterback now. That just means a world of difference. We didn't have the young, core group of players that we have now. So, we're in a much different situation than we were then.
"Like we've said a few times, you'll probably get tired of hearing me say it, the way this group will works together will be distinctly different than before."
Under Haslam's ownership, the Browns have a 28-83-1 record dating back to the 2012 season.