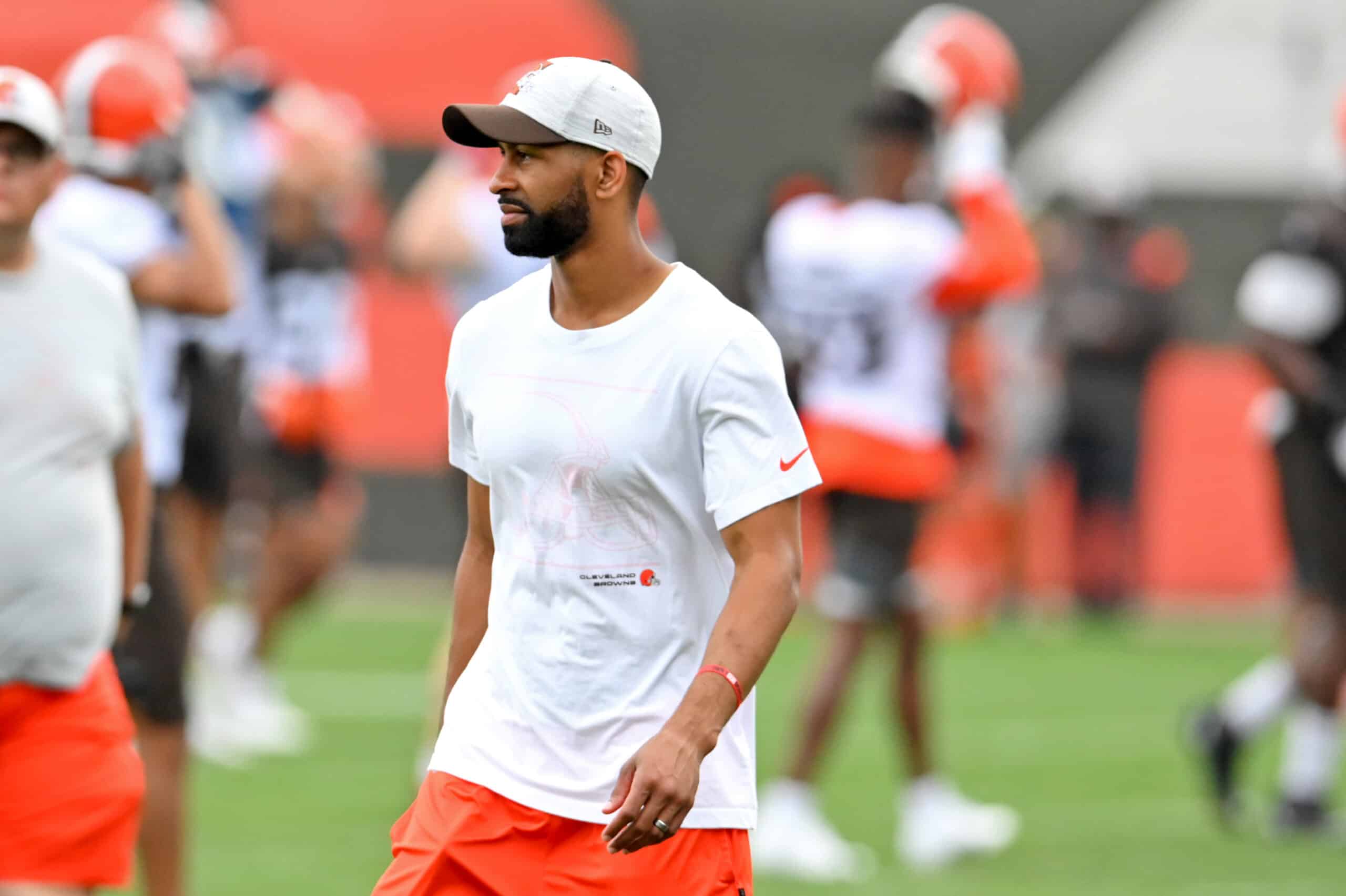 Several Cleveland Browns family members provided some unfortunate social media moments recently.
But that didn't stop Brittan Berry, Andrew Berry's wife, from chiming in on the team's Covid-related roster crisis.
In Andrew-like fashion, Brittan proposed a very practical signing to plug holes on offense and defense.
He's played QB and CB before, so hopefully the process of signing himself is pretty straightforward.

— Brittan Berry (@brittanberry) December 17, 2021
"He's played QB and CB before, so hopefully the process of signing himself is pretty straightforward." Brittan Berry said.
One of her Twitter followers asked if her husband might play against the Raiders Saturday.
Mrs. Berry responded that she hoped he was already in the process of negotiating a contract for himself.
Berry, as pointed out by his wife, has experience at quarterback and cornerback, current positions of need.
The Browns' GM once dreamed of playing quarterback for Stanford.
Andrew Berry
Harvard College, Cornerback 2007-2008 pic.twitter.com/ewiDUyHlfR

— Random College Athletes (@RandomAthletess) March 31, 2021
But the school wasn't interested in the high school passing star, so Berry wound up at Harvard.
Harvard was more interested in Berry's defensive skills, and he became an All-conference cornerback.
Maybe the free agent can negotiate with the GM to cover Hunter Renfrow in exchange for one series behind center?
Who Is Playing For the Browns Saturday? 
Andrew Berry is probably keeping track of who is in and who is out Saturday better than fans and pundits are.
Cleveland currently has 20 players on the Covid list, on top of several others ruled out for injury.
But Berry has to be careful about signing replacement players too soon.
There is still a chance some players can be reinstated before the game with a negative test later today.
It is obviously time for the Cleveland Browns to line Andy Janovich up at quarterback and run nothing PIG PILE sneaks all damn game.

— Tyler Dunne (@TyDunne) December 15, 2021
Juggling the practice squad has become as challenging as the active roster.
Although changes this week allow for more game-day shuffling of practice squad players to the active roster.
Signing players off another team's practice squad requires at least 3 weeks on the active roster.
If you're reading this and have not tested positive for Covid, you may be playing for the #Browns on Saturday. Act accordingly.

— Charles Robinson (@CharlesRobinson) December 16, 2021
That's why signing Kyle Lauletta off the Jacksonville practice squad is not as simple as it sounds.
With Nick Mullens already signed, Cleveland could wind up with 4 active quarterbacks for a while.
That's why we expect a flurry of last-minute signings and call up as the final deadline for testing passes.
Are You Available To Play Saturday? 
Social media is full of offers to cover a position or two for the Browns Saturday.
Former Browns QB Tim Couch says he can still hand the ball off and throw a few screen passes if needed.
Fake announcements of open tryouts are posted on every platform.
And fans are widely encouraged to wear their jerseys to the game, just in case they're needed.
Bernie Kosar is getting tagged by thousands of folks asking him to lace 'em up one more time.
I'm ready. Let's do this. I can hand off to Chubb and throw sceeens all game haha

— Tim Couch (@TimCouchQB) December 16, 2021
But Nick Mullens is the only quarterback in the Browns locker room at the moment.
Johnny Stanton threw passes in high school and could be the emergency QB with Jarvis Landry out.
But quarterback is not the only position room looking thin.
Cleveland is down 6 defensive backs, including their 3 top safeties and their starting slot corner.
And this could be the week Browns fans see Jeremiah Owusu-Koramoah's coverage skills at work.