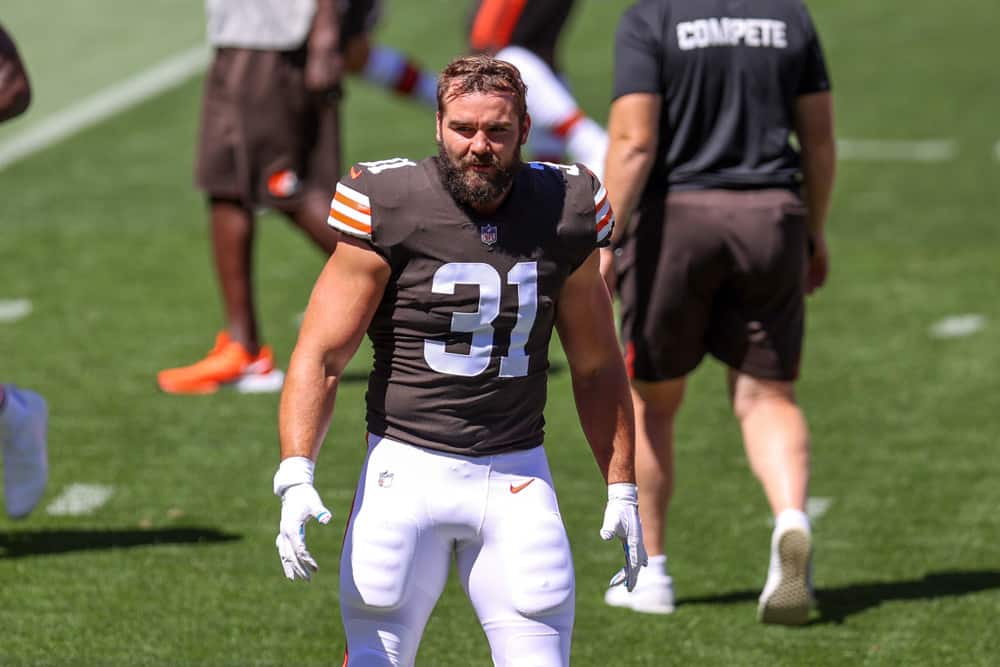 Andy Janovich will be a free agent when the new league year opens.
That after the Cleveland Browns announced they will not pick up the veteran's contract option.
Janovich would have made $1.6 million under that deal.
Andrew Berry signed Johnny Stanton to a futures/reserve contract in January.
The #Browns are not exercising the option on starting FB Andy Janovich's contract, per source, making him a free agent when the league year begins. A starter his entire career and a Pro Bowl alternate this year, Janovich is one of the best at his position.

— Ian Rapoport (@RapSheet) March 7, 2022
That pays the league minimum to Janovich's backup as the lone fullback on the roster.
Cleveland traded a 7th-round pick to Denver to acquire Janovich when Berry and Kevin Stefanski took over.
Stanton was already on the roster, signed after his release by the Minnesota Vikings.
But he couldn't beat out Janovich, who was an alternative Pro Bowl selection this past season.
Just Keep Blocking 
Andy Janovich was excited to come to Cleveland to play in Stefanski's offense.
Denver had just changed offensive coordinators and did not appear to have a use for the fullback.
Stefanski has been among the diminishing number of NFL head coaches to utilize one in the traditional role.
But even Stefanski appears to be lessening their impact.
#Browns Nick Chubb (91.1) and Andy Janovich (90.0) are PFF's two highest-graded pass-blocking backs for the 2020 season. pic.twitter.com/1StwcfBu7B

— Sam Penix (@Sam_Penix) January 5, 2021
Janovich played only 11% of the offensive snaps in 13 games last season.
That is a noticeable drop from the 18% he played in 2020, and far fewer than the 30% he played in Denver.
When he got his chances, he made the most of them, consistently graded highly by analysts such as PFF.
Janovich scored a touchdown against Houston last season, his only score and one of just 2 carries in 2021.
What It Means For The Browns 
Johnny Stanton spent part of training camp last year learning the tight end position.
At the time, he said he'd do anything to get on the field.
Injuries handed him an opportunity in 4 games, in which he saw 5 touches that included a touchdown catch.
It is too early to tell if this is Stanton's chance to take on the lead fullback role.
#Browns FB Andy Janovich on why fullbacks aren't often used in the NFL anymore:

"I don't know, I think they're awesome and everybody should have like three of them."

FULLBACK SZN. pic.twitter.com/5XmPnZsaiv

— Camryn Justice (@camijustice) August 22, 2020
Kevin Stefanski could eliminate the fullback usage and move forward with tight ends and 2 backs.
Nick Chubb and Kareem Hunt consistently rank among the NFL leaders in yards after contact.
Janovich was a decoy as often as he was a lead blocker for the running back tandem.
Free agency officially opens on March 16th at 4 pm after a 2-day legal tampering period.