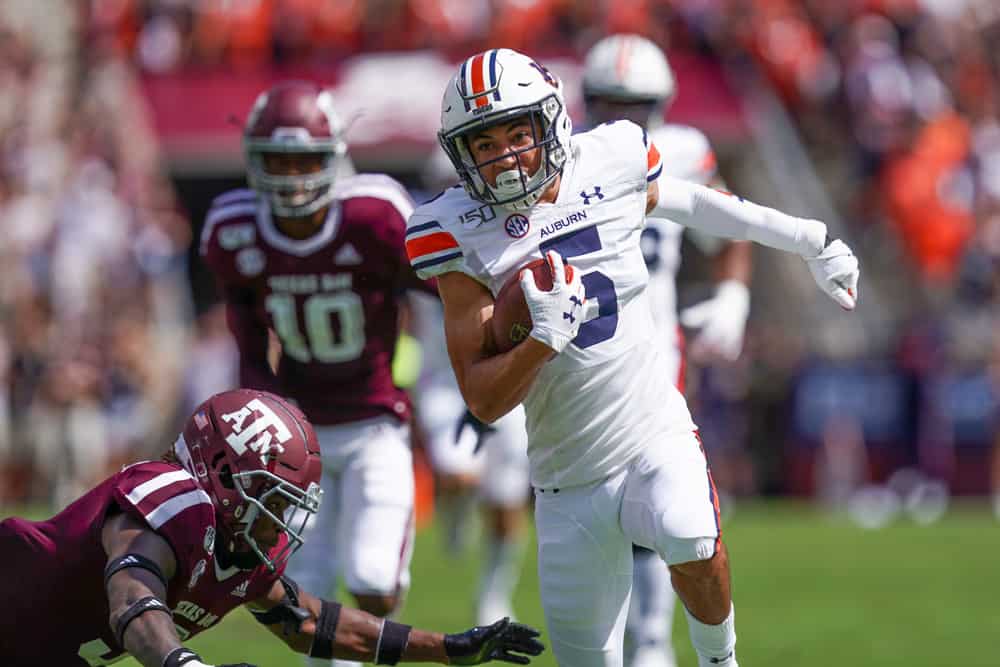 The Cleveland Browns now have their own version of Michael Jordan not making the varsity team as a high school sophomore.
Browns rookie wide receiver Anthony Schwartz didn't make his sixth-grade track team despite running the 40-yard dash in 4.25 seconds, which was the fastest among the 2021 NFL Draft prospects.
Jill Schwartz, the mother of the Browns' rookie, told the story during AL.com's special "Road to the Pros" YouTube episode about her son.
"The funny thing is in sixth grade, he tried out for his middle school track team and he didn't make it," Jill Schwartz said. "So he was a little bummed because he thought he could make it, but he didn't make it. And then the next year, he made not only his middle school track club, but he went to the Miami Northwest [Express Track Club] with Coach Reggie [Holt]."
Holt said his program gives underprivileged kids in the Miami area the opportunity to see the world.
"I was fast, but I didn't run the right way," Anthony Schwartz said. "Like, I used to stop all around. [I] ran crazy."
In April, the Browns selected the Auburn receiver in the third round with the 91st overall pick in the 2021 NFL Draft.
For now, Schwartz has decided to forgo a career in track and field to pursue his NFL dreams on a full-time basis.
Holt acknowledged Schwartz had several opportunities coming out of high school to pursue a professional career in track and field.
At Auburn, Schwartz was a two-sport athlete in football and track and field.
"Coach [Gus] Malzahn he made sure to tell us that, 'Anthony can do both football and track,'" Jill Schwartz said. "That was a big deal for Anthony. He wanted to make sure he could do football and track, and he stuck to that word."
The man nicknamed "Flash" set Auburn's freshman record in the indoor 60 meters (6.59) and placed sixth at the SEC Outdoors in the 100 meters (10.21).
Schwartz got the nickname when coming up his Instagram handle @anthony_flash10.
In college, hamstring injuries slowed Schwartz's track career and forced him to miss two football games in 2019.
As a high school senior, he was also named the 2018 Gatorade track athlete of the year and won the Florida Class 2A state championship in the 100 meters (10.07) and 200 meters (20.41)
In 2018, Schwartz set a world youth record and won the USA National Junior Championship by running the 100-meter dash in 10.15 seconds.
"I didn't even know what to do, I did like a little fist pump, but like I didn't know what to think," Schwartz said. "Then I'm like, damn…10.15. The next day, that's when it came out it was a world youth record and I was like, 'What? What is this?'"
Schwartz also led the U.S. to a gold medal at the U20 2018 World Championship in the 4×100 meter relay.
"I love that experience and it will probably stay with me the rest of my life," Schwartz said.
Schwartz's 100-meter dash times are especially impressive considering Usain Bolt's world record is 9.58 seconds.
At American Heritage High School in south Florida, Schwartz played alongside some of the best prospects from the 2021 draft class, including cornerbacks Patrick Surtain II, Tyson Campbell and Marco Wilson.
Mike Rumph and Patrick Surtain, both former NFL players, coached at American Heritage.
Rumph is now the assistant director of recruiting at the University of Miami.