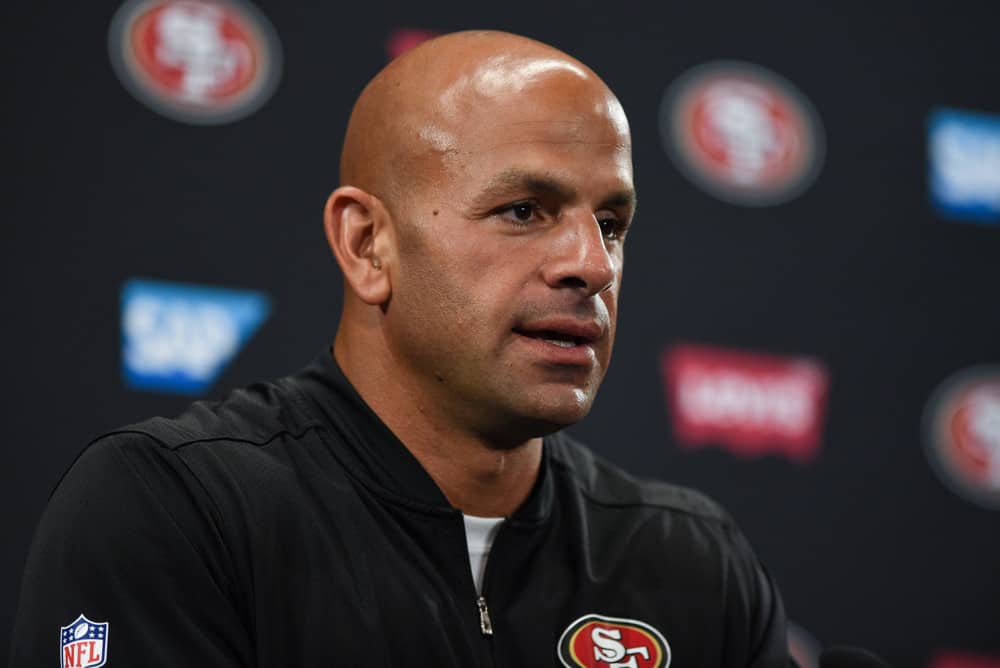 After all the fuss about hiring an offensive-minded head coach, the Cleveland Browns could perform a complete 180.
Would it even be surprising?
Josh McDaniels, Kevin Stefanski, and Mike McCarthy (at one time) were considered to be the favorites to land the job.
It appears now that San Francisco 49ers defensive coordinator Robert Saleh is making a strong push to be hired and here's why.
The Interview of Ed Dodds
The Browns requested an interview with Indianapolis Colts' assistant general manager Ed Dodds on Saturday.
According to CBS Sports' Jason La Canfora, this could be a direct link to Saleh.
As of now the Browns have reached out to a preferred GM candidate for Kevin Stefanski (Andrew Berry) and one with ties to Robert Saleh (Ed Dodds)

— Jason La Canfora (@JasonLaCanfora) January 11, 2020

Dodds and Saleh worked together in the Seattle Seahawks organization.
He was a senior personnel executive in Seattle when Saleh was a defensive assistant.
According to Mary Kay Cabot of Cleveland.com, Saleh mentioned in his interview that Dodds was one of his GM candidates.
The duo won a Super Bowl during their time at Seattle and could look to reunite if the team hires Dodds.
49ers cornerback Richard Sherman recently spoke about Saleh becoming a head coach:
#49ers @RSherman_25 on defense and Robert Saleh's worthiness to become #Browns coach pic.twitter.com/nIYwsNUEGB

— 𝙲𝚊𝚖 𝙸𝚗𝚖𝚊𝚗 (@CamInman) January 12, 2020
Other Seattle Ties
Dodds is not the only candidate for the GM job with ties to Saleh.
Travis Kirchner and Scott Fitterer are both rumored to have interest from owner Jimmy Haslam.
With the #Seahawks facing the #Eagles, keep an ear out for Seattle's Trent Kirchner and Scott Fitterer in the forthcoming #Browns GM search. Sources say Jimmy Haslam admires the Hawks' sustained success. Depending on who the coach is, those two could emerge as strong candidates.

— Mike Garafolo (@MikeGarafolo) January 5, 2020
According to NFL Network's Ian Rapoport, either option could lure Saleh to Cleveland.
Both have experience working with Saleh during their Super Bowl runs.
The #Browns are still culling GM requests, but among the names associated with #49ers DC Robert Saleh who could draw interest: Trent Kirchner and Scott Fitterer with the #Seahawks and Adam Peters with the #49ers.

— Ian Rapoport (@RapSheet) January 11, 2020
If Saleh has more names connected to the GM search, there will be a greater chance he is hired.
Browns Waiting On A Hire
According to ESPN's Adam Schefter, the Browns wanted to have a coach by Saturday.
We are now entering Sunday and the team has not made an announcement.
It's important to remember that the Browns interviewed McDaniels, Stefanski, and Jim Schwartz last week.
Here we are the day after the deadline and the team has no announcement.
Browns' upcoming interview schedule:

🏈Wednesday: Eagles DC Jim Schwartz.
🏈Thursday: Vikings OC Kevin Stefanski.
🏈Friday: Patriots OC Josh McDaniels.
Already interviewed: Eric Bieniemy, Greg Roman, Robert Saleh.

Browns want to have a deal in place by Saturday, per sources.

— Adam Schefter (@AdamSchefter) January 7, 2020
The 49ers defeated the Minnesota Vikings 27-10 on Saturday to move onto the NFC Championship Game.
That means that Saleh cannot be hired until the team loses in the playoffs.
Saleh could be a real contender if the Browns do not hire McDaniels or Stefanski in the next couple of days.