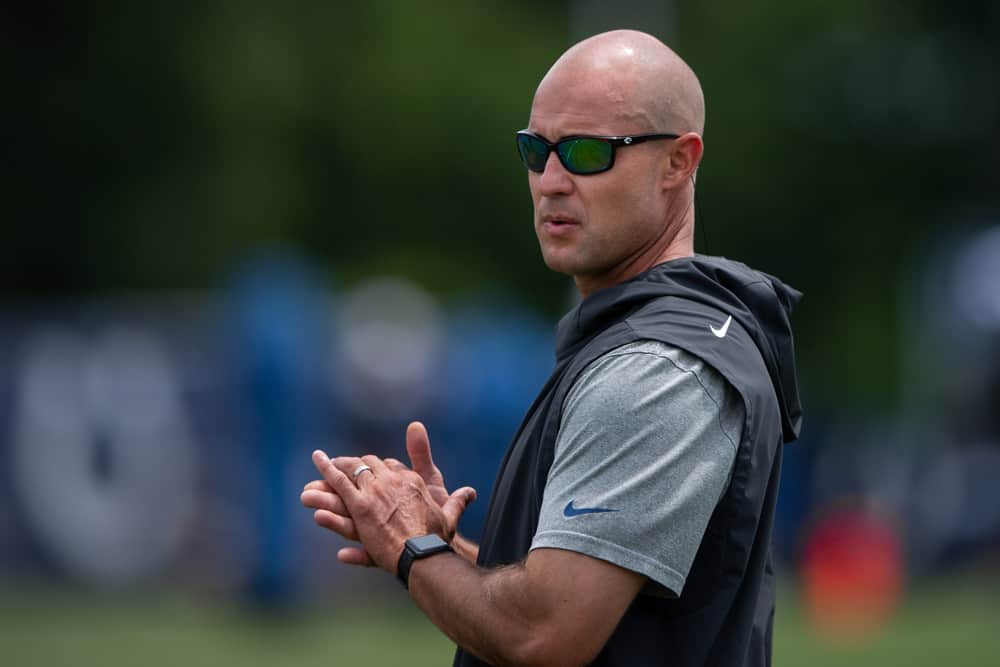 Is Josh McDaniels coming to the Browns fading away?
According to NFL Network's Tom Pelisserio, the Cleveland Browns requested an interview with Indianapolis Colts' assistant general manager Ed Dodds.
The #Browns have requested an interview with #Colts assistant GM Ed Dodds for their GM job, source said. One of the NFL's most respected scouts.

— Tom Pelissero (@TomPelissero) January 11, 2020
According to multiple sources, if Dodds were hired by the Browns, that would be enough to recruit San Francisco 49ers defensive coordinator Robert Saleh.
As of now the Browns have reached out to a preferred GM candidate for Kevin Stefanski (Andrew Berry) and one with ties to Robert Saleh (Ed Dodds)

— Jason La Canfora (@JasonLaCanfora) January 11, 2020
Josh McDaniels Still In-Play
The keyword in McDaniels coming to Cleveland is "could."
As of now, it appears to be a toss-up.
According to Yahoo's Charles Robinson, the request negates the idea that McDaniels is leaving New England.
This puts Berry and #Colts assistant GM Ed Dodds on the #Browns' radar for GM, which I believe is a solid indication that #Patriots OC Josh McDaniels will not be the next head coach of the Browns. https://t.co/0LYlGOp6nY

— Charles Robinson (@CharlesRobinson) January 11, 2020

However, according to ESPN's Adam Schefter, the Browns requested an interview with Philadelphia Eagles vice president of football operations Andrew Berry.   
Berry is one of the names linked to bringing in the Patriots offensive coordinator.
PFT says Andrew Berry interview means McDaniels is in play, but Charles Robinson says the opposite.

gotta say, Browns make everything so dramatic. even tho I'm happy they're doing their diligence, which is exactly what this feels like. pic.twitter.com/h3mamgR1EN

— Damon J. Kecman (@DownWithDamon) January 11, 2020
Dodds Is A Seattle Guy
Dodds joined the Colts in 2017 but began his career with the Seattle Seahawks front office in 2007.
After one year in pro personnel, Dodds served primarily in the scouting department.
Dodds was nearly ousted in 2010 when former general manager Tim Ruskell was let go.
Instead, John Schneider and Pete Carroll came into Seattle and Dodds continued to serve in the scouting department.
He received a promotion in 2015 to senior personnel executive in the 2015 offseason.
His primary task was to evaluate college and professional talent.
Dodds was instrumental in assisting Schneider in draft picks, specifically linebacker Frank Clark in 2017.
Something to remember with the Frank Clark rumors:#Colts Assistant GM Ed Dodds played a pivotal role in Seattle drafting Clark after he spent several days at Michigan getting to know him. If Dodds is vouching for Clark, wouldn't surprise me if they swung a deal. pic.twitter.com/cBOwqTgWqH

— Locked On Colts Podcast (@LockedOnColts) April 22, 2019
A "Respected" Man In Indy
Since 2017, Dodds is reportedly one of the most respected voices and scouts for Colts general manager Chris Ballard.
Ballard has called Dodds "a huge asset to us" and cited his ability to communicate with coaches and find players that fit the Colts system.
Dodds has known Ballard for nearly 25-years dating back to when Dodds was a teenager and Ballard was an assistant coach at Texas A&M-Kingsville.
Despite their strong relationship, Dodds has risen to a top candidate for general manager vacancies over the years.

Final Thoughts

The way the Browns are conducting their search, it will all boil down to who is hired as head coach.
That process has not been completed.
Dodds is another strong candidate for the open position, but we will not be able to connect the dots until the coaching search is complete.