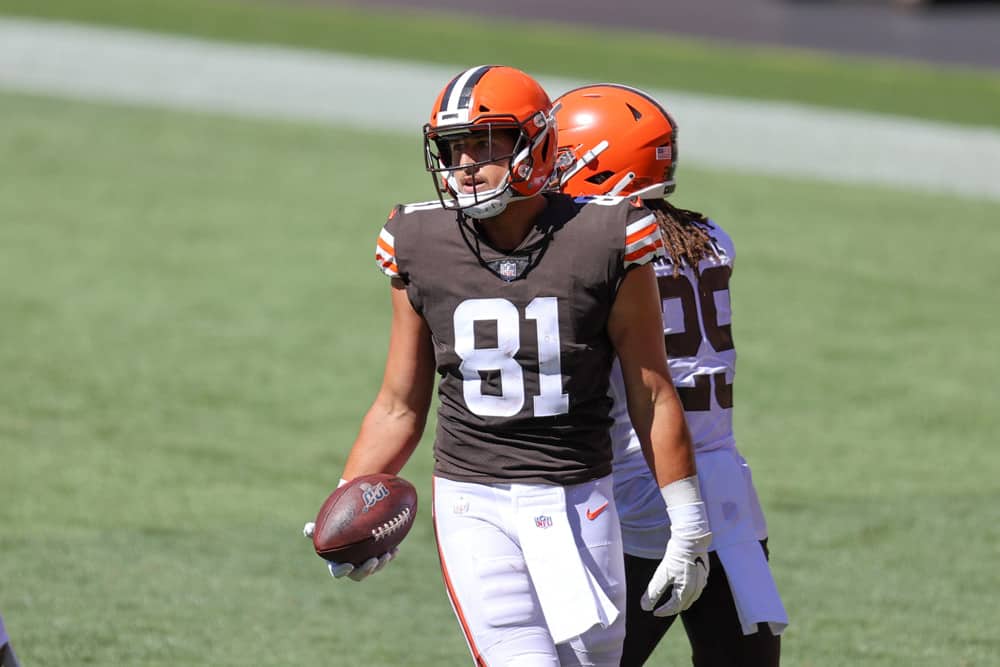 The Cleveland Browns added TE Austin Hooper to the Friday injury report.
Though the extent of the injury is unknown, he injured his neck presumably in Thursday's practice.
His availability for Monday Night Football against the Baltimore Ravens is also unknown at this point.
Austin Hooper appearing today on the injury report with a neck injury is concerning. "He's probably doubtful for Monday night" per source. Another late in the week injury… not good. #Browns

— clebrownsnetwork (@clebrownsig) December 11, 2020
Tight End Roster
Hooper leads a full and talented tight end roster that includes rookie Harrison Bryant, David Njoku, and Stephen Carlson.
He is the statistical leader among the TEs with 30 catches for 286 yards and 2 TDs.
Baker delivers this time in the red zone with a 9-yd TD strike to Austin Hooper 🤫pic.twitter.com/G75ixg3EpA

— Yahoo Sports (@YahooSports) November 29, 2020
Harrison Bryant is second with 16 catches for 164 yards and 3 TDs.
A full TE roster is a trademark feature of Kevin Stefanski offenses; and given the injury issues this season, it has been a huge help to the Browns offense.
Other TE Injuries This Season
Austin Hooper had an emergency appendectomy putting him out of commission for 2 games in late October.
David Njoku was out for a few weeks after the Week 1 game against the Ravens with a knee injury.
Jury Is Out On Hooper
The Browns signed Hooper to a big contract in the offseason.
QB Baker Mayfield was a primary reason why TE Austin Hooper signed with #Browns. The 4-year, $44 million contract helped too. pic.twitter.com/pXD44AbUeh

— Daryl Ruiter (@RuiterWrongFAN) August 5, 2020
It remains to be seen if it was a good investment.
He has been a solid and reliable target for Baker Mayfield when on the field.
But rookie Harrison Bryant has been a bright spot picking up the slack for both Hooper and Njoku when they were out with injuries.
Browns Vs. Ravens
Of course, the healthier the Browns are the better as they prepare to face the Baltimore Ravens.
The Ravens beat them easily in Week 1 by a score of 38-6.
Many agree that the Browns have grown and adjusted well since that setback.
While the Browns made a statement that they are a contender with last week's victory against the Titans, there are still some naysayers that believe they can't consistently beat good teams and advance in the playoffs.
A win against the Ravens on national television could change even more minds about this team.