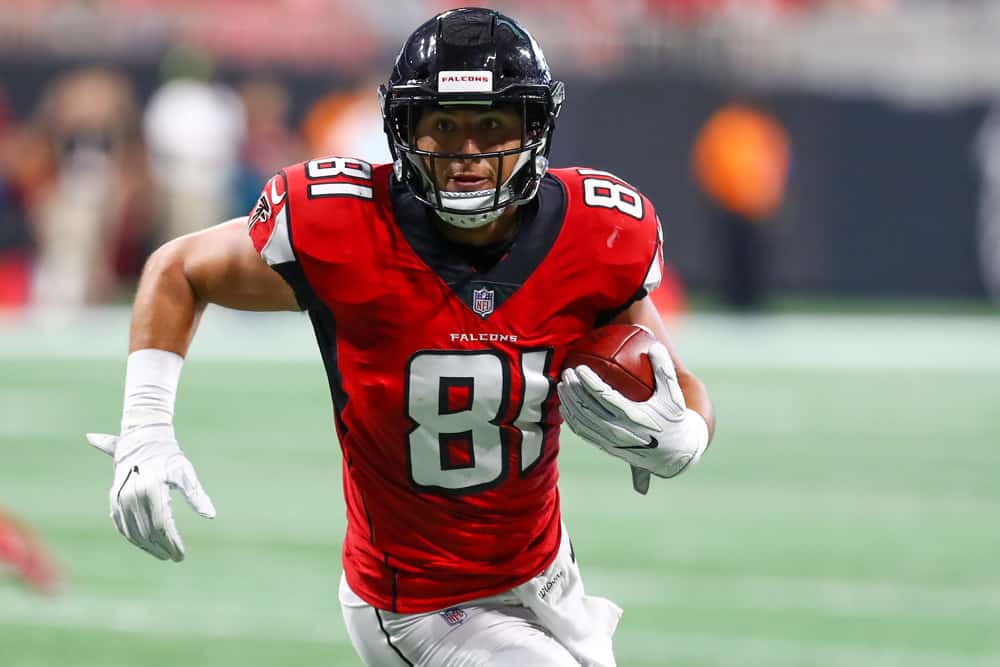 On Wednesday, Cleveland.com's beat reporter Mary Kay Cabot released an article entitled "Browns TE Austin Hooper 'is cool' with David Njoku and won't be like Jason Witten where it's 'me vs. everyone else in the TE room.'"
However, the new Browns tight end feels that he was taken out of context:
#Browns Austin Hooper 'is cool' with David Noku; says he won't be like #Raiders Jason Witten where 'it's me vs. everyone else in the tight end room' https://t.co/EZJHmunxb1

— Mary Kay Cabot (@MaryKayCabot) August 5, 2020

Hooper was making a joke about what other Dallas Cowboys tight ends thought of playing with Witten.
He can be seen making the comment in this interview:

"My style, I've never really been a rah-rah guy at all,'' Hooper said, via Mary Kay Cabot of cleveland.com. "I just kind of like to lead by example, and if people have questions, I will answer them. I am an open book. I don't try to hoard information. I don't like doing the whole Jason Witten deal where it is me versus everyone else in the tight end room. I think it is more like we are all in this together. David, Harrison, Stephen [Carlson], Pharaoh [Brown], Nate [Wieting], we are all in this together.

"I look at it as just like a big family in our room. We all have one common goal, and that is to win our reps. However someone does it a certain way, that resonates with someone else's learning process better. I think just like any other workplace, it's better when it is collaborative and not combative. That's what I try to bring to the room and let everybody know that, yeah, I'm one of the older guys in this room, but don't feel like I'm not approachable. I'm and open book. I want to see people do well."
Here was Hooper's response:
"Clearly being sarcastic if people watch the interview instead of simply reading the clickbait headline but I'll take my whoopin' online," he wrote.
Clearly being sarcastic if people watch the interview instead of simply reading the clickbait headline but I'll take my whoopin online🤷‍♂️

— Austin M Hooper (@AustinHooper18) August 5, 2020
Why Did Hooper Joke About This?
Jason Witten was playing in the Lone Star State when retired tight end Martellus Bennett had some choice words about him:
On @E60, Martellus Bennett rips Jason Witten, Jason Garrett. On Witten: "He didn't teach me nothing. He didn't help me out. …I hated him."

— Drew Davison (@drewdavison) October 13, 2016
Witten went from being a 15-year NFL veteran to a color commentator for ESPN's Monday Night Football in 2018.
Then in 2019, the 11-time Pro Bowler returned to Dallas to add to his tremendous career NFL numbers.
The 38-year-old is most likely is done with his Cowboys career, as finished with franchise bests in receptions (1,215) and receiving yards (12,977).
He caught 72 touchdowns, which was just one away from Dez Bryant's team record of 73.
In March, Witten signed with the Las Vegas Raiders for one year for a contract that is worth up to $4.75 million.
With Witten being in the same conversation with Emmitt Smith as two of the franchise's all-time skill position leaders, football fans have to respect Witten's game on the field.
However, off the field, Witten may have been a handful, and Hooper was having some fun relating it to his situation in Cleveland.
Hooper In 2020
Hooper enters what could become a deep tight end depth chart for the Browns in 2020.
After Cleveland brought Hooper in on a record deal, the Browns then selected FAU tight end Harrison Bryant with the No. 115 selection in 2020 NFL Draft.
Bryant will most likely not immediately take snaps from Hooper and David Njoku, who is entering his fourth year in the NFL.
Njoku, who has changed his mind about his trade request, will be hoping for a healthier 2020.
He played just four games in 2019 and did not get along with former head coach Freddie Kitchens.
However, the former first-round selection is hoping to turn the page from the Kitchens era and his offseason trade request.
Meanwhile, Hooper is looking to build on his career-high numbers in 2020.
Last season, he set new highs in receptions (75), targets (97), receiving yards (787), touchdowns (six), and first downs (41).
The California native is happy to share the wealth in what may be a crowded receiving corps for the Browns.
After being selected by the Atlanta Falcons No. 81 overall in 2016 out of Stanford, he rose the ranks efficiently and effectively and made the Pro Bowl in each of the last two seasons.
He has caught 214 career passes for 2,244 yards and 16 receiving touchdowns.
Hooper also brings five games of playoff experience to the Browns.
During his rookie year, he was a part of the NFC Champion Falcons, who led the NFL in points scored and net yards gained per pass attempt.
Hooper hopes to be a part of another prolific offense in 2020, and he is excited that Njoku will hopefully be joining him as the Browns look to live up to their lofty expectations.