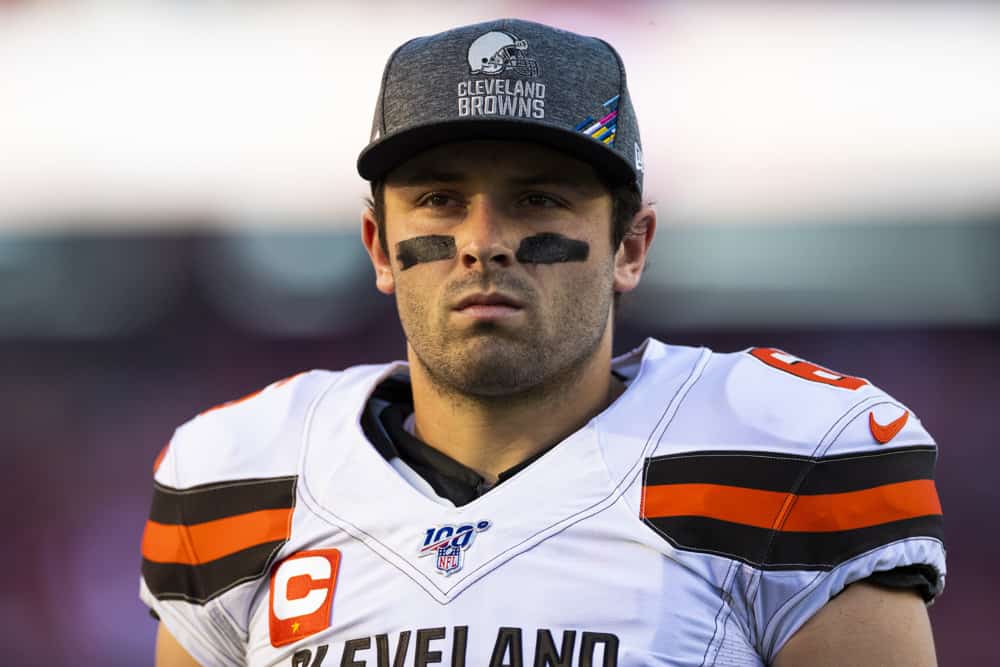 Baker Mayfield is getting tired of all the chatter.
Since the end of his sluggish sophomore campaign, Mayfield has heard all the critics.
Now, as he enters a crucial third season in the NFL for the Cleveland Browns, he has a message for all of those who are doubting him.

The Message
Mayfield shared the message through Instagram on Monday.
In the message, he said, "Keep talking that talk. I want the same energy y'all had going on."
— Dawg Pound Swag (@dawgpoundswag_) August 4, 2020

Dating back to his days playing for Oklahoma, Mayfield is known for feeding off the energy, may it be positive or negative.
However, this is a different story, given how his passer rating (78.8) and completion percentage (59.4%) were both next-to-last in rank.
Then, there's this alarming stat.
How bad of a season has it been for Baker Mayfield? Lowest QB rating from a clean pocket this season per PFF…

Haskins 79.5
Dalton 81.7
Mayfield 83.2
Kyle Allen 91.3
D. Jones 94.5
Trubisky 95.2
League average is 103.1.

Mayfield is tied with Jameis with 12 INT kept clean.

— Rich Hribar (@LordReebs) December 16, 2019

For context, Winston is now a backup quarterback for the New Orleans Saints.

He's Ready
The Instagram post follows a trend from the last couple of days.
On Friday, the Browns released a video of Mayfield showing off his leaner frame as he prepares himself for training camp.
Baker Mayfield, in great shape and ready for training camp.

Video Courtesy of the Cleveland #Browns. pic.twitter.com/CrQe3mGAk6

— Camryn Justice (@camijustice) July 31, 2020
Mayfield appears slim and ready for action, which will be critical in starting off on the right foot.
The preseason has been shortened due to the COVID-19 pandemic.
This season could very well shape Mayfield's overall future with the franchise.

"Foot in my Mouth"
When the NFL was leading up to the Super Bowl, Mayfield acknowledged that he needed to keep his emotions in check.
Baker Mayfield says he will no longer respond to the outside noise.

"Let's be honest, I put my foot in my mouth a lot this last past year, and I'm gonna to internalize that and I think that's the way I need to handle it."

"Rest in peace, Kobe, but that's the way he did it." pic.twitter.com/8hrKzrdxy4

— Sooner Gridiron (@soonergridiron) January 31, 2020
Fast forward to nearly six months later, it's unknown how Mayfield is truly going to live up to that mantra.
Nobody truly wants Mayfield to hide his emotions.
That's what makes him special.
It's just when it impacts his performance on the field.

Other News
Mayfield's backup quarterback, Garrett Gilbert, was placed on the COVID-19 list.
#Browns punter Jamie Gillan activated off reserve/Covid-19 and QB Garrett Gilbert added to the covid list today

— Mary Kay Cabot (@MaryKayCabot) August 3, 2020
According to Cabot, Gilbert is asymptomatic and has tested negative every day since reporting to training camp on July 24th.
It appears that Gilbert should make a full recovery as he remains quarantined.