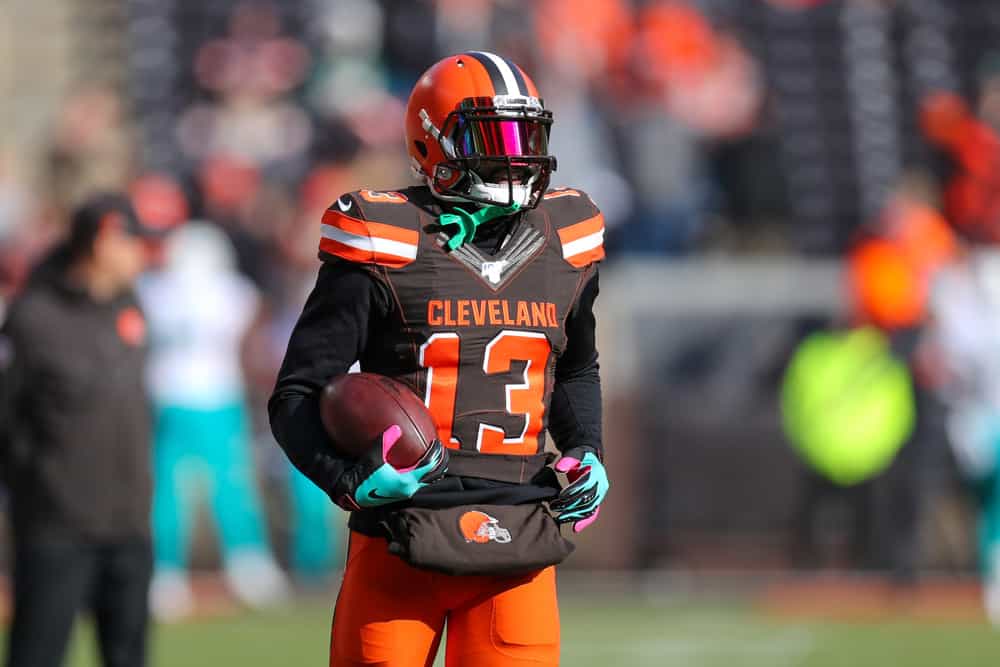 Cleveland Browns wide receiver Odell Beckham Jr. is not expected to opt-out of the 2020 season despite concerns over how the league is prepared to handle the pandemic.
The 27-year-old reported to training camp, but doesn't seem too thrilled about the upcoming season.
Odell Beckham Jr. told the Wall Street Journal that he doesn't think the 2020 NFL season should happen. pic.twitter.com/2sF0DDsfUE

— SportsCenter (@SportsCenter) August 3, 2020
"We're not ready for football season. So why are we trying to push forward? It's obviously for their money," said Beckham.
He later mentioned that with everything going on in the country he doesn't believe football is that important.
Regardless, it sounds like he's going to suit up for Cleveland, but how would the team fair if Beckham did decide to opt-out of the 2020 season?
Beckham's 2019 Season
The 2019 season was the first year for Beckham in a Browns uniform.
There were fairly lofty expectations for Beckham given the impact he made during his first few years with the New York Giants.
Beckham finished with 74 receptions, 1,035 receiving yards, and four touchdowns through 16 games.
Not a bad year on paper, but those numbers aren't quite up to Beckham's standards.
To be fair, he was banged up with injuries from the beginning of training camp.
He decided after the season to undergo core muscle surgery.
Browns said Pro Bowl WR Odell Beckham Jr. is "100 percent" recovered from the surgery he underwent on a core muscle injury that hindered him throughout the 2019 season.

— Adam Schefter (@AdamSchefter) June 25, 2020
At this point, it appears Beckham is back to full health and is hopeful to have a rebound year.
Beckham mentioned earlier in the offseason that he wanted to be targeted more in 2020.
He obviously didn't live up to his expectations last season, but could Cleveland survive without Beckham at all?
The Browns Without Beckham
This Cleveland offense would be dramatically different without Beckham on the field.
Five-time Pro Bowl receiver Jarvis Landry would be forced to fill the No. 1 spot.
He is familiar with being the star wide receiver since he did it for four years with the Miami Dolphins.
Landry could easily adjust to that role, but the rest of the receivers would have some struggles.
Four-year receiver Rashard Higgins would be asked to fill the No. 2 job at receiver.
He has 76 career receptions through four years, while Beckham had 74 just last season.
Obviously, no one is saying Higgins and Beckham are on the same level, but it'd be tough to fill shoes that big.
The rest of the receivers in Cleveland are basically inexperienced options or depth.
The Browns would have to ask Landry to carry a heavy load on offense.
Cleveland did sign Pro Bowl tight end Austin Hooper this offseason.
The Browns have signed TE Austin Hooper to a 4 year $44 Million contract. pic.twitter.com/nJ3xVhPTxf

— Everything Cleveland (@EverythingCLE_) March 16, 2020
They gave Hooper the highest-paid contract for any tight end this offseason.
Clearly, Cleveland knows what Hooper is capable of doing and wants him in their long-term plans.
Having Hooper would soften the blow of Beckham's departure.
However, this offense needs Beckham since they don't have a reliable No. 3 option.
It would be tough to trust Higgins as the No. 2, especially after his horrendous 2019 campaign.
The Browns wouldn't be a winless disaster without Beckham, but his absence would significantly hurt.
The difference between making the playoffs and sitting out another postseason could be dependent on the performance of Beckham this season.