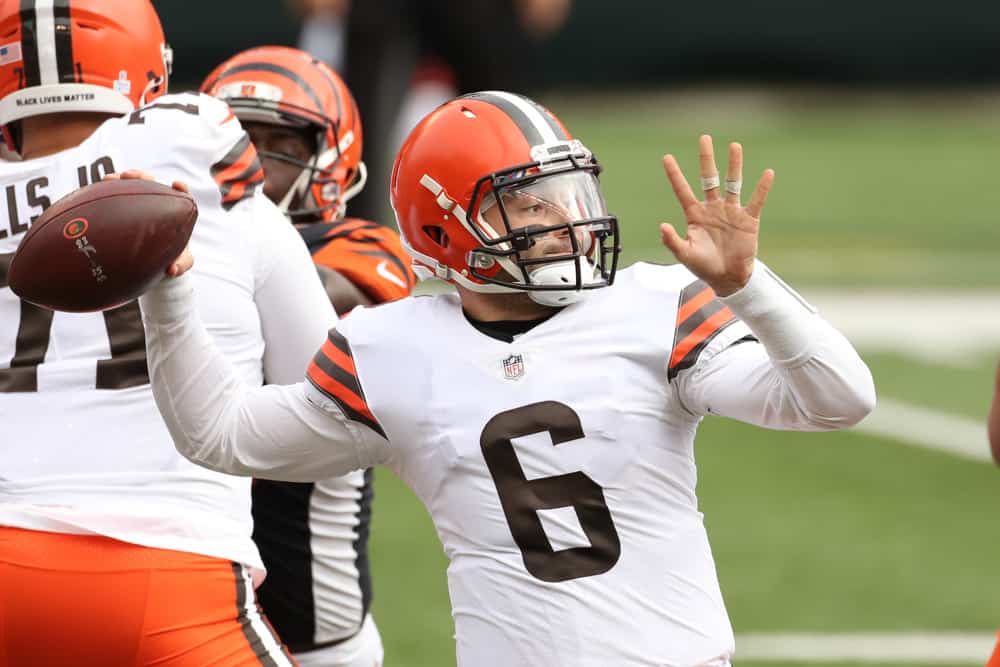 The Cleveland Browns are 8-3, and it has truly been a team effort.
A key part of that team is QB Baker Mayfield.
He has come under a lot of scrutiny during his tenure in Cleveland.
All may (or may not) agree that the recent distinction Mayfield earned for his performance during the month of November is noteworthy.
Mayfield is one of two NFL QBs that threw no interceptions during the month of November.
The other is Houston Texan Deshaun Watson.
The QBs who started/finished 4 games in the month of November without throwing an interception:
* Deshaun Watson
* Baker Mayfield

— Jake Trotter (@Jake_Trotter) December 1, 2020
1. Mayfield Played 4 Games In November.
The naysayers will be quick to point out that the Browns had a bye in November.
That is true, but there were also 5 Sundays in November so he still played 4 games (as did Watson).
Those four opponents were: Las Vegas, Houston, Philadelphia, and Jacksonville.
While it's true that all but 1 of those opponents is below .500, it is still an achievement.
Mayfield threw 7 interceptions in the 7 games prior to the month of November so he definitely cleaned up his game.
2. He Threw 2 TDs In November.
No, that's not a barn-burning statistic, but let's recall that the weather was hideous for all of Cleveland's home games in November.
Wind, rain, and snow headlined the Las Vegas, Houston, and Philadelphia games.
50 mile per hour wind gusts happened during the Raiders game, and the Texans game had a delayed start time because of weather conditions.
His 2 TDs happened in Jacksonville.
.@bakermayfield finds @God_Son80 for SIX!

📺: @NFLonCBS pic.twitter.com/AbOZs3L53l

— Cleveland Browns (@Browns) November 29, 2020
3. Nick Chubb Came Back From Injury.
Perhaps it's not a coincidence that Mayfield's interception-free month happened when Nick Chubb returned from the MCL injury.
Chubb came back on November 15, making him active for 3 of the 4 November games.
With Nick Chubb in the game (and Kareem Hunt also), the Browns are a run-first and pass-second offense.
The running game taking precedence in the Browns offensive game plan takes the pressure off of Mayfield.
Because of Chubb's success, the Browns tend to stay out of long yardage 2nd and 3rd down conversions that would likely be pass plays.
Mayfield's November Stats.
Baker Mayfield had 96 pass attempts and completed 55 of them for 616 yards.
He will be the first one to admit that he needs to do and be better going down the stretch of this 2020 season.
I know I can be better… and I will be. Job isn't finished, lot of ball left. We're 8-3 and not satisfied. That's the best part about this team.

— Baker Mayfield (@bakermayfield) November 29, 2020
Baker Mayfield's Career At A Glance
Considering that Baker Mayfield had 4 head coaches (2 in 2018, 1 in 2019, and 1 in 2020) in 3 years, he did not have stability with a successful offensive scheme or coach until this year.
He has constantly been changing and learning new systems.
Some would argue he was more successful in his rookie season; his stats were "better."
He did have 27 TD passes and 14 INTs as a starter for 13 games in 2018.
Mayfield threw for 3,725 yards as a rookie, but his win-loss record as a starter was 6-7.
In 2020, he has 2,108 yards and 17 TDs against 7 INTs in 11 games.
And his team is 8-3.
Stats tell part of the story, but wins and losses are what measure true success.
In that respect, Baker Mayfield has been successful this year through the first 11 games.
But he's about to be tested in the coming weeks with Tennessee, Baltimore, and Pittsburgh on the Browns' schedule.