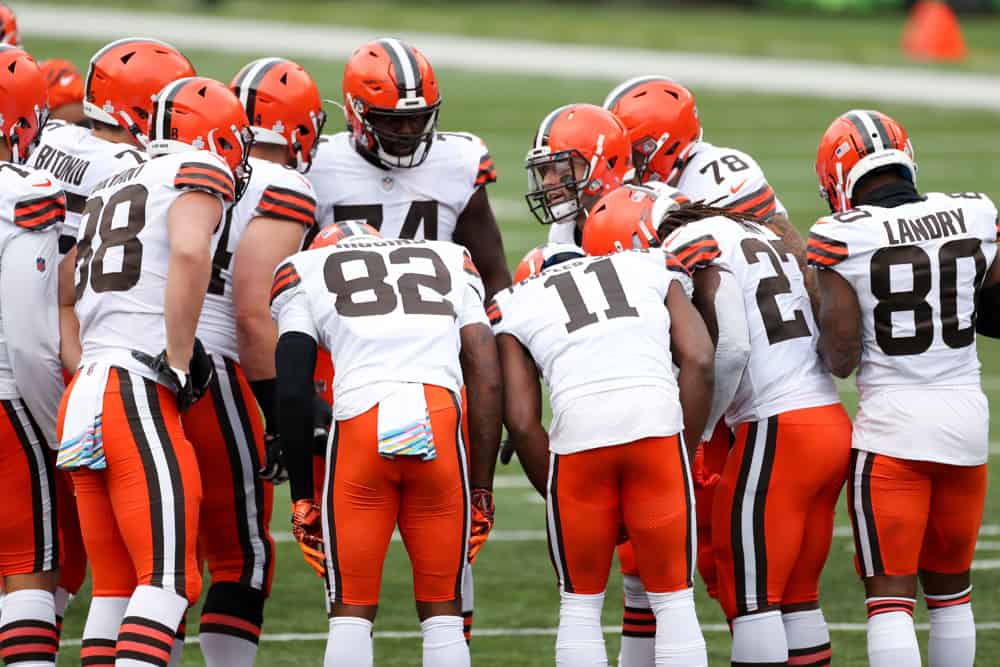 Are you old enough to remember the last time the Cleveland Browns had 8 wins by Week 12?
You have to go back to the pre-exodus season of 1994 when a Week 12 loss to the Chiefs dropped Cleveland to 8-3
Bill Belichick led the Browns to their last playoff victory that season, a 20-13 wild card win over the New England Patriots.
Beating the Titans Sunday would relieve a lot of playoff stress for the #Browns

— MoreForYouCleveland (@MoreForYou_CLE) December 1, 2020
But Belichick and the Browns could not beat the Pittsburgh Steelers.
Cleveland fell in the divisional round, 29-9, their third loss to Pittsburgh that year.
So, Cleveland fans don't want to replicate the 1994 season exactly as it played out.
But waking up next Monday with a 9-3 record would be totally acceptable.
Here are 3 bold predictions for the Browns versus Titans game that will make fans happy about Week 13.
1. Mayfield Throws for 300 Yards, 2 TDs
Statistically speaking, Baker Mayfield did not have a "bad game" last week.
But it could have been so much better if not for a couple of key misses.
Mayfield called himself out after the game, noting he has to play better.
I know I can be better… and I will be. Job isn't finished, lot of ball left. We're 8-3 and not satisfied. That's the best part about this team.

— Baker Mayfield (@bakermayfield) November 29, 2020
What better week than a game everyone expects to see over 400 rushing yards?
Tennessee and Cleveland will prime their defenses to stop Nick Chubb, Kareem Hunt, and Derrick Henry.
Both quarterbacks need to pass enough to make the other defense loosen up against the run.
And… they can make the defenses pay for ignoring their passing games.
Jarvis Landry's big game against Jacksonville will help Rashard Higgins and Khadarel Hodge find holes in Tennessee.
Mayfield won't throw 30 times against the Titans.
But expect some big plays off designed rollouts right from the start that will have him flirting with 300 yards.
2. 800+ total yards of offense between both teams 
Let's do a little math.
If Mayfield flirts with 300 yards, and Chubb and Hunt add 200 more… that's 500 yards for Cleveland.
One might think such a performance would result in a runaway victory.
#Browns-Titans will feature the top 3 rushers since 2018 in average yards per rush AFTER contact:
1. Kareem Hunt (2.46)
2. Derrick Henry (2.37)
3. Nick Chubb (2.37)@ESPNStatsInfo

— Jake Trotter (@Jake_Trotter) December 1, 2020
But, holding Derrick Henry under 150 yards would be an accomplishment for any defense.
Ryan Tannehill had some of his biggest games last year while Henry ran amok.
Expect a similar game plan as Mayfield's, with big pass plays off play-action.
Usually, running teams can control the clock and keep scores low.
But when your runners insist on chalking up 10-20 yards at a clip, it skews results.
If you're a betting person, take the over on points and yards for this game.
3. No Sacks, No Turnovers, 2 Punts 
Yes, I know Myles Garrett is back this week, and yes, I saw Olivier Vernon come to life.
And yes, I know the Cleveland defense forced the 7th-most turnovers in the NFL.
But Garrett and Vernon need to make sure Derrick Henry doesn't have the ball before they look at Ryan Tannehill.
That extra split second, on a relatively low passing volume of mostly play-action and roll-outs, makes sacks hard to come by.
DE Myles Garrett on track to be cleared by Wednesday, Stefanski says.

— Andrew Gribble (@Andrew_Gribble) November 30, 2020
Tennessee's defense will be in the same position, focused on stopping the run and susceptible to a moving Mayfield.
Neither quarterback is prone to interceptions on their long balls, and short passes will be quick and safe.
Their running backs are not known for fumbling and will enjoy perfect football weather Sunday.
Each team has had some very good defensive showings this season.
But this won't be one of them, as punters emerge well-rested after this barn-burner in Tennessee.