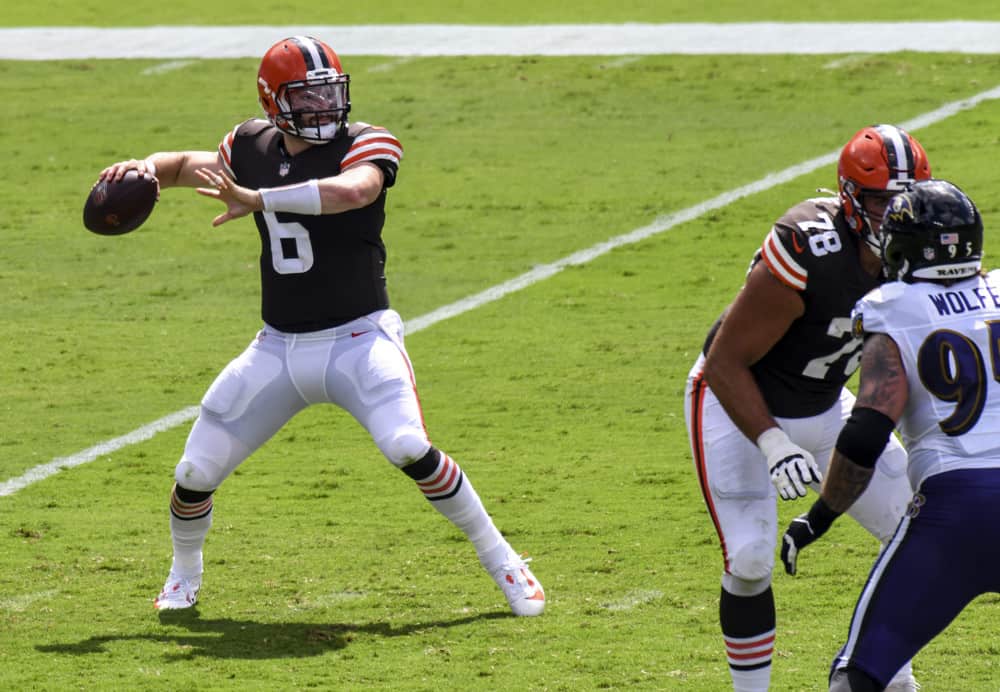 There is a reason "football guys" and "analytics guys" clash.
The Cleveland Browns' game against Baltimore offers a prime example.
Both contingents gave considerable credit to the Ravens after the horrid 38-6 shellacking of the Browns.
When a rebuilding team faces the odds-on Super Bowl favorite without practice games, that bias is built-in.
Baltimore certainly looked faster, stronger, and more in tune with their game plan than Cleveland.
But basic statistics offered the first arguments that Cleveland played better than the results.
We realized the Browns defense held the Ravens' vaunted rushing attack to a mortal yardage total.
Lamar Jackson's excellent day became more remarkable when we learned Cleveland's pass rushers had him under pressure on almost half of his dropbacks.
Conversely, Baker Mayfield and Kevin Stefanski backers acknowledged the superiority of the Ravens defense.
But the analytics guys are raising some questions about that narrative, too.
Baker Mayfield's Offensive Line Was One of the Best Sunday
One of the most popular opinions after the game was the Browns' offense didn't look very different than last season.
There was a ready caveat of how the Browns' offense was outmatched by a superior opponent.
YOU KNOW FOOTBALL IS BACK WHEN THE CLEVELAND BROWNS DO THIS 😂 pic.twitter.com/EmstoSO3kP

— Abdul Memon (@abdulamemon) September 13, 2020
However, Pro Football Reference and the NFL's Next Gen Stats offer a different version of events.
Baltimore blitzed Mayfield 22 times Sunday, the second-highest total in Week 1.
Mayfield was sacked twice, but the Ravens were not credited with another quarterback hit all game.
In fact, with just 5 hurries and the sacks, Baltimore's blitz attack yielded only the 23rd best QB pressure rate.
In other words, the Cleveland Browns' offensive line was the 9th best quarterback protecting unit.
That statistic is even more remarkable in the face of another advanced statistic, pocket time.
The Disturbing Stat
According to Pro Football reference, Baker Mayfield held the ball longer than any other quarterback in the league last week (2.7 seconds).
Baker Mayfield had an average pocket time of 2.7 seconds, the highest in the league in Week 1 https://t.co/7yZvKfbVL5

— ProFootballReference (@pfref) September 16, 2020

So, one of the highest-ranked defenses in the NFL threw a ton of blitzes at Cleveland while Mayfield waited longer than any other quarterback to throw the ball.
Cleveland's offensive line can argue they registered one of the best performances of Week 1.
So… What Happened? 
In most cases, extended pocket time reflects quarterback indecision or happy feet.
Confident quarterbacks see pressure, step up and release the ball.
This Baltimore sim-pressure that runs Calais Campbell from LDE to the right hook to create a Baker Mayfield interception is filthy pic.twitter.com/7a22pn3AC4

— Matt Weston (@Matt__Weston) September 17, 2020
Less confident passers hesitate, allowing defenders to react.
Calais Campbell tipped Mayfield's drive-killing interception because he had a split-second extra to drop into the path.
Although his receiver was wide open on the play, Mayfield took an extra step before throwing.
Mayfield might have been under the same illusion as his fans that the Ravens' defense was closer than they were.
But the result was a league-worst 63% pass accuracy rating and a sixth-worse 20% bad throw rate.
This despite the shortest yards-per-attempt (4.8 yards) posted by Baker Mayfield.
 But it's Not All on Baker Mayfield 
Baker Mayfield showed us all the Bad-Baker tendencies we saw last season.
Kevin Stefanski and Alex Van Pelt promised fans they had the answers to those Mayfield woes.
Footwork, decision-making, designed rollouts, and play option passes would resurrect the franchise quarterback.
But there was little evidence of progress or coaching in Baltimore.
Browns HC Kevin Stefanski announces he'll be calling plays this season. Thoughts? pic.twitter.com/NsWwnFOIcZ

— Cleveland Sports Talk (@CLEsportsTalk) September 11, 2020
Mayfield still has happy feet, but not particularly fast feet.
He consistently missed open receivers and seemed spooked by his early interception.
Despite 39 pass attempts, Stefanski called fewer play-option passes (7) than 22 other teams.
So the question becomes whether the coach changed game plans on gameday a la Freddie Kitchens?
Or is Mayfield unable or unwilling to accept the coaches' instructions and run the new offense?
The timing of Case Keenum's first start might provide the answer.