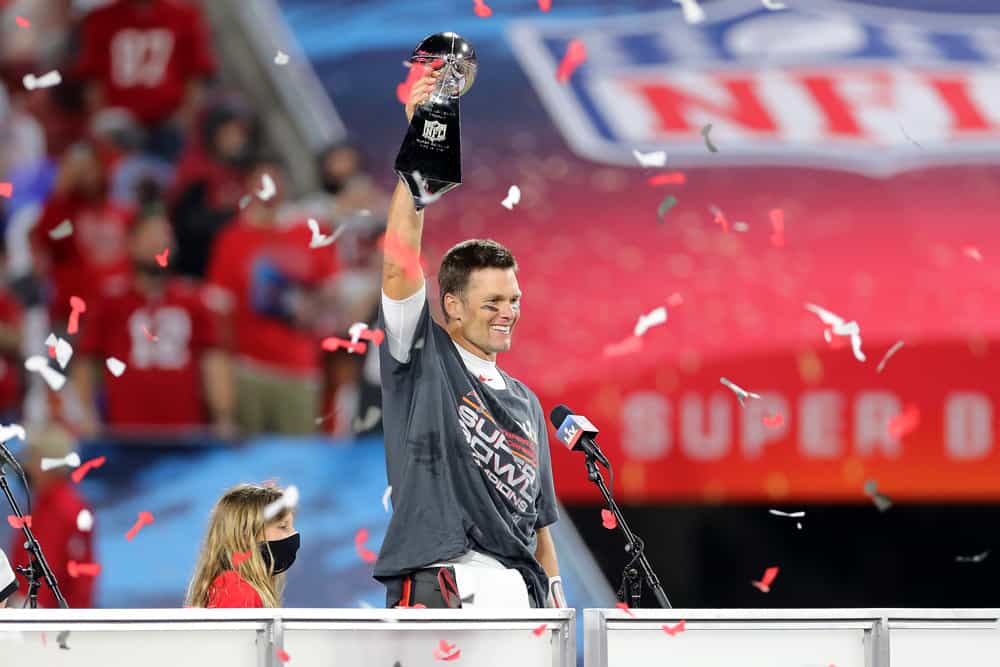 Athletes and social media from all over the world reached out to congratulate Tom Brady on winning his 7th Super Bowl Sunday night.
One of those people was Cleveland Browns quarterback Baker Mayfield who wasted no time in tweeting what he thought about Brady after the win.
"Congrats…Again to @TomBrady.  The greatest of all time without a doubt.  Unquestioned!!" Mayfield said.
Congrats… AGAIN to @TomBrady. The greatest of all time without a doubt. Unquestioned!!

— Baker Mayfield (@bakermayfield) February 8, 2021
Baker Said What We All Are Thinking
Mayfield saying that Tom Brady is the GOAT has to be a universally agreed-upon fact.
In a year where the world is topsy-turvy and opinions' vary on all issues, people should be able to unite in agreement on this fact.
Consider Brady's long list of accomplishments; here are just a few.
21 NFL seasons (20 as a starting quarterback)
14 time Pro Bowler
7 time Super Bowl Champion
5 time Super Bowl MVP
3 time NFL MVP
His longevity and consistent level of excellence is truly amazing.
Tom Brady is a true champion…

Not bad for a 43-year-old 😏@TomBrady | #GoBucs pic.twitter.com/Eo4DVCiAMB

— CBS Sports HQ (@CBSSportsHQ) February 8, 2021
Let's face it, the start of his career was humbling.
Being the 199th overall pick (6th round) in the 2000 NFL Draft has never stopped inspiring Brady to be the best.
How it started How it's going pic.twitter.com/pkJkY1YAug

— CBS Sports HQ (@CBSSportsHQ) February 8, 2021
What Baker And The Browns Learned in 2020
The Browns exceeded expectations in 2020.
Whatever. Tom Brady and the Bucs won the Super Bowl, but Baker Mayfield and the Cleveland Browns won this NFL season. @NickChubb21 @bakermayfield @Browns

We will be back. GO Browns pic.twitter.com/ItndYt5hmQ

— Stinky Think Tank (@stinkythinktank) February 8, 2021
Watching the Buccaneers play the Chiefs showed us that the Browns are not far away from contending.
The difference between the Bucs and the Browns in their games against the Chiefs was defense.
That's where the Browns need the most drastic upgrades to contend in 2021.
Mahomes also showed us he is human.
He will downplay it, but the turf toe/foot injury was significant.
His mobility and footwork were impaired.
The level of play among the stars on his team was not where it needed to be either.
Patrick Mahomes has authored so many magical comebacks and breath-taking performances that they've become expected. But @jeffrichadiha writes that Super Bowl LV showed us that even Mahomes has his limits if he loses too much help.https://t.co/tRP8g5duAc pic.twitter.com/nJYSouVztu

— Around The NFL (@AroundTheNFL) February 8, 2021
The Chiefs had massive off-the-field issues and injuries that affected them.
Meanwhile, the Buccaneers sat at home for two weeks.
They didn't need to travel in this COVID-19 environment.
Their practice schedule and rituals remained unchanged.
Home field advantage was definitely a factor; we have never seen it before in a Super Bowl, but it played a role.
NFL Coach Of The Year Was Correct
The other thing we learned yesterday is something that Cleveland Browns head coach and newly minted NFL Coach of the Year Kevin Stefanski preached all season.
"He never lost his cool, he never lost his poise." — EVP/GM Andrew Berry pic.twitter.com/oB7vs5ltUT

— Cleveland Browns (@Browns) February 7, 2021
Each time the Browns were depleted with injuries and COVID-19, he continued to say that the team who handles all of the 2020 adversity the best will win.
The Browns did a great job of handling adversity by following Stefanski's lead and so did the Tampa Bay Buccaneers.
The Super Bowl Champs had their own ups and downs during the season as Brady adjusted to a new offense and coaching staff without preseason preparation.
Congratulations to the Bucs on the Super Bowl Championship.
Onward and upward for the resurging Browns in 2021!