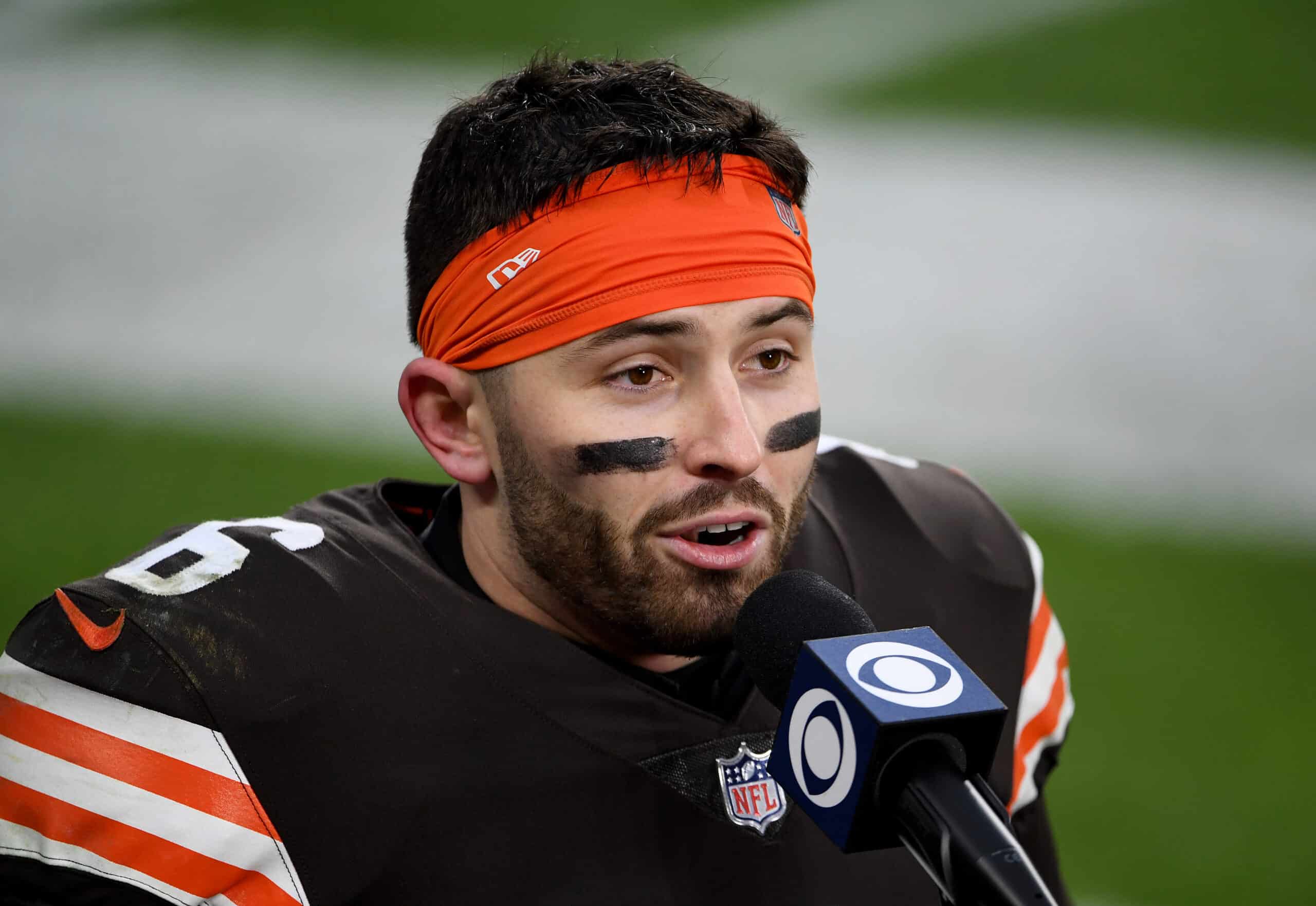 Baker Mayfield's rehab specialists won't let him play a round of golf just yet.
But the Cleveland Browns' quarterback made a special appearance on the links this week.
Mayfield got a call from professional golfer Brooks Koepka regarding a special fan, Ethan Evan.
Ethan, who is just 11 years old from Oklahoma, faces 66 rounds of chemotherapy for a rare cancer.
⭐️ Inside-the-ropes with his idol
⭐️ FaceTime from his favorite QB
⭐️ Memories for a lifetime

A day @THEPLAYERSChamp that Ethan will never forget. pic.twitter.com/GJFj5Sspab

— PGA TOUR (@PGATOUR) March 11, 2022
The golfer found out he was the boy's idol and then learned his favorite football player is Baker Mayfield.
Koepka got a hold of Mayfield to tell him he would be golfing with his big fan this past Wednesday.
He then instructed his caddy to answer his phone if it rings because he expected a call.
Sure enough, it was Mayfield via Facetime and Koepka handed the phone to Evan.
How The Call Went
Via Marla Ridenour of the Beacon Journal.com.
"Ethan, what's up, buddy?" Mayfield said.

"You know who that is?" Koepka asked Evans.

"Baker Mayfield?" Evans responded.

"How are you doing man? Are you enjoying (golfing) right now?" Mayfield said.
. @Browns quarterback @bakermayfield helps @BKoepka create a special day for young cancer patient https://t.co/b6jT65V0BN #NFL #Browns via @beaconjournal and @MRidenourABJ pic.twitter.com/kePUtnBvzk

— Chris Pugh (@ChrisPughEdits) March 12, 2022
Of course, the excited Evans responded yes.
Koepka told Mayfield the two had just played the seventh hole and were about to tee off at No. 8.
"Ethan, I bet you could beat me in golf, that's for sure," Mayfield said.

"You could beat me in football, though," Evans told Mayfield.
Good Day In a Tough Time 
Ethan has Rhabdomyosarcoma, a soft tissue tumor that can be found in the head and neck, extremities, and some organs.
But for one day, he got to play three holes of golf with his idol and Facetime with his favorite football player.
Koepka, a 2-time PGA champion and 2-time US Open winner, gave Ethan some mementos of the day.
Evan went home with a bag full of Nike gear and a pair of Koepka's newest shoes.
Had a blast, Ethan's a pro https://t.co/DQ792WW6Lx

— Brooks Koepka (@BKoepka) March 12, 2022
The golfer told Ethan he would think of him when he wears the shoes at his next tournament.
And Browns fans can probably bet on seeing Ethan around FirstEnergy Stadium this season.
Marla Ridenour of the Akron Beacon Journal first reported this story.