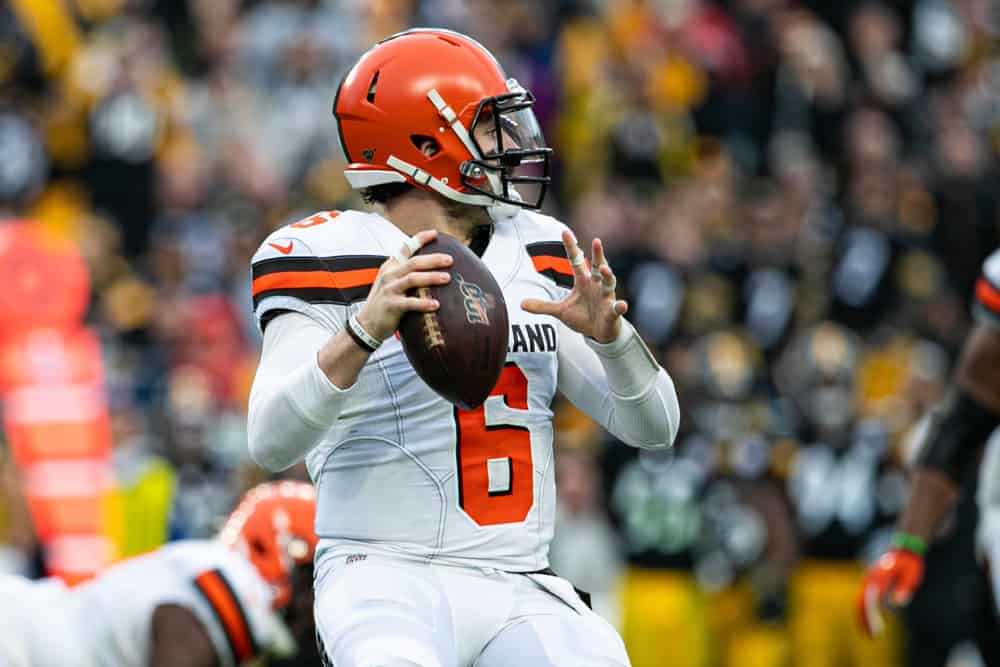 If Baker Mayfield plays as well in 2021 as he did towards the end of 2020, then he could be in for an MVP season:
Let us take a look at how the MVP odds stand, according to DraftKings.
Unfortunately for Mayfield, there are two running backs that have better odds at winning the trophy:
Patrick Mahomes: +600, 6/1
Aaron Rodgers: +800, 8/1
Josh Allen: +1300, 13/1
Matthew Stafford: +1400, 14/1
Tom Brady: +1400, 14/1
Lamar Jackson: +1600, 16/1
Dax Prescott: +1600, 16/1
Kyler Murray: +2000, 20/1
Russell Wilson: +2000, 20/1
Justin Herbert: +2500, 25/1
Ryan Tannehill: +2500, 25/1
Derrick Henry (RB): +3300, 33/1
Deshaun Watson: +3300, 33/1
Christian McCaffrey (RB): +3300, 33/1
Carson Wentz: +3300, 33/1
Baker Mayfield: +4000, 40/1
For Cleveland Browns fans wondering where Nick Chubb is in terms of odds, he is in the mix with Davante Adams, Saquon Barkley, and Ben Roethlisberger at +10000.
According to the oddsmakers, Mayfield is relatively a long shot at the MVP trophy in 2021.
With almost half of the league's quarterbacks ahead of him, that does not bode well for how he is being projected.
However, there is an argument to be made that he should be higher on the list.
Why is Mayfield Underrated in the MVP Conversation?
The national media has some very polarizing thoughts about the 26-year-old quarterback.
After a strong 2020 season, Mayfield is primed to prove the doubters wrong.
Is this a make or break season for Baker Mayfield and the Browns?

"Baker Mayfield will play at a level where he will be considered an MVP candidate. I think he will be in the top 2 for candidates next season." — @LaVarArrington pic.twitter.com/ZeXYUFgAxE

— UNDISPUTED (@undisputed) April 16, 2021
Last year, the Browns man under center ranked in the top 10 in the following statistics:
11.7 yards per completion (seventh in NFL)
career-best 1.6 percent interception percentage (eighth)
career-best 72.2 total QBR (10th)
According to Pro-Football-Reference, Mayfield's 72.2 total QBR is the 50th-best performance since the statistic began being measured.
He also had a career-best passer rating of 95.9 last season.
After winning a combined 12 games (12-17 record) in his first two seasons, Mayfield led the Browns to the playoffs.
Mayfield is well on his way to setting franchise records in many passing categories down the road.
In the eyes of many Browns fans, Mayfield is the franchise quarterback for what hopes to be a long time.
For Mayfield to jump into the national MVP conversation, he will have to come out to a better start in 2021.
How a Strong Beginning to 2021 Can Help Mayfield's MVP Chances?
In Mayfield's first six games of 2020, he had the following statistics:
4-2 Browns record
182.5 passing yards per game
10 touchdowns
Six interceptions
84.3 passer rating
After poor weather conditions affected some of the midseason games, Mayfield had a tremendous final six games of the season:
4-2 Browns record
285.5 passing yards per game
12 total touchdowns: 11 passing, one rushing
One interception
103.4 passer rating
Interestingly, the Browns had the same record in the first and last six games of 2020.
It will not be easy for Mayfield to win the 2021 MVP award, but he is not out of the conversation.
With his current ascent, he can raise his game to the next level.
Aaron Rodgers, the 2020 MVP winner, led the NFL in the passing touchdowns, passer rating, total QBR, and completion percentage.
The nine-time Pro Bowl quarterback also led the NFL in many adjusted passing metrics as well.
Like Mayfield, Rodgers went 1-1 in this past postseason though.
The Browns quarterback is still looking for his first Pro Bowl nod.
If Mayfield finishes 2021 in the MVP conversation and with a Pro Bowl selection, then it will be a successful season for the rising star.
That is a very attainable goal for him.