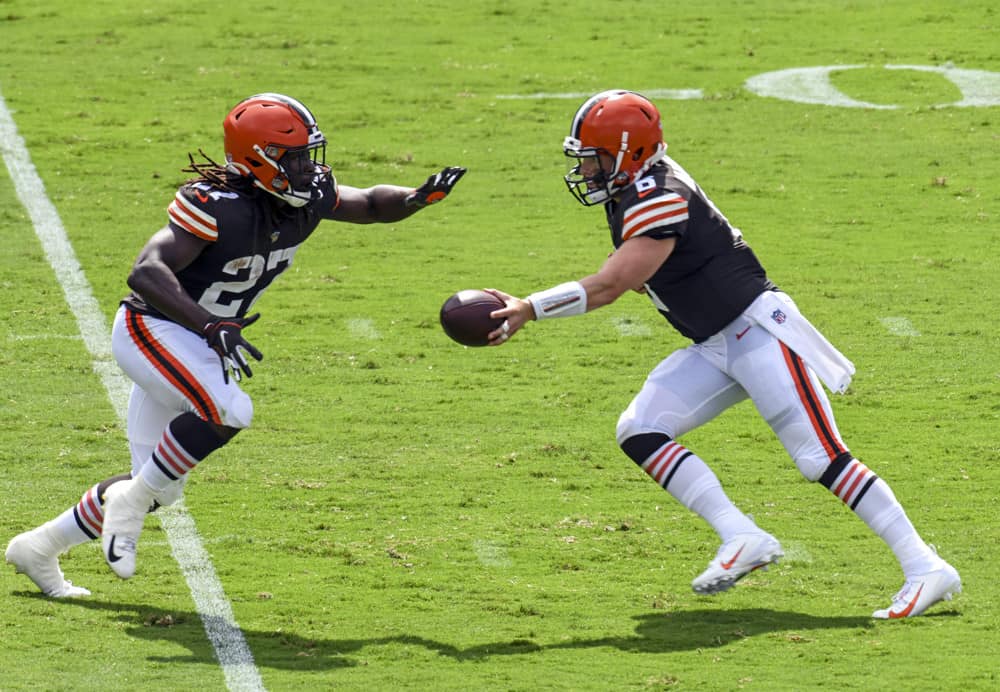 On paper, the Cleveland Browns should be set at running back heading into the 2021 season.
They have Nick Chubb who has quickly become one of the best backs in the league.
Behind him, the Browns have Kareem Hunt who has shown he can be a useful weapon in the offense.
Outside of those two, Cleveland doesn't have any reliable options at running back.
That being said, should the Browns draft a running back as a safety blanket for the upcoming season?
Current Team Needs
The front office deserves credit for the job they've done this offseason.
They've revamped the defense with the additions of John Johnson III, Anthony Walker, and Troy Hill.
That doesn't even include the recent signing of three-time Pro Bowl pass rusher Jadeveon Clowney.
Despite these moves, the Browns still have a few more areas to improve on draft day.
One of the biggest concerns is at defensive tackle after the release of veteran tackle Sheldon Richardson.
The #Browns have cut former #Jets, #Seahawks DT Sheldon Richardson.

— Dov Kleiman (@NFL_DovKleiman) April 16, 2021
After that, the Browns need to get possibly another pass rusher and defensive back.
The wide receiver group needs to be addressed as well on draft day.
Also, the lack of depth on the offensive line could be a concern going into the season.
Obviously, running back is not too high on the list of needs for the Browns going into the 2021 campaign.
Finding Hidden Gems
Despite not being a huge area of concern, the Browns might want to consider a running back on draft day.
Time has shown that you don't need to draft a running back in the early rounds.
There are plenty of successful late round backs and even undrafted players that put together solid careers.
Take a look at James Starks, Arian Foster, Fred Jackson, and even James Robinson.
Most yards from scrimmage this season:

Dalvin Cook – 1,833
Derrick Henry – 1,793
Alvin Kamara – 1,516
James Robinson – 1,414
Tyreek Hill – 1,334
DeAndre Hopkins – 1,325
Travis Kelce – 1,318
Stefon Diggs – 1,315
Aaron Jones – 1,266
David Montgomery – 1,255

— NFL Stats (@NFL_Stats) December 24, 2020
All four of those backs were either late-round selections or went undrafted.
The Browns front office has done a solid job of finding late-round talent on draft day.
Most recently, they selected tight end Harrison Bryant in the fourth round last season.
Heading into 2021, Bryant is expected to be one of the starting tight ends on the roster.
Cleveland does not need to use an early or even middle-round pick on a running back in order to add quality depth to the roster.
There are plenty of solid options, assuming the front office is smart enough to find the right players for the system.
The Verdict
Yes, Cleveland should at least consider selecting a running back on draft day.
Chubb is a workhorse back, but did miss time due to injuries last season.
While Hunt is a reliable backup, there is no such thing as enough depth.
The contract situation with Chubb is uncertain, but hopefully the two sides can get something done.
However, it's never a bad idea to add another back to the mix as insurance.
Honestly, a young running back could certainly learn a few things from watching Chubb and Hunt in the backfield.
The Browns shouldn't reach for a running back on draft day, but ignoring the position completely seems foolish.